« Hurricane Matthew (tmi3rd)
|
Main
|
The Morning Report 10/4/16 [J.J. Sefton] »
October 03, 2016
Overnight Open Thread (10-03-2016)

******
The creator of the "Gaia Hypothesis" is a bit of a crank. But he is provocative; of that there is no doubt. And now he is goring the Left's favorite ox! In an interview with The Guardian, he fires a broadside at AGW. And reaffirms that he is a nutjob.
James Lovelock: 'Before the end of this century, robots will have taken over'
What has changed dramatically, however, is his position on climate change. He now says: "Anyone who tries to predict more than five to 10 years is a bit of an idiot, because so many things can change unexpectedly." But isn't that exactly what he did last time we met? "I know," he grins teasingly. "But I've grown up a bit since then."
******
Unbelievable. The UN is now interfering in the internal politics of our country. They took this tweet down after a few minutes, but the intrepid internet saved it.
I wonder whether these screen grabs would have been vaporized in a puff of burning electrons had the UN been in control?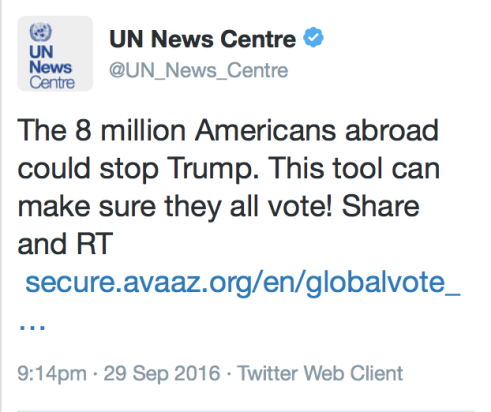 ******
Example #34,091 why Vin Scully is a national treasure. Baseball will be diminished by his retirement.
******
In the academy,
Queer To Stay
, but it is a vanity subject because of the vanishingly small percentage of Americans who identify as gay. Yes, seemingly every other TV and movie character is gay, and undoubtedly the SJWs are all gay, or at least want to be. But when 97% of Americans identify themselves as heterosexual, the remaining 3% just isn't that important.
Why are my colleagues so caught up in same-sex matters?

Few of them are gay, but they have made "queer theory," gender studies, and other schools of thought opposed to what they call "heteronormativity" central to the humanities ever since the subjects blossomed in book lists, periodicals, conferences, and hirings in the late 1980s and early '90s. Of course, it isn't hard to understand why same-sex attraction draws political support. The professoriate is uniformly liberal on social issues. To them, the case for anti-discrimination is a no-brainer, and conservative resistance to same-sex marriage and transgender rights amounts to a lingering Jim Crow. But making LGBT topics into a research field and a professional identity doesn't make obvious sense.

The demographics don't support it. According to the 2013 National Health Interview Survey, a project of the Centers for Disease Control, 96.6% of American adults identify as straight, 1.6% gay or lesbian, and 0.7% bisexual. Those numbers fit closely to the fields as they were when I started graduate school in 1983, and same-sex issues were a rare concern. The teacher who taught me the most in those years was gay and offered a course in gay lit each year for undergrads, but his position was understood as a side interest, not a defining feature. His professional identity was as a Romanticist taking a history-of-ideas approach.
******
In a section of its web site, perfectly titled
"Corruption Chronicles,"
Judicial Watch exposes one example of our government pissing in our faces and not even bothering to lie and say it's raining.
DHS Agency That Enforces Immigration Law Honors Open Borders Activist Who Helps Illegal Aliens
******
Apolitical Reasons to Hate Politics
I hate politics. Part of the reason, to be honest, is that I'm a libertarian, and libertarian views have almost no influence in the world of politics. Libertarians don't just lose every election; policy-makers normally summarily reject our position. Libertarians don't just fail to control a major party; "successful libertarian politician" is almost an oxymoron.
An honest assessment of his own political beliefs and the party that represents them. That's rare! Although....read his postscript and maybe you will disagree with it as fully as I do.

******
Here is a good example of the hubris and arrogance of the NY Times. In an opinion piece titled,
Why Don't You Just Call the Cops?
a couple of sociologists try to debunk the idea that crime is rising by suggesting that the recent uptick is just a blip on a decreasing national crime rate. Fine. But then they take a blip in "911" calls and extrapolate to ridiculous conclusions....that Blacks have stopped calling the police because they are afraid, and that is why crime has increased.
And take a look at this quotation....it sounds like collective guilt to me. I guess that the Left is happy to protect Islam when it is accused of responsibility for terrorist acts, but is unwilling to extend the same protections to the police.
No act of police violence is an isolated incident and it should not be treated as such. Each new tragedy contributes to and reawakens the collective trauma of black communities, which have been subjected to state-sanctioned assaults — from slave whippings and lynching campaigns to Jim Crow enforcement and mass incarceration — for generations. If acts of excessive police force result in community-level consequences, then cities should implement community-level interventions in the aftermath of such acts.
So...they would approve of carpet bombing Riyadh and Karachi?
******
©1968 by AceCorp LLC. All Rights Reserved. Spikes are to be worn only in carpeted areas.
Supple Leopard
TM
pink thongs have been recalled because of reports of skin irritation. Walk-in refrigerator is not to be used for whole carcasses.
&topic=world_news">

posted by Open Blogger at
11:15 PM
|
Access Comments