« And Yet The Jews Continue To Vote Democrat! [CBD]
|
Main
|
Saturday Gardening Thread: Need a lift, Dahling? [KT] »
October 01, 2016
Thread below the Gardening Thread: Trains to Nowhere [KT]
Serving your mid-day open thread needs
Check out CBD's thread below during the afternoon, too.
Do you remember this, from May?
In the late 1800s, it took railroad companies six years to lay 1,907 miles of track for what was to become the Transcontinental Railroad (or as Barack Obama calls it, the Intercontinental Railroad). . . .

As best, it will now take seven years for California to lay 119 miles of track -- on relatively flat ground in the middle of nowhere. . . .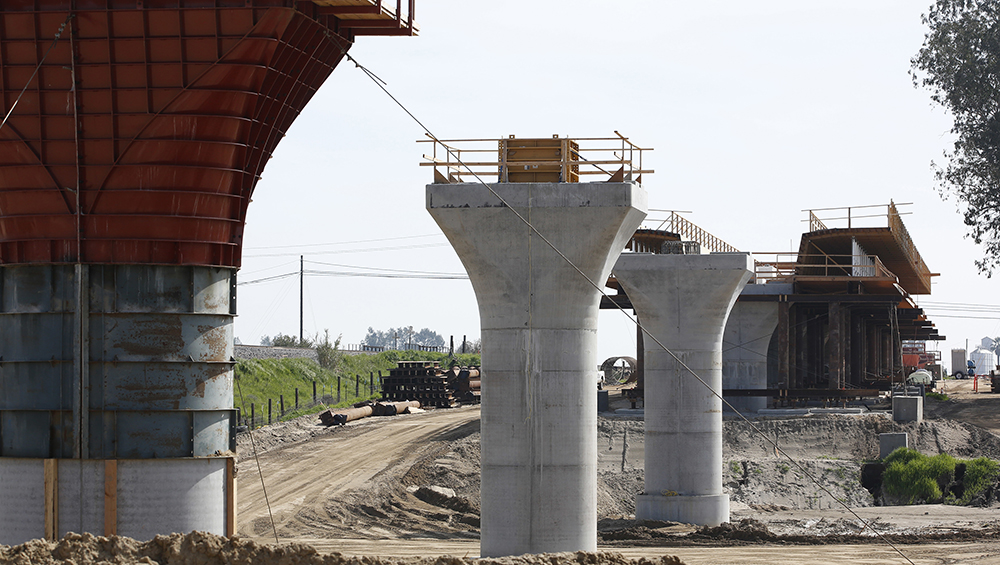 Saving the Planet, very slowly and very expensively.
In June, Virginia Postrel wrote that things REALLY did not look good for California's High Speed Rail project. But never underestimate the determination of a lefty who wants a legacy.
Postrel on the Rail Fiasco (June):
The total construction cost estimate has now more than doubled to $68 billion from the original $33 billion, despite trims in the routes planned. The first, easiest-to-build, segment of the system -- the "train to nowhere" through a relatively empty stretch of the Central Valley -- is running at least four years behind schedule and still hasn't acquired all the needed land. . .

Now, courtesy of Los Angeles Times reporter Ralph Vartabedian, comes yet another damning revelation: When the Spanish construction company Ferrovial submitted its winning bid for a 22-mile segment, the proposal included a clear and inconvenient warning: "More than likely, the California high speed rail will require large government subsidies for years to come." Ferrovial reviewed 111 similar systems around the world and found only three that cover their operating costs.
If you read the two links above, you will get an idea of how the details of this project have gone from bad to worse. Note that they are building this thing in 22-MILE SEGMENTS! With separate contracts! Starting where there are almost no prospective passengers! So this project demonstrates that the fight against Climate Change is the moral equivalent of war. Right?
Well, possibly. Given current progressive attitudes toward warfare.
If Sacramento were really determined to reduce the use of fossil fuels through this project, they would have started construction in a more populated corridor where people could have maybe used a new train. Or over the Bakersfield to LA stretch, where there is currently no passenger train service. An Amtrak ticket buys you a bus ride for that segment of your trip.
I personally know people who were in the slowly-chosen path of the "Train to Nowhere". They have lost their land and their homes. One is a friend who, with her husband, had planned and built their dream home not long ago. It included features designed to accommodate her handicap. It is maddening that they lost their home because pols in Sacramento remained so attached to this "morally imperative" project even as it looked less and less intelligent. And yet they were terrified to begin the project where a train might have had a chance to actually transport some people.
There is speculation that High Speed Rail could turn the Central Valley into a bedroom community for the Bay Area sometime in the next few decades. I guess this would be after Sacramento pols depopulate the Valley through water policy and give the land to their personal constituents. Which may help to explain this week's High Speed Rail news.

Jerry Brown vs. Reality (this week)


California Governor Jerry Brown vetoed a bill Wednesday that would have increased financial oversight of the state's high-speed rail project . . .

The bill passed both the Assembly and the Senate without opposition, but it is unclear whether there are enough votes in both houses to override the governor's veto.
Are there projects in other parts of the country that seem this nuts?
In what ways does federal involvement affect the rationality of projects by state and local governments?
Weekend Music
This song was originally published in a Princeton songbook?
Bet you didn't expect barbershop music in this thread. Do you sing close harmony?
Like Ace suggested last night, "Do something interesting for yourself this weekend." Maybe something involving other people, even.
Whatever it is, I hope you find it either fun, challenging or fulfilling.


posted by Open Blogger at
12:12 PM
|
Access Comments