« Thread below the Gardening Thread: Trains to Nowhere [KT]
|
Main
|
Ace of Spades Pet Thread [Mis. Hum.] »
October 01, 2016
Saturday Gardening Thread: Need a lift, Dahling? [KT]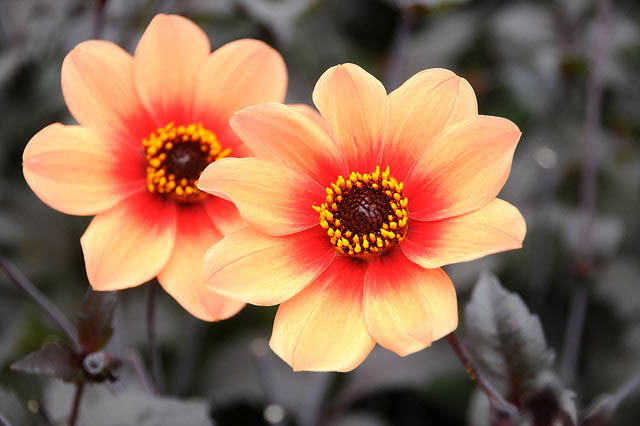 Happy Single First Love Dahlia
I don't know about you, but dahlias give me a lift. On our recent trip to the Northwest, we saw big dinnerplate dahlias (mostly informal decorative cultivars) for sale at Lowe's in 5-gallon pots. I wondered if people would be able to get them home without breaking the flowers off the stems. I had a hard time imagining transplanting them this time of year. But they made the store look great.
Soon it will be time for many people to lift their dahlia tubers. Or maybe to leave them in those 5-gallon pots and move them to a frost-free location for winter. Maybe cook up a few tubers.
Chores or Stores? Saving Dahlia Tubers
Anybody remember this? Members of The Horde may wish to include appropriate trigger warnings concerning The Patriarchy if sharing with certain young folk. Or not.
Incidentally, Eddie Albert was really into organic gardening. He lived with his wife, a once-blacklisted Mexican actress, in Pacific Palisades, on an acre of ground with corn in the front yard and a greenhouse. He was something of an activist. There is a community garden in Champaign, Illinois named after him. If you live nearby, you may be able to rent a garden plot.
Do you find it easier to shop for dahlias than to care for them? If you want to dispense with the bother of saving dahlias from year to year, you can buy new tubers each year, as Eva Gabor probably would if she were still alive. On the other hand, maybe more dahlia growers should know how to lift and store dahlia tubers for winter.
Here is a short summary on how to store dahlias for experienced gardeners. From Swan Island Dahlias, one of the largest catalogs devoted to dahlias, detailed directions on dividing dahlias. A key point to remember is that the eyes from which stems will grow next year are on the stem just above the tuber rather than on the tubers themselves. If you just save the tubers, you won't get any new plants. There are additional videos on growing and storing dahlias at their site.
A story from the NYT on planting dahlias and storing the tubers featured a potter who grows 80 dahlias a year. She makes the excellent point that it is imperative to label your tubers as soon as you dig them up, to avoid massive confusion the next spring. It is easier to divide clumps of dahlia tubers in the fall, but this increases the chance that they will dry out over winter. You also need to dust the cut edges with sulfur or another fungicide.
According to the piece from the NYT, the big dinner plate dahlia 'Cafe au Lait' almost never makes it through a northern winter indoors because it dries out too fast. Seems like an Eva Gabor kind of dahlia to me. I've grown it, and there are not many flowers with similar buff-cream to blush pink colors. It harmonizes well with burgundy and peach-colored flowers, or alternately with lavender to purple flowers.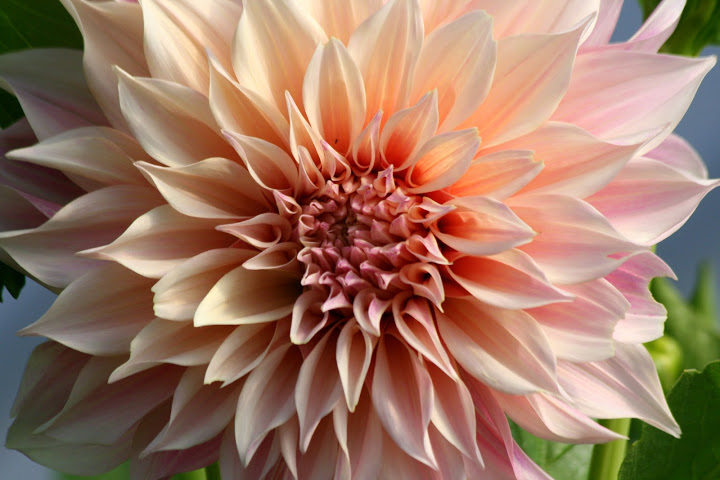 Need a break? Saunter around on Rosemary's Blog.
If you have a greenhouse, you can take autumn cuttings of dahlias you especially like. Sunset recommends rooting cuttings in spring when pinching back plants. No greenhouse necessary for late winter/spring cuttings.
Choosing and Growing Dahlias
You will have an overwhelming number of choices in dahlias if you get a couple of catalogs from specialists. There are short bedding dahlias, mid-height border dahlias and tall cutting dahllias reaching to 6 or 8 feet. The latter require good support, especially in the case of large-flowered decorative cultivars. Planting tubers in a depression and filling in soil as the plant grows can help. But they will still need stakes, staked tomato cages or other sturdy supports.
You can even grow dahlias from seed if you are ambitious. Thompson & Morgan sells dark-leaved Bishop's Children, derived from the famous Bishop of Llandaff. Among several other seed strains, plus a species mix.
Dahlia University at the American Dahlia Society has a great deal of information on the history and culture of dahlias. Plus links for local dahlia societies.
The dizzying array of choices in dahlias apparently come from just two or three species from the mountains of southern Mexico. The dahlia is Mexico's national flower. Work is underway with additional species. There is also a tree dahlia, but it is usually grown as a curiosity by specialists, rather than as a garden feature.
Here is a list of recommended cultivars if you are interested in cut flowers. Can you identify the classification groups of these dahlias belonging to my sister's neighbor in Oregon? Almost every flower that was not fully double had a bee visiting it.
Dahlia A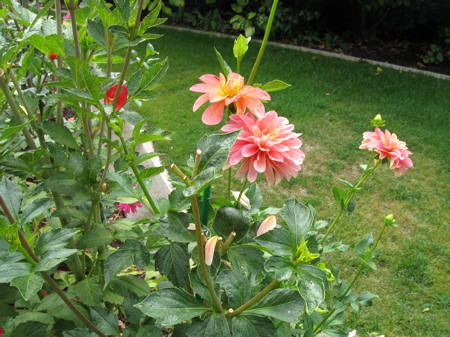 Dahlia B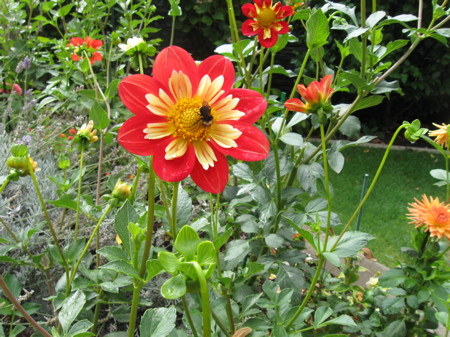 Dahlia C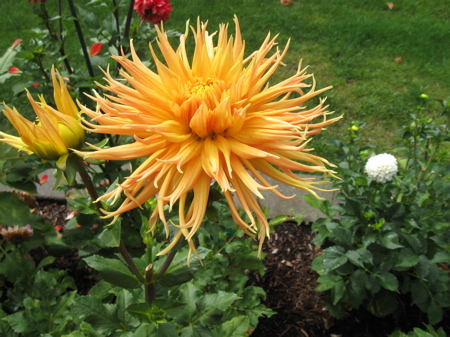 Would you eat your dahlias?
Dahlias were originally taken to Europe from Mexico as an edible crop. Dahlia petals are edible, but I can't find a clear description of how they taste, which is not a good sign. The tubers are also edible. The Aztecs ate them. A garden helper (legal resident from rural Mexico) took some of our dahlia tubers home one year to cook. But many cultivars produce bland, bitter or fibrous tubers. A Swiss nursery is marketing 6 cultivars chosen especially tor their edible tubers.
A guy here in the States is breeding dahlias with tuber quality in mind. Dahlias are one of those flowers that are easy to breed. You could maybe create your own cultivar and name it after someone special. He digs up plants whose flowers he doesn't like early in the season and eats the tubers. Salad recipe is included.

Dahlias are related to Jerusalem Artichokes and can produce a similar problem with "wind". I expect that Zombie's Super-Secret Jerusalem Artichoke Anti-Gas Recipe would work with dahlia tubers, too.
Today's Fall Photo
Time to get outdoors to look for fall leaves. How about a little trip to Vancouver, British Columbia?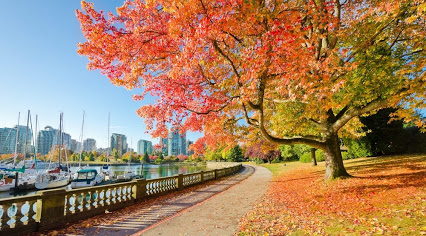 10 Places to See Fall Leaves
Gardens of The Horde
Last Thursday in Ace's Personal Projects Thread, Weaver identified growing invasive plants as a current project, useful in weight loss. Not sure if this is a good reason to start invasive plants, but if you need a challenge . . .
Are you up to anything new in your garden? In the kitchen with garden produce? Seen any good fall leaves?
In honor of members of The Horde in Canada, American music and trying something new, how about learning to play the Maple Leaf Rag with a friend or two? People won't mind a few mistakes. You don't have to play as fast as these guys.

posted by Open Blogger at
12:45 PM
|
Access Comments