« Move Along, Nothing To See....[CBD]
|
Main
|
The Morning Report 9/26/16 [J.J. Sefton] »
September 25, 2016
Sunday Night Overnight Open Thread [Mis. Hum.]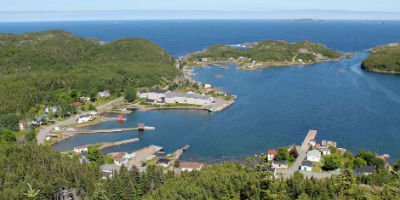 Why are these Canadians being asked to sell their homes?
On the far eastern edge of Canada sits Little Bay Islands, a beautiful, dying village divided by crisis. The fish plant was shuttered half a decade ago, and most supporting businesses – as well as the school – have closed with it. Perry Locke is among the tiny population that's left. He served as the mayor, the fire chief and now runs the power-generating station. His son was the last student enrolled in town.

Fishing villages like this one built Newfoundland and Labrador, a coastal province sent into a tailspin by a fishery collapse, oil-price slump and mounting debt that left it with Canada's most severe fiscal and demographic crisis. The provincial government now is pushing to close places like Little Bay Islands altogether rather than service them, offering Locke and his neighbors at least $250,000 (US$189,000) each to leave — and spurring a bitter, three-year fight over whether to cash out or endure.

It's like a disease. Once a community gets infected, there's no cure for it
"It's like a disease. Once a community gets infected, there's no cure for it. You'll either stay sick from it, or you'll die," said Locke, 51, standing on his porch in July overlooking the bay. He voted to stay, worried he'll lose his job if everyone leaves and the power station closes. Many residents now blame him for ruining a windfall. "Nothing we can do to change it now. The damage is done. And the damage is irreversible."
It looks like a beautiful location. What would you do? Personally, I'm glad that I do not have to make that decision.
The AoSHQ gives the following advice. If you are to leave Little Bay Islands don't move here.
But, if you want to visit the Big Knob Grange Fair in Beaver County go for it.

Insert the word "empathy" into any search engine and you will come up with a large number of sites. When does one learn empathy? Would you have it when you reached the pinnacle of foreign diplomat service, such as the United Nations?
If you are the U.N Ambassador from the U.S.A. you speak gibberish.
"If diplomats were to spend more time in the theater, museums and cinemas, we might have a more just and humane world," quipped from Samantha Power, US ambassador to the United Nations, in a Sept. 16 speech at the Lincoln Center Global Exchange in New York City.


"We all know what genuine empathy feels like. I've not only experienced it myself but seen it happen in one of the most thick-skinned and cynical professions out there," she joked. "I'm speaking of course of diplomats." The former journalist and Pulitzer prize winning author has long used theater to address an empathy deficiency among grizzled UN ambassadors.
Haiti in 2005, UN peacekeeping troops killed 23 people, including children, in a poor area of Port au Prince. Doctors without Borders reported that they had treated 27 people for gunshot wounds - around 20 of them were women under the age of 18. In December 2007, more than 100 UN soldiers from Sri Lanka were deported under charges of sexual abuse of underage girls. A video was also released showing four Uruguayan troops in Haiti laughing while allegedly raping an 18 year old Haitian boy. Two Pakistani peacekeepers were recently sentenced for raping a 14 year old Haitian boy. There are also strong claims that fecal waste from UN troops deposited in a river spread cholera bacteria in Haiti which killed more than 6,000 Haitians and infected more than 400,000.
This excerpt is from 2012. There have been more episodes of empathy by the U.N. since then.

ISIS doesn't know the definition of narrative fight.
"What I can tell you is that we are, when it comes to ISIL, we are in a fight, a narrative fight with them, a narrative battle," Earnest said, using an alternate name for the terrorist group, which is also known as the Islamic State or Daesh. "And what ISIL wants to do is they want to project that they are an organization that is representing Islam in a fight, in a war against the West and a war against the United States."

The buzz in the tech field are self-driving cars. Rumor has it that Apple wishes to purchase McClaren to get into the race. (Sorry about that pun) We should all feel safer now, the Feds have placed rules on these cars.

I would rather have a jet-pack. Or a lawn mower like this.

The road to hell is paved with good intentions. Or why socialism is always toxic.

The answer is not pi$$in' in the wind or on this wall.

Look what feminism has wrought. Are you a parent? Look what you have done to the planet.

There are only 2 genders. And it is explained here.

University of Delaware students know how to throw a party.

Moving is a young and sober person's sport.

What do you do on your commute? Nap? Practice self-restraint? People watch? Mentally plan for work?
But according to an Association for Psychological Science blog post this week, new research suggests another reframing trick to make commuting just a little less awful — one that's probably more productive than napping, if not as enjoyable. A new paper led by Columbia Business School doctoral student Jon Jachimowicz found that people who use their transit time to mentally plan for work are better off than those who spend it on other things.

Hungry? Make yourself a McRib sammich.

Looking for a natural boost? Perhaps turmeric is the answer.
Who would do this? You get 3 guesses.

Tips, spare change, drink chips and pocket lint accepted here.

Tonight's ONT has been brought to you by truth in advertising.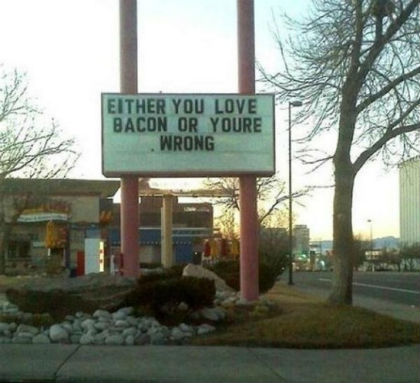 Posted by permission of AceCorp, LLC. You are officially on probation beginning immediately and extending until the Ewok is good and ready to forgive you.
Failure to adhere to the conditions of this written warning, development of new or related problems, and/or continued unsatisfactory performance will lead to more serious corrective actions including up to and including termination of your Valu-Rite, bacon rations and Yoko Free ONT Zones.

Top 10 commenters:
1 [438 comments] 'Nevergiveup' [61.49 posts/day]
2 [435 comments] 'Mr. Peebles'
3 [431 comments] 'Mike Hammer, etc., etc.'
4 [416 comments] 'rickb223'
5 [393 comments] 'Village Idiot's Apprentice'
6 [387 comments] 'Vic We Have No Party'
7 [371 comments] 'Mortimer, deplorable'
8 [353 comments] 'Insomniac - Irredeemably Deplorable'
9 [334 comments] 'Skip'
10 [319 comments] 'MTF'
Top 10 sockpuppeteers:
1 [65 names] 'a T-Rex trying to rub one out' [9.13 unique names/day]
2 [51 names] 'Scalia's Ghost'
3 [45 names] 'Mortimer, deplorable'
4 [44 names] 'Mike Hammer, etc., etc.'
5 [41 names] 'The Political Hat'
6 [38 names] 'Garry Johnsen'
7 [37 names] 'Turd Ferguson'
8 [36 names] 'MTF'
9 [35 names] 'Count de Monet'
10 [34 names] 'davidt'

Wall of Shame provided by you know who.


posted by Open Blogger at
10:10 PM
|
Access Comments