« A Call For Volunteers - Niedermeyer's Dead Horse
|
Main
|
Hillary Collapses in Public »
September 11, 2016
Food Thread: The Final Frontier: Cooking Fish, Especially On The Grill [CBD]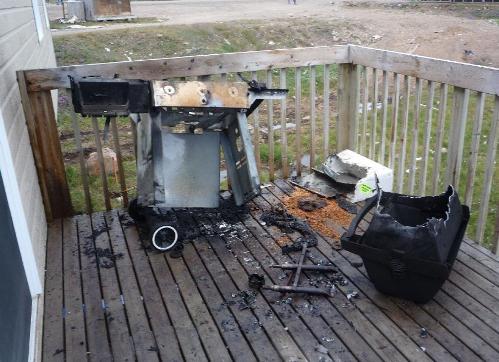 Give me a chunk of beef the size of the Moon, and a grill large enough to accommodate it, and I'll cook it to your desired temperature. But fish is a different beast entirely (well...duh).
Fish protein cooks differently, for a variety of reasons, and because there are many more species of fish than of land animals we normally cook, the range of cooking techniques is significantly broader. And because many fish have heavily striated muscle, the flesh tends to flake and separate...not something that one wants to happen on a grill.
The conventional wisdom is to use a very clean grill and oil the grates before cooking. Yes, that works. Sometimes. But the challenge then becomes cooking to the correct temperature, and that is very tricky indeed. The simple touch test that I use for land animals simply doesn't work as well. Temperature probes are accurate, but there is not nearly enough information available for the many kinds of fish.
Any thoughts from The Horde? Tried and true techniques? Magic spells that guarantee a perfectly cooked piece of (very expensive) halibut?
******
Here we have a fine example that supports the proposition that all universities should be burned to the ground. In a poorly titled article,
The case against pets
, two knuckle-dragging, booger-eating idiots (professors at Rutgers) double-down on the proposition that animals have human rights.
It is our responsibility to treat the animals we use as food as well as we can. But make no mistake, their lives are not as important as ours. I will accept the deaths of 1,000,000 animals to save the life of one child. And this extends to the animals we have domesticated as pets. We should care for them as well as we can, but we cannot as a society grant them equality. Or in the case of the two idiot law professors who wrote the article...primacy. We are designed by nature to eat omnivorously. To give animals the power to change that is, quite frankly, insane.
What really caught my eye was the glib statement that a vegan diet is perfectly healthy for humans. It isn't. Put your toddler on a vegan diet and I will call your local child protective services agency.
From our own tsrblke, who knows a thing or two about the animal rights fascists:
With enough supplements you can survive on a vegan diet. But it's not healthy. And I can tell you from experience, no one wants to sit next to you on a train.
Let's put it this way: the authors think that Peter Singer doesn't go nearly far enough.
Singer....of forced euthanasia fame.

******
89 now sick with hep A: What kind of trendy smoothie place gets their frozen strawberries from Egypt?
That seems like a very good question.
We hear about food-borne illness constantly, but that is, at least in part, because of the instant flow of information, courtesy of the intertubes. But in spite of the dire warnings we get seemingly every day, our domestic food supply is safe. Not perfect, but very, very clean. So why do we import strawberries from Egypt and shrimp from India and melons from Mexico ....? Because we demand both a huge variety and abundant supply coupled with reasonable cost. So every once in awhile we are going to get fellaheen-feces-covered strawberries or Listeria-flavored melons.
With some rational food safety techniques most of those risks can be minimized. But we will always be at some risk. The problem is that we can control that risk most effectively by avoiding restaurants!

******
I may have posted this recipe before, but it is so good, and so easy to make that it deserves a second look. It is based on a dish I had at OTTO, Mario Batali's restaurant in Greenwich Village. He is a pompous, hypocritical ass, but knows how to elevate simple dishes with artful technique and fine ingredients.
Shrimp with Ceci Beans and Chiles


1 lb. good quality raw shrimp

1 can ceci beans

1-2 serrano chiles

Juice of one lemon

Extra Virgin olive oil

Chopped flat-leaf parsley

Kosher salt
Boil the shrimp until barely cooked. Overcooked shrimp taste like rubber bands, so be careful. Err on the undercooked side and you will be happy.
Dump them in ice water to stop the cooking, then peel, cut into chunks a bit bigger than a ceci bean, and stick them in a bowl.
Open the can of ceci beans, rinse and drain them, and dump into the shrimp.
Now comes the fun part. If you like hot food, simply slice the serranos into thin rings and toss them into the shrimp bowl. If you don't want the sometimes considerable heat from the serranos, you'll have to remove the seeds and veins. But this dish looks great with those cool slices of chile so, using your thinnest bladed knife, slice the tips off the chiles and core them without slicing them lengthwise. It will take a few seconds, and don't forget to wear gloves, or wash your hands thoroughly, or you may experience the joys of a capseicin burn on any mucous membrane you touch. Slice them into those rings I just described and toss them in with the shrimp and beans.
Dress the shrimp with the fresh lemon juice, a few tablespoons of olive oil (use something good), the chopped parsley and (this next step is important) and more salt than you might think. The shrimp aren't salty, and the beans aren't salted at all, so the dish will need a healthy dose of kosher salt.
Let it marinate for a few hours before you serve it in ramekins. This can be prepared in advance so your guests can enjoy (or suffer) your company.


******

&topic=world_news">

posted by Open Blogger at
04:00 PM
|
Access Comments