« Forget the NFL for a moment [Weirddave]
|
Main
|
Sunset Open Thread [Weirddave] »
September 04, 2016
Sunday Food Thread: Adventures in Eating [Y-not pinch hitting for CBD]
Good afternoon, morons and moronettes!
Your regular host is out of pocket this afternoon. Rumor has it he has been spotted in New Orleans. We can only hope that he is off doing "research" for next week's food thread - NOT languishing in some jail cell with a cellmate named Bubba or, even worse, being chased by voodoo zombies.
I see a lot of contempt for Twitter around here, but were it not for that medium I would not know about this:
By the way, if you're on Twitter and not following Cuffy, you should remedy that situation.

Favorite Food Cities (USA)
Cuffy's tweet of his meal during a recent trip to Auburn got me thinking about food and travel. I've already checked out how far away Auburn is and am trying to determine when we might go there to check out this restaurant!
Late last year, WaPo's food critic published a list of the 10 best food cities based on eating, drinking, and shopping at "271 restaurants, bars, food stores and farmers markets." Sietsema's list includes expected food towns (New York, Chicago, and New Orleans) and a few surprises. His top-rated city? Portland, Oregon.
He opines: "To be a great food city, it helps to have a large body of water nearby, a classic dish or three, and a population with a fondness for drink." I'd add accessibility to that list. There's no point in going to a "foodie mecca" if you can't get into the best restaurants (or if you can't afford them). I've become increasingly irritated by the emergence of trendy restaurants that require you make reservations - and prepay - months in advance.
I was gratified to see Houston receive so much love on WaPo's list. We ate very well during our years there. Usually it gets passed over by towns like Boston, whose food scene I've always thought was overrated. (Sietsema apparently agrees - Boston didn't make his top ten list.) I have yet to visit Charleston or Portland, but those are both on my "to do" list. He didn't travel to Nashville last year, so it was not on his top ten list. Thus far, Mr Y-not and I have been impressed by what we've experienced there.
Which US cities do you like best for pursuing food adventures?
Top Food Cities (Outside the US)
Looking farther afield, Conde Nast assembled a list of top food cities in the world. This is a much more difficult task, it seems to me, as the styles of dining (and expectations of diners) differ so wildly across the globe. I've eaten very well in Vancouver, but haven't been to most of the cities that made their list.
For me, much of my impressions of a city's food scene are situational, often heavily influenced by pleasant surprises or unexpected moments. I've only eaten a few meals in Strasbourg, France, but each one impressed. The first one was the best: after nearly starving to death for several weeks while I was working in Germany (don't ask), I found a tiny mom and pop restaurant off the beaten path in Strasbourg where I had lunch that included snails in a blue cheese sauce and an excellent Alsatian white wine. (That part of France seems known for dishes featuring blue cheese.) It was nirvana. On a subsequent visit, I enjoyed an onion tart in a wonderful old farmhouse. To this day, Strasbourg is fixed in my mind as a great food town.
How about you?
Best Super Markets
Mr Y-not and I will literally plan our travel around food. If he has a need to go to Chicago for work, I'm likely to tag along just for the chance to eat there. Earlier this summer we took a 2 hour detour (each way) to stop by Indy for lunch and a visit to a favorite meat vendor. But by far the oddest thing we've done is plan vacations around access to a particular supermarket that we love, AJ's Fine Foods. When we visit Phoenix, we make sure to stop by there at least once. Lately we've taken to choosing our accommodations based on ready access to this grocery store. Heck, we'll probably retire there simply to be near AJ's!
Earlier this year, CNN reported that Wegman's is America's favorite grocery store, followed by Publix and Trader Joe's. I've read good things about Publix, but my only visit to one left me unimpressed. In my current town, the best grocery store is Meijer. The produce tends to be good and occasionally features some more unusual items like shishito peppers, and the meat section is large and varied. I can even find veal there on occasion.
If farmers markets are more your thing, you might enjoy this list from the editors of Cooking Light. My favorite public market is in Vancouver, B.C. on Granville Island.
Which food markets do you prefer? Are you an aficionado of farmers markets? Do you shop at one store or find yourself going to different stores for meats, fish, veggies, and bread?
The one thing I really miss the most from our early years living in the city (Chicago) is a dedicated fish market. They are few and far between. We have to travel to Nashville for access to one around here.
Party Dishes
Fall is nearly upon us and with that many opportunities for socializing around food, whether it be tailgating before a football game or food-intensive holidays like Thanksgiving, Hanukkah, or Christmas. Providing a fun and memorable meal (or snacks) for a large group can be a challenge. Recently, Casa Y-not hosted 70 people for drinks and bites. Given the limitations of seating (or lack thereof) and the sticky weather, we opted to serve cold foods: dolmas, hummus, pita chips, olives, salami, manchego cheese, almonds, and fruit (dried and fresh). The biggest hits of the night were the manchego, olives, and almonds. And the crowd went wild for the vinho verde and one of the beers we served.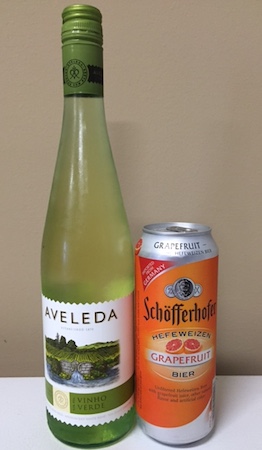 Popular drinks amongst Casa Y-not party-goers: Aveleda Vinho Verde and Schofferhofer Grapefruit Weizen.
If you haven't tried a vinho verde before, I'd highly recommend you give it a go. It's a young white wine, perfect for a casual meal on a hot day. And it's dirt cheap, but impresses guests who haven't heard of this style of wine. The screw cap bottle in which our favorite variety is bottled is very convenient for a party situation.
What do you like to serve for a large crowd?
Recipe to Impress Your Guests
Last month's party went so well that we're already planning the next one for sometime this winter. It will probably be a pot luck with us providing the drinks and one hearty dish. I'm thinking I'll make burgoo. (Recipe here.) Cooking for a large crowd can be a challenge, both in terms of the dish itself and in how it is served. Stews like burgoo or chili are perfect as they are easy to eat from a bowl while standing up.
For a more elegant (and smaller) dinner party, I recommend b'stilla.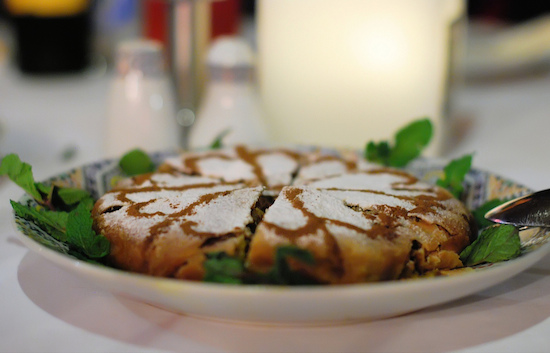 This version from Epicurious is my favorite.
Moroccan-Style Chicken Pie

INGREDIENTS

Filling:

2 tablespoons olive oil
1 large onion, chopped
1 teaspoon ground cinnamon
1 teaspoon ground ginger
1/2 teaspoon turmeric
1/8 teaspoon crumbled saffron threads
1 tablespoon all purpose flour
2 cups low-salt chicken broth
1 1/2 pounds skinless boneless chicken thighs
1/4 cup chopped golden raisins
2 tablespoons chopped fresh cilantro
2 tablespoons chopped fresh Italian parsley

Phyllo:

1/2 cup slivered almonds
3 tablespoons powdered sugar
1/2 teaspoon coarse kosher salt
1/4 teaspoon ground cinnamon
10 sheets (about 17x12 inches) fresh phyllo pastry or frozen, thawed
1/2 cup (about) unsalted butter, melted (for brushing)

PREPARATION

For filling:

Heat oil in heavy large skillet over medium heat. Add onion and saute until tender, about 10 minutes. Mix in cinnamon, ginger, turmeric, and saffron; stir 1 minute. Sprinkle flour over; stir 1 minute. Add broth; bring to simmer. Sprinkle chicken with salt; add to broth mixture. Gently simmer chicken uncovered until cooked through, reducing heat if necessary to prevent boiling, about 20 minutes. Stir in raisins. Set skillet aside until chicken is cool enough to handle.

Transfer chicken to plate. Shred chicken coarsely and return to skillet. If sauce is thin, simmer over medium heat until sauce coats chicken thickly. Stir in cilantro and parsley. Season filling with salt and pepper. Cool filling completely.

DO AHEAD: Can be made 2 days ahead. Cover; chill.

For phyllo:

Finely grind almonds, powdered sugar, 1/2 teaspoon coarse salt, and cinnamon in mini processor.

Stack 10 phyllo sheets on work surface. Invert 9-inch glass pie dish onto stack. Cut around dish through phyllo, making ten 10-inch rounds. Remove dish. Cover rounds with plastic wrap and damp kitchen towel.

Brush same pie dish with melted butter. Place 1 phyllo round on work surface; brush with butter and sprinkle with scant 1 tablespoon almonds. Top with another phyllo round, brush with butter and sprinkle with scant 1 tablespoon almonds. Repeat stacking with 3 more phyllo rounds, butter, and almonds. Fit phyllo stack into prepared pie dish. Brush with butter. Spoon filling evenly over. Place 1 phyllo round on work surface. Brush with butter and sprinkle with scant 1 tablespoon almonds. Top with another phyllo round, brush with butter and sprinkle with scant 1 tablespoon almonds. Repeat with 2 phyllo rounds, butter, and almonds. Place stack atop filling; top with remaining phyllo round. Tuck in edges. Drizzle more butter over top. Cut 4 slits through top phyllo stack to allow steam to escape.

DO AHEAD: Can be made 6 hours ahead. Cover and chill.

Preheat oven to 375 deg F. Place pie on rimmed baking sheet. Bake uncovered until phyllo is golden and filling is heated through, about 40 minutes. Cool 15 minutes. Cut into wedges.

It's a bit of work, but well worth the effort and guaranteed to impress your guests. Even better, it makes excellent leftovers (should you have any).

What's cooking in your kitchen this week?

posted by Open Blogger at
04:00 PM
|
Access Comments