« Shut Your Whore Mouth, I am Too A Planet! (CBD)
|
Main
|
Overnight Open Thread (5-1-2016) – Victims of Communism Day Edition »
May 01, 2016
Food Thread: The South--Holding Out On Us Since 1865 [CBD]
Y-not: Our host, CBD, asked me to pinch-hit for him and finish the thread that he'd started for today as he is... indisposed.
Let's see what he had planned for us, shall we?
First off, CBD gets our mouths watering with a recipe from Garden and Gun:
Red Onion Jezebel with Pan-Roasted Chicken Thighs. The key to this recipe is Jezebel sauce, a type of Southern relish traditionally featuring apple jelly and pineapple preserves flavored with horseradish and mustard. The version featured in this Garden & Gun recipe is made from mustard, horseradish, marmalade, sorghum, and lemon juice. According to this source, "Queen Jezebel was often labeled the Old Testement's [sic] sumptuous, proverbial wicked, painted woman. Apparently, the name of "Jezebel" is attached to this sauce because it is delicious, spicy, sumptuous, and potentially powerful."

******
I don't know what inspired CBD to choose Southern cooking as this week's topic -- perhaps it was the upcoming
Kentucky Derby and the foods associated with this amazing event
. High on that list of notable Derby weekend treats is the
Mint Julep
, a simple drink featuring bourbon and minted simple syrup. That brings us to CBD's next topic: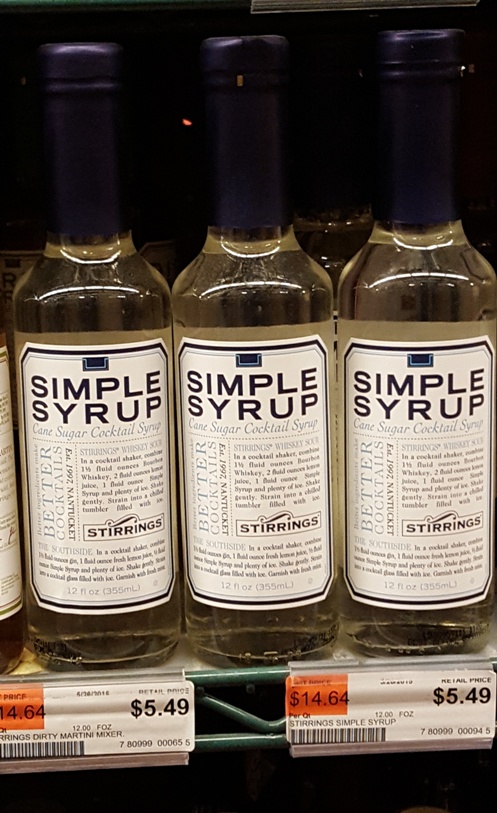 CBD writes, "No, that's not a Photoshop. $5.49 for a 12 ounce bottle of sugar water. That's about 25 cents worth of sugar and 50 cents worth of packaging. This irritates me so much that I think I am going to share my secret recipe for Simple-SyrupTM with you Morons.
1:1 ratio of sugar to hot water.
Stir.
Refrigerate."

******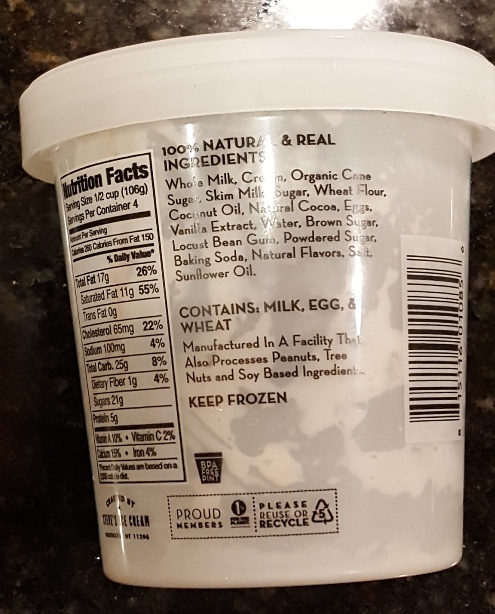 Continuing with food that satisfies a sweet tooth, there's this contribution from CBD:
"This is the back of a container of Steve's Ice Cream. Specifically, "Whoopie Pies & Sweet Cream" flavor. And it was awesome. Until I saw the admonition on the back to "Keep Frozen." Apparently the folks who buy Steve's Ice Cream are so monumentally, mindbogglingly stupid that they need to be reminded to keep their ice cream in the freezer. Or, the Steve's Ice Cream people think that its customers are knuckle-dragging, booger-eating retards. Either way, I am not pleased."
A little bit about the history of Whoopie Pies here:
The recipe for whoopie pies has its origins with the Amish, and in Lancaster county, Pennsylvania, it is not uncommon to find roadside farm stands offering these desserts. Amish cooking is about old recipes that have fed families for generations, with no trendy or cross-cultural fusions or mixtures. These cake-like whoopie pies were considered a special treat because they were originally made from leftover batter. According to Amish legend, when children would find these treats in their lunch bags, they would shout "Whoopie!"
In keeping with the Southern theme, here's a Whoopie Pie recipe that incorporates bourbon.

******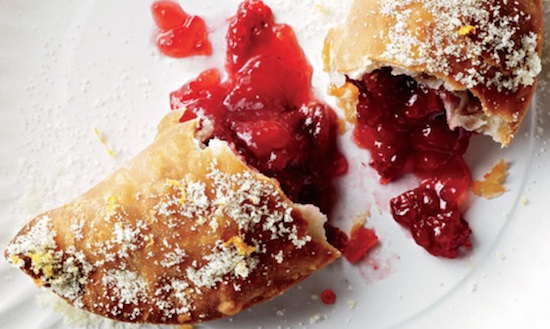 Finally, CBD provides this offering, Fried Strawberry Pie:
Fried pies have long been a spiritual savior, proof that pleasure can be coaxed from hard times. Stamped from an inexpensive alchemy of fat, flour, and fruit, they were traditionally pulled from vats of rendering lard during pig-butchering parties or cooked up with dried apples or peaches when the pantry was getting low. "If I have any money," Georgia bluesman Curley Weaver sang in his 1934 recording "Fried Pie Blues," "I will buy me some."
******
CBD's thread topic got me thinking about what we consider to be
quintessential Southern foods (and cooking techniques)
. Fried chicken is probably at or near the top of many of our lists.
Here's a brief history
of this heavenly dish's popularity in the U.S.:
The Scots, and later Scottish immigrants to the southern United States, had a tradition of deep frying chicken in fat as far back as the middle ages, unlike their English counterparts who baked or boiled chicken. When it was introduced to the American South, fried chicken became a common staple. Later, Africans brought over on the slave trade, became cooks in many southern households and incorporated seasonings and spices that were absent in traditional Scottish cuisine, enriching the flavor. Since fried chicken traveled well in hot weather before refrigeration was commonplace, it gained further favor. In the south, Fried chicken continues to be among this region's top choices for "Sunday dinner." Holidays such as Independence Day and other gatherings often feature this dish as well.
A bit more from The Art of Scottish-American Cooking:
One of my favorite recipes in this book is Scotch Fried Chicken. You'll enjoy letting your friends know that one of the "great Scottish contributions to the American cuisine is fried chicken." As documented in their travel books, in 1773 on the Isle of Skye, Dr. Johnson and James Boswell "were served fried pullets" (a young chicken which we seldom killed in SC during my childhood since they would eventually become hens). Immigrants to the Carolinas from Skye carried this recipe with them. I still recall my mother's Sunday fried chicken as a boy growing up in Mullins, South Carolina, and I now know that my ancestors came up the Cape Fear River from the Isle of Jura to settle in what is now Bladen County, North Carolina. Jura was not that far from the Isle of Skye.
Try as I might, I didn't find a Scottish fried chicken recipe. To make amends, there are several "Tartan Day" recipes at this link.
Speaking of fried chicken, a bird cooked without bones (or frankly, ANYTHING without bones) is an abomination.
If you're interested in reading more about Southern foods, you might enjoy this Southern Food Primer courtesy of the Southern Foodways Alliance.

******
To wrap things up, how about a recipe for Kentucky Burgoo, this one from
Hunter, Angler, Cook
:
Kentucky Burgoo
Serves 6 to 10.
Prep Time: 30 minutes
Cook Time: 3 hours, or more if your game is old and tough
3 tablespoons vegetable oil
1 to 2 squirrels or rabbits, cut into serving pieces
2 to 3 pounds venison, cut into large pieces (3 to 4 inches wide)
3 to 5 pheasant legs/thighs (bone-in)
1 green pepper, chopped
1 large onion, chopped
2 carrots, chopped
2 celery ribs, chopped
5 garlic cloves, chopped
1 quart pheasant or chicken stock
1 quart beef or game stock
1 28-ounce can crushed tomatoes
2 large potatoes
1 bag of frozen corn (about a pound)
1 bag of frozen lima beans (about 14 ounces) or canned black-eyed peas
Salt and pepper
1/4 cup Worcestershire sauce
Tabasco or other hot sauce on the side
__________
Pour the oil into a large Dutch oven or soup pot and set the heat to medium-high. Working in batches, brown all the meats. Do not crowd the pan or the meat will not brown well. Salt the meat as it cooks. As they brown, move the various meats to a bowl.
Add the onions, carrots, celery and green pepper to the pot and turn the heat to high. Cook the vegetables until they are well browned; you might need to add a little more oil to the pot. When the vegetables have browned, add the garlic and cook for 1 minute. Add back the meats, along with the chicken and beef broths and the tomatoes. Stir to combine and add salt to taste. Bring to a simmer, cover, reduce the heat and simmer gently for 2 hours.
Fish out the meat pieces. Strip the pheasant and squirrel off the bone. Tear the large pieces of venison into bite-sized pieces. The reason you did not do this right at the start is because venison will stay moister when it cooks in larger pieces. Return all the meat to the pot and return the stew to simmer.
Peel and cut the potatoes into chunks about the same size as the meat pieces. Add them to the stew and simmer until they are tender. Add the Worcestershire sauce, mix well and taste for salt. Add more Worcestershire sauce to taste if needed.
Finally, add the corn and lima beans. Mix well and cook for at least 10 minutes, or longer if you'd like. Serve with cornbread and a bottle of hot sauce on the side.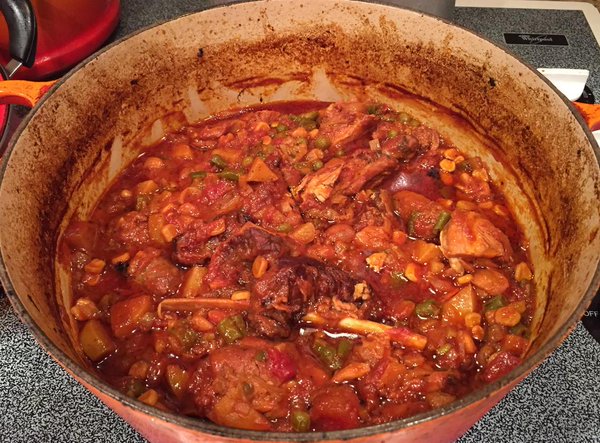 I've made this stew several times in the past year and have had the version they serve at Churchill Downs as well. Each time it's a little bit different depending on which meats and veggies I've had on hand. One time I included rabbit and another time elk, but I confess I don't think either really added much to the dish as both meats are very lean and have a tightly-packed "grain." To get the full effect of this stew, I think it's good to have some shredded meat holding the sauce together, otherwise it's too much like a soup. Chicken thighs are a must (turkey would also probably be excellent) and some sort of meat that shreds well (a cheap cut of pork or brisket). Beef short ribs also add a nice richness to this stew. For my third meat, I like to toss in chunks of a spicy sausage, like a lamb merguez. I've served it with cornbread, as well as over mashed potatoes or polenta. I think I like it over polenta best, but you can't really go wrong however you serve it!

What's cookin' in YOUR kitchens this week?

posted by Open Blogger at
03:45 PM
|
Access Comments