« Saturday Gardening Thread: Gone Bananas [KT]
|
Main
|
Saturday Afternoon Chess/Open Thread 08-27-2016 [OregonMuse] »
August 27, 2016
Ace of Spades Pet Thread [Mis. Hum.]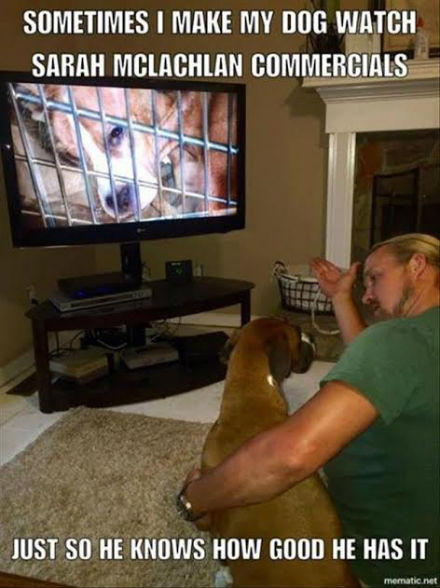 Happy Saturday 'rons & 'ettes. It is that time again where we talk about all thing pets. No, you can't consider your children, grandchildren and/or nieces and nephews as pets. Although they would be cheaper to raise. Amirite?
Grab a beverage and enjoy!!!
A Little of This. A Little of That.
10 undeniable truths about dogs.
Quite the amazing cat. Meet an international sensation.
A politician who I think we all can agree is a good one.
Amazing dog, R.I.P. h/t Anonosaurus Wrecks
No one can accuse this cat of being a misanthrope. h/t NDH
Meet The Pet Morons




Our first pet is a rascally rabbit. Not only is it a rascally rabbit, it's a politician to boot.

So our 2nd entry is from svitelli. Meet Jawa, Penny & Leonard. They are YouTube stars.Svitelli says, " Of course I made a video… (be sure to crank it!)"




This is Cheerio. Spongeworthy says the dog is a very nice dog but not very good. That is hard to believe. Looks pretty comfy on that piece of doggeh furniture.



Bama Bubba is a cat herder. Check out Tigger, Birdman, Purrcious & Scooterbug. Per Bubba, their mother was a feral cat rescued by Bubba. She was also preggers and had a litter of kittehs. Bubba kept 4. Sweet story.





Lurker, ourcountryisscrewed, submitted this photo of Lucy (Lucifer) the Cat and Fenway. This looks like a daily event.




Last but least is the submission from cowboyneal. Duke was a Black Lab who has passed on. cowboyneal told us that he makes hats with photos of your pets. If you are interested his email is blackLabsmatterstore at the gee male thingy.


Well that wraps up this week's Pet Thread. It's been difficult to gauge the degree of interest as the summer rolls along. Since the visits were down last week this week's photos have been scaled back a bit.

We are still accepting tips, news stories and pet photos at where? petmorons at gee mail dot com of course. Thank you for stopping bye.


**Opening photo h/t Chi & Tucker. ('Ron & Min-Pin extraordinaire)

posted by Open Blogger at

02:45 PM

|

Access Comments