« Thread below the Gardening Thread: Look Up! [KT]
|
Main
|
Ace of Spades Pet Thread [Mis. Hum.] »
August 27, 2016
Saturday Gardening Thread: Gone Bananas [KT]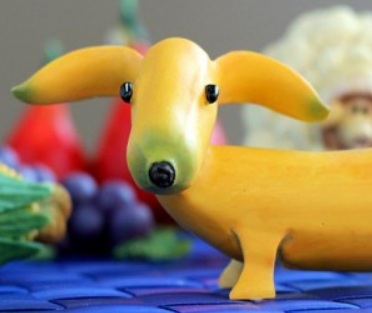 Happy Banana Lovers Day!
Today's Gardening Thread is dedicated to the AoSHQ Overnight Thread, which this week pointed the way to some interesting garden-related, or at least plant-related, topics.
Bananas threatened with extinction?
In last Sunday's ONT, Misanthropic Humanitarian linked a piece about the possible coming global extinction of the banana within 5 years. This set off quite a bit of discussion about bananas and plant science. This topic merited a reprise on Thursday. along with some Banana Facts. I preferred the photos at the link, myself.
Anyway, I though a little summary and clarification might be in order. The "extinction" meme seems to me to be a way to prompt some grant money. But the new strains of banana diseases do sound more serious than past threats. More threatening to third world farmers than to us. Stories about these threats have been appearing with some regularity over the past few years. Scientists have been hard at work, but the triploid nature of palatable bananas complicates conventional breeding efforts.
Efforts to create GMO bananas to combat these problems started in Australia in 2011. Wonder if this crisis will change the narrative on GMO organisms any?
Some Banana History
Before Cavendish bananas came to dominate bananas for export, the most widely-exported banana was the Gros Michel Banana, AKA Big Mike. The disease which wiped out Big Mike did not wipe out other banana cultivars. New strains of the Panama Disease and other fungi affect bananas other than the current market leader, the Cavendish. So the threat to farmers growing other bananas for local use is greater.
"Yes! We Have No Bananas", a novelty song from the 1922 Broadway revue Make It Snappy, is said to have been inspired by a shortage of Gros Michel bananas, which began with the infestation of Panama disease early in the 20th century.

The "six foot, seven foot, eight foot bunch" mentioned in "Day-O (The Banana Boat Song)" are most probably 'Gros Michel' bunches, as these were the bananas produced in Jamaica at the time the song was composed and the bunches can grow to that size.
Shameless Cultural Appropriation of Calypso Music
Gros Michel bananas still survive in a few remote locations in Africa. They are said to taste more like "banana" than the bland Cavendish of today.
Your Breakfast Banana, the Cavendish
The Smithsonian Magazine had an article on the coming demise of the Cavendish banana in June. The Cavendish dominates banana exports today. Like Big Mike before it, the Cavendish is a sterile triploid that has only vestigal seeds. Regular diploid bananas have seeds that can break your teeth.
Cavendish bananas are actually a subgroup of triploid bananas, with several cultivars. As a triploid, the ancestor of the Cavendish bananas had small, sterile seeds. All of the Cavendish strains are propagated from cuttings, so each cultivar is a clone of all others of the same name, except in the case of genetic mutations.
The Grand Nain strain of Cavendish bananas is better known as the Chiquita Banana
On Sunday, Burnt Toast posted a nice link to a piece on bananas beyond the boring Cavendish. There were other comments I especially liked from the ONT this week. GnuBreed grew ornamental bananas OUTDOORS. Ate them, too.
I got a kick out of the droll comment by an EU Technocrat.
Nooo. . . . Not Chocolate, too!
Via Misanthropic Humanitarian, I was also able to learn that today is Pots de Creme day, in addition to being Banana Lovers Day. Chocolate Pots de Creme should go especially well with bananas.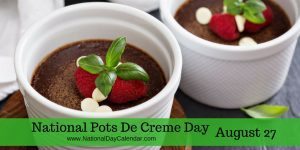 National Pots de Creme Day
Yipes! Again from the comments on Sunday's ONT I learned that Cacao is also threatened. Cacao, the source of cocoa and chocolate, is threatened by a serious disease called
Witches' Broom.
As American cartoonist Charles Schulz once put it: "All you need is love. But a little chocolate now and then doesn't hurt." An aggressive and intractable hemibiotrophic fungus, Moniliophthora perniciosa, is ravaging chocolate tree (Theobroma cacao) plantations in many American countries, threatening livelihoods and the billion dollar cacao industry, and jeopardizing the world's most beloved treat.
And there are other threats to cocoa. Nature is out to get us, don't you think?
Notice from the ONT: Some garden plants are toxic
In last night's ONT, CDR M posted a video about The Deadliest Garden. Commissioned by a Duchess in Northumberland who decided to have a poison garden because an herb garden was boring. Reminds me of English murder mysteries somehow.
Anyway, we have discussed some of these deadly plants before, like Giant Hogweed. Now present in parts of North America. Don't even touch it. We will go over some of the other poisonous "cottage garden plants" in the future. Be careful out there in the garden.
The Gardens of The Horde
Anybody doing any fall planting? Harvesting? What is going on in your garden?

posted by Open Blogger at
12:45 PM
|
Access Comments