« Ace of Spades Pet Thread [Mis. Hum.]
|
Main
|
Overnight Open Thread (27 Aug 2016) »
August 27, 2016
Saturday Afternoon Chess/Open Thread 08-27-2016 [OregonMuse]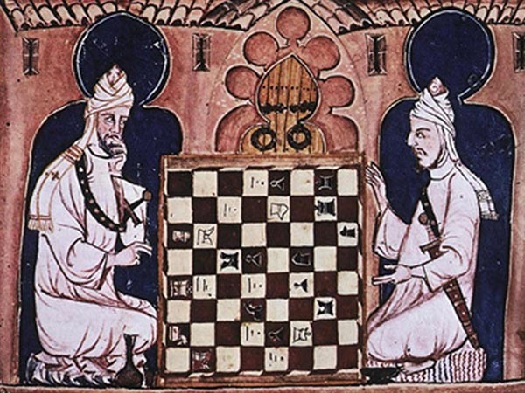 Couple Of Medieval Arab Guys Playing Chess
(Not sure where this pic came from, a medieval chess manual perhaps? The precise position was obviously very important to the artist, as the pieces are displayed just so. Too bad I don't understand the symbolism, so the board position is unreadable to me.)
Good afternoon morons and moronettes, and welcome to the Saturday Afternoon Chess/Open Thread, the only AoSHQ thread with content specifically for all of us chess nerds who pay homage in the temple of Caïssa, goddess of the chessboard. And, for those of you who aren't nerdly enough for chess, you can use this thread to talk about checkers, or politics, or whatever you wish, only please try to keep it civil. Nobody wants to get into a mud fight on a Saturday afternoon.

Problem 1 - White To Play
What's the best move for White?
Hint: White wins material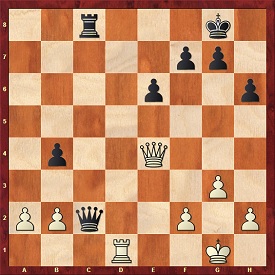 FEN: [2r3k1/5pp1/4p2p/8/1p2Q3/6P1/PPq2P1P/3R2K1 w - - 0 1]


Problem 2a - White To Play
Hint: White mates in 3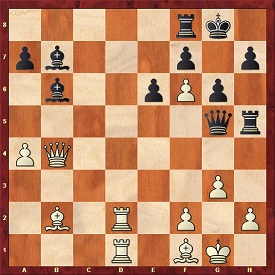 FEN: [5rk1/pb3p1p/1b2pPp1/6qr/PQ6/6P1/1B1R1P1P/3R1BK1 w - - 0 1]


And when you're through with 2a, you're ready for Problem 2b. Turn the board around and assume it's Black's move. What's Black's best move?
Hint: Black mates in 2

The Hall of Fame
We all know the Pro Football Hall of Fame in Canton, Ohio (which I've been to) and the Baseball Hall of Fame in Cooperstown, New York (which I haven't). There's even a Rock and Roll Hall of Fame located in mumble-mumble-I forget. But there's also the World Chess Hall of Fame located in St. Louis
The mission of the World Chess Hall of Fame is to educate visitors, fans, players, and scholars by collecting, preserving, exhibiting, and interpreting the game of chess and its continuing cultural and artistic significance.
They have some interesting stuff in their collection:
One highlight of the collection is the Paul Morphy silver set, presented to the legendary player after his 1857 victory in the First American Chess Congress. Others are the George Sturgis Trophy, which is inscribed with the names of the 1945-1963 winners of the U.S. Chess Open Championship.
I wonder how they got their hands on Morphy's silver presentation set?
There's actually not a lot of material on the web site. The idea is that they want you to visit in person. This is a product of the Chess Club and Scholastic Center of Saint Louis (CCSCSL). There's a crap ton of CCSCSL instructional videos on YouTube for beginning and intermediate players that you should take advantage of. After all, who would not want to listen to a free lecture from a chess master or grandmaster?
H/T to moron 'RS' for this.

Problem 3 - White To Play
Hint: White mates in 2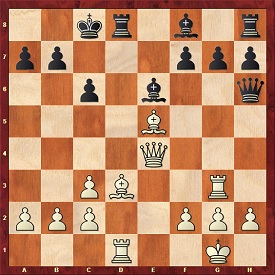 FEN: [2kr1b1r/pp3ppp/2p1b2q/4B3/4Q3/2PB2R1/PPP2PPP/3R2K1 w - - 0 1]



Vintage Chess
From the comments over the past several weeks, I see that some of you are getting into the chess variants, particularly Courier Chess, which has its own unique board (12x8 instead of the standard 8x8 ) and pieces. That's great. I myself do not like most variants, as the *real* version is hard enough for me to get better at. Plus, if you add in an extra piece that moves in some wacky new way, or futz with the board size, that just changes the game too much for me to enjoy. There are a couple of variations I do like, but I'll talk about them in some future post. But right now, let's get into a bit of chess history and look at chess the way the Arabs played it.
Sometimes on chess forums, Persians (Iranians) and dot-Indians get into fights about which country chess came from, and while those are fun to watch, I'm going to skip ahead a few centuries and talk about the rules of shatranj, as chess was known by Arabs. And by the way, Muslims have had a love-hate relationship with chess. A number of sultans and caliphs enjoyed playing chess, but other Muslim authorities banned it. So there's no consensus on chess in the Muslim world, near as I can tell.
Anyway, the goal of shatranj is the same as modern chess: checkmate. One difference is that if one player is reduced to having no other piece except his king, this is a "baremate" and he loses. And stalemate is a loss for the side unable to make a legal move, not a draw.
The KING moves as it does in modern chess. There is no castling.
The COUNSELOR (later the QUEEN when the game was introduced to medieval Europe) moves only one square diagonally.
The CHARIOT (later ROOK) moves as the rook does in modern chess.
The HORSE (KNIGHT) moves just like the modern knight, even with the piece-leaping ability.
THE ELEPHANT (later BISHOP) moves two squares diagonally, and can jump over other pieces like the horse.
The FOOT SOLDIER (PAWN) moves and captures as the modern pawn except that there's no 2-square option on the first move nor en passant capturing.
Because the only "long-range" shatranj piece is the rook, the games were typically much slower. Players could spend 15-20 moves developing their own pieces, getting them into a desired position before contact was ever made with the opponent's army. So, according to the old-school Soviet chess classic Questions of Modern Chess Theory
...play would begin not from the original starting position but from one where the initial development was already completed.
These pre-set positions were collectively called tabiy'at (sing. tabi'ya). Here from the abovementioned book are a couple of them: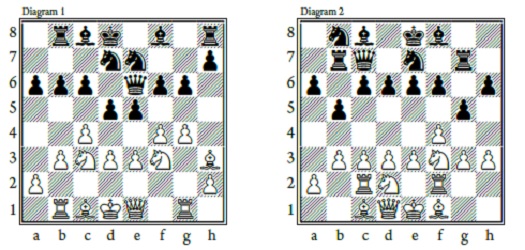 So the Arabs didn't have any opening theory. Well, no, I guess it would be more accurate to say, these tabi'yat were their opening theory. I don't know how many they originally used, but 31 of them are still extant. They all apparently had names, but I don't know them. However, all of this became irrelevant sometime around 1450-1475, which I'll get into next time.

Problem 4 - Black To Play
It's Black's move. What's his best option?
Hint: Black Mates in 4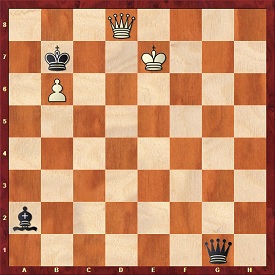 FEN: [3Q4/1k2K3/1P6/8/8/8/b7/6q1 b - - 0 1]


This one may look a bit confusing, so remember 1. It's Black to move and 1. Even though it may not look like it, the White side of the board is on the BOTTOM. The lowest leftmost square is a1. That White pawn is on b5 and the only way it can move is up.

Endgame of the Week
How can White win this endgame? All you need to do is how how White can get to a winning position.
Hint: Skewer the rook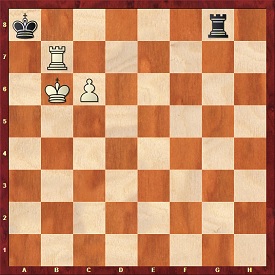 FEN: [k5r1/1R6/1KP5/8/8/8/8/8 w - - 0 1]



___________
Solutions Update:
Problem 1
Answer: Black's queen is defended by the rook on c8, but White can deflect it with
1.Rd8+!
And now Black has no choice:
1...Rxd8
2. Qxc2
White has won the exchange, and should go on to win the game.

Problem 2a
White can exploit Black's back-rank weakness to force a quick checkmate:
1.Qxf8+ Kxf8
2.Rd8+ Bxd8
3.Rxd8#

Problem 2b
Black has a mate in 2, starting with
1...Qxg3+!
And now White has two options, but both result in checkmate:
2.hxg3 Rh1#
or
2.Bg2 Qxg2#
Some games are like this. That is, the position is very double-edged and it boils down to the winning player being one move ahead of his opponent.

Problem 3
1.Qxc6+! bxc6 (only possible reply)
2.Ba6#
This crossfire-type attack of the two bishops is an example of what has been come to be known as Boden's Mate, named after Samuel Boden who played an early example of it (Schulder-Boden, London, 1853). It typically occurs if Black castles over on the queenside which, if Black isn't careful, can create positional weaknesses. I recommend the wiki entry I linked to, it's very thorough and complete.

Problem 4
Answer: Black's queen, backed up by the bishop, chases the White king down to the back rank.
1...Qg5+!
White has two responses, either Ke8 or Kd7:
2.Ke8 Qg6+
3.Ke7 Qe6+
4.Kf8 Qf7#
-or-
2.Kd7 Qd5+
3.Ke7 Qe6+ (If 3.Ke8 then 3...Qf7#)
4.Kf8 Qf7#

Endgame of the Week
1.Ra7+
Not 1.c7? Rg6+ 2.Ka5 Kxb7 3.c8=Q+ Kxc8 and it is Black who wins.
1...Kb8
2.c7+ Kc8
3.Ra8+ Kd7
4.Rxg8 and wins

___________
Note: that cryptic line of letters and numbers you see underneath each board diagram is a representation of the position in what is known as "Forsyth-Edwards Notation", or F.E.N. It's actually readable by humans. Most computer applications nowadays can read FEN, so those of you who may want to study the position, you can copy the line of FEN and paste into your chess app and it should automatically recreate the position on its display board.
___________
So that about wraps it up for this week. Chess thread tips, suggestions, bribes, rumors, threats, and insults may be sent to my yahoo address: OregonMuse little-a-in-a-circle yahoo dott com.

posted by Open Blogger at
04:44 PM
|
Access Comments