« Trump Now Emphasizing Variation on Campaign Theme: "Make America Safe Again"
|
Main
|
Tuesday Morning News Dump (7/19/16) [Mis. Hum.] »
July 18, 2016
Overnight Open Thread (7-18-2016)
'Ghostbusters' is pretty funny and anyone who says otherwise is a virgin loser who lives in his mom's basement.

-- Washington Post columnist Kristen Page-Kirby
So enter the Goose Master, whose word is law. That's him. In the hat. With the goose on it.

It's more exciting than it sounds, at least the first-catch-your-goose phase. They aren't tame. The poor goose always looks completely gobsmacked to find itself in an arena ringed with clapping humans.

And it shits almost immediately.

But that doesn't necessarily count - only the first whole and proper poop counts, not some panicked half-hearted evacuation. This year, the poop fell across grid lines and the prize was split.

-- from Sweasel's village festival report
Red Letter Media Reviews the Ghostbusters Remake
Roger Ebert once observed that a movie had completely failed in its purpose if after watching it you had the impression that a film of the crew chatting over lunch would have been more interesting. Well the Ghostbusters remake may have failed in the Ebert-sense since I suspect the Half In the Bag review of it played twice would still be funnier than the actual movie. Especially once they start drinking Dan Aykroyd Crystal Head vodka and Ecto Coolers about 15 minutes into it.
So watch and enjoy. And just remember that they hated this movie only because it wasn't funny it didn't know how to setup jokes it violated screenwriting 101 it tried to copy the original without understanding why the original was funny Paul Feig is a hack they hate women.
Update: Ed Driscoll points out that it was actually Gene Siskel who came up with this test:
Is this film more interesting than a documentary of the same actors having lunch?
Axe-Wielding '17' Year Old Afghan Refugee Attacks Germans on Train
According to Bavaria's Interior Ministry, a 17-year-old Afghan shouted "Allahu Akbar" before launching the attack using a knife and axe. The suspect was shot dead by police as he attempted to flee the scene.
Since he arrived as an unaccompanied minor, no one really knows how old the attacker is or possibly his true identity.
From CNN:
Four passengers who were attacked are in serious condition, with the total number of wounded unclear, according to the police spokesman.

The attacker's motive is not yet known, Hench said.
China To Illegally Close Off Parts Of South China Sea For War Drills
Despite the Hague-based Permanent Court of Arbitration ruling against their territorial claims last week.
The U.S. exercised its right to freedom of navigation and sailed the USS Lassen, a guided missile destroyer, near an important artificial Chinese island in October 2015, protesting China's actions. China was so incensed, it summoned the U.S. ambassador and told him the move was "extremely irresponsible."
Actually The Founding Fathers Did Know About Repeating Rifles Before the Bill of Rights Was Drafted
Gun control advocates often claim that the Founding Fathers couldn't have conceived of repeating rifles when they drafted the Second Amendment to the Bill of Rights. The history of Joseph Belton, an inventor and gunsmith from Philadelphia, and his correspondence with the Continental Congress proves otherwise.

Belton claimed to have devised a new form of flintlock musket that was capable of firing as many as sixteen consecutive shots in as little as twenty seconds. After the gun had fired its consecutive loads, it could then be reloaded individually like all other traditional weapons of that time.

Bolton wrote to Congress about his new invention on April 11, 1777, letting them know he could be available to demonstrate it to them at any time.

Intrigued by Belton's claim, Congress ordered 100 examples of his "new improved gun." They authorized him to oversee the construction of new guns, or alteration of existing guns, so that they were capable of discharging eight rounds with one loading and that he "receive a reasonable compensation for his trouble, and be allowed all just and necessary expences [sic]."
But Belton wanted a lot of money for his guns - 1000 pounds per state that used it.
Having received the letter immediately, Congress resolved that same day to refer Belton's petition to the Board of War, made up of five delegates. Among these five delegates were future 2nd President of the United States, John Adams, and Benjamin Harrison V, father and great-grandfather of the 9th and 23rd Presidents of the United States, respectively.

Nine days later on July 19, Congress got word from the Board of War. They dismissed Belton's petition altogether. At this point, he must have finally gotten the hint that Congress wasn't going to authorize such exorbitant payment for his services because the historic record turns up no more correspondence between Belton and Congress.

Despite the fact that Joseph Belton failed to convince the Continental Congress to outfit colonial soldiers with his repeating rifle, it's still a very important story. Belton invented his gun in 1777. The Bill of Rights wasn't ratified until 1791.
Antarctic Sea Ice Continues to Expand Despite Global Warming; Climate Change Blamed.
What Happens When You Play the Star Wars Theme in Front of John Williams' House
The 8 Looming Problems That Could Dethrone Pokemon Go
Sure it may underserve minority neighborhoods but I think this is the issue that will make it mostly a fad:
This ability to provide quick endorphin hits and/or distractions during down time is crucial to the success of smartphone-bound games. Pokemon Go flips this principle on its head. The game rewards movement and is virtually impossible to play as a static-couch bound gamer. As a result, you can't really play on the subway without a signal. And people's homes, where they spend the bulk of their downtime, aren't typically Pokemon hot spots, meaning that the app is unopened during crucial free moments.

The great initial success of Pokemon Go has depended on its ability to get millions of people to interact with unfamiliar people and environments. But how long does that last? To become a habit, Go must be accessible and rewarding every time a user reaches for it. At least for now, it doesn't offer you that.
The Yahoo AoSHQ group - it's got electrolytes and shit.
And my twitter thang.
Tonight's post brought to you by OMG who put the strings on that guitar: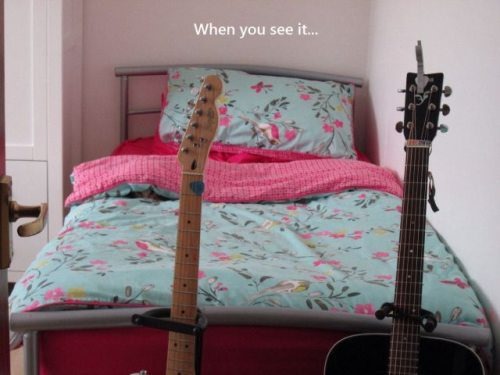 Notice: Posted by permission of AceCorp LLC. Assembled in the United States from U.S. and Japanese components.

posted by Maetenloch at
11:00 PM
|
Access Comments