« Ace of Spades Pet Thread [Misanthropic Humanitarian]
|
Main
|
Overnight Open Thread (28 May 2016) »
May 28, 2016
Saturday Afternoon Chess/Open Thread 05-28-2016 [OregonMuse]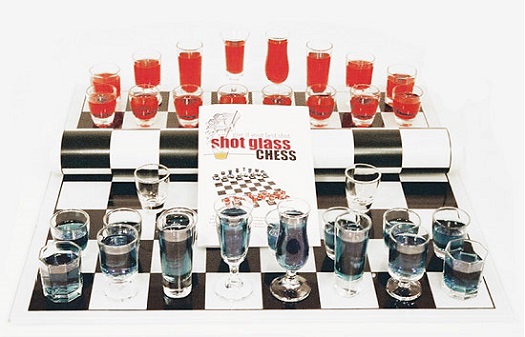 Hillary! Clinton's Chess Set? *hic*
Good afternoon morons and moronettes, and welcome to the Saturday Afternoon Chess/Open Thread, the only AoSHQ thread with content specifically for all of us chess nerds who pay homage in the temple of Caïssa, goddess of doubled pawns and fianchettoed bishops. And, for those of you who aren't nerdly enough for chess, you can use this thread to talk about checkers, or politics, or whatever you wish, only please try to keep it civil. Nobody wants to get into a Gaulish fish fight on a Saturday afternoon.

Today's pic is of a chess set you can actually purchase (or at least you could before the business closed). The rules for this game are the usual except for the addition of one, which boils down to: capture a piece, do a shot. I've never played this variant of chess before, but I'd guess that the endgames must be, ah, "interesting."

White Wins Material
This is one for you noobs, an exercise in situational awareness. Look at this position: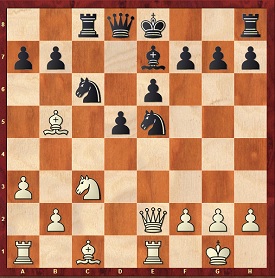 FEN: [2rqk2r/pp2bppp/2n1p3/1B1pn3/8/P1N5/1P2QPPP/R1B1R1K1 w k - 0 14]

After looking at this for a bit, you should be able to say "oh look, White wins material, like, right now." How does he do this? Highlight the blank line just below this sentence if you need a hint:
The knight on c6 is pinned
Did you like that one? OK, good, here's one that's a bit more difficult: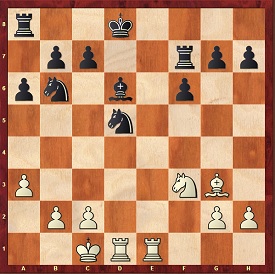 FEN: [r2k4/1pp2rpp/pn1b1p2/3n4/8/P4NB1/1PP3PP/2KRR3 w - - 0 1]

Again, White can win some material. How? Highlight the blank line just below this sentence if you need a hint:
White needs to force a Black piece to move so he can put pressure on another.
A New Old Kind of Chess
It has come to my attention that some of our chess noobs here have conveyed their fear and trepidation of getting into a game with those of us who are more experienced. So, I have a suggestion that might help: on chess.com, you can play two different varieties of chess, not varieties of rules, but varieties of time control. The first is "live" chess where you sit down at an interactive board with your opponent on the other end at his, and moves are conveyed back and forth pretty much in real time. This closely approximates the "look and feel" of OTB (over the board) chess. If you're just starting out, I can see how this experience can be a bit intimidating.
But, there's an alternative to this. Chess.com also provides what they call "online" chess, where the time control is measured in days, not minutes or seconds. So you can make your move, get up, and come back a day later to respond. How is this an advantage? Because this closely resembles what is called "correspondence chess", i.e. chess by mail, a time-honored chess tradition. Now, in correspondence chess, the rules governing what you can and can't do during a game are a bit different than OTB chess. For example, in OTB tournament chess, if you get into a really sticky, intricate position, you can't go to another table, set up the game position on another board, and play out the various lines to see which one would be more advantageous. That's strictly forbidden. But, in chess.com's online chess, as in the more traditional correspondence chess, it's perfectly OK. You can also look stuff up in chess books, if you want. That's permitted, too (what you can't do is use some kind of chess engine or endgame tablebase to analyze your game for you. That's right out).
But when you're in one of your online games, if you look to the right of the interactive board, and to the right of the list of moves, there is an "Analyze" link with a chessboard icon. If you click on that link, another window will pop-up that displays another interactive board with your game at the current position. You can then use this board to go back and review your the moves you've made so far, or, what is possibly more useful, you can enter "hypothetical" moves made by both you and your opponent, so you can look at the possibilities of what might happen if you make this move or that move. Let me tell you I make *extensive* use of this feature in all of my online games to map out potential lines. Of course, then my opponent makes a move I overlooked, and all of my analysis is now worthless. But that's OK, I can always re-analyze based on the new move.
Perhaps some of you may be asking, "well, if I can use the analysis board, so can my vastly more experienced opponent, so I'm still screwed." Well, perhaps. My point is, playing games "online" rather than in real time might help you not to feel so pressured to come up with a good move with the clock ticking down. The pace will be a bit more relaxed, and even if you still lose, you'll enjoy the game a bit more.
I'm getting to the point where I'm starting to prefer this kind of chess over the usual OTB variety.

Black To Play And Win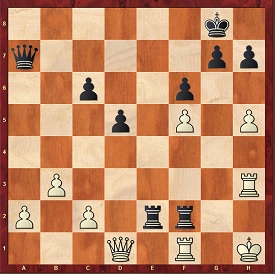 FEN: [6k1/q5pp/2p2p2/3p1P1P/8/1P5R/P1P1rr2/3Q1R1K b - - 0 1]


The decision tree of this problem consists of two main branches. See if you can complete both.

Endgame Of The Week
This is an endgame problem that might be tough for you noobs. It's White to play and win, win, win:

FEN: [3K4/5Bk1/8/8/2R5/p7/1p6/8 w - - 0 1]


___________
[Update: Solutions]
1. White Wins Material - Easy
1.Qxe5! and White simply takes the Knight. 2...Nxe5 isn't possible because it is pinned by the Bishop. So it really wasn't protecting the Knight on e5.
2. White Wins Material - Not As Easy
This one is a bit trickier. You need to notice that the Bishop on d6 is in front of the King, and in fact, it would be pinned if White could get that Knight out of the way. Fortunately, he can:
1.c4! Ne7
If 1...Nxc4, then 2.Rxd5 wins the piece outright.
2. c5
And now not only is the Bishop pinned, but the pawn is also forking the Knight. White can pick up either one at his leisure.
3. Black To Play and Win
Black's killer move is 1...Qe3! There are two responses by White, 2.Rxe3 or 2.Rxf2:
Branch #1:
2.Rxe3 Rh2+
3.Kg1 Reg2# 0-1
Branch #2:
2.Rxf2 Qxh3+
3.Kg1 Qg3+
4.Kh1 Rxf2
5.Qg1 Qf3+ (5...Qh3+ 6.Qh2 Qxh2#)
6.Qg2 Qxg2#

4. Endgame Of The Week:
So, looking at the board, it is obvious that the big threat is Black's pawns that are (a) far advanced and (b) connected. That's usually a deadly combination, but in this case, White has resources. He would like to immediately scoot his Bishop down there to a2 to stop the threat, but his Rook is in the way. So, he needs to gain time in order to free up the diagonal for the anticipated Bishop move. He can do this by:
1.Rc7! b1Q
This sets up a discovered check if White moves his Bishop. Black can move his King out of that danger, of course, but that will give White enough time for Ba2. So Black really doesn't have anything better than to get himself a Queen immediately.
2.Ba2+
This is the crucial position. Black has a several choices where he can move his King. And the move he makes needs to buy time to get his Queen away from the White bishop on a2. Some of the possible flight squares for his King, namely f6, g6, and h6, can be ruled out immediately since 3.Bxb1 leaves him with nothing. He can't move to g8 since that square is covered by the bishop. That leaves f8 and h8. So, why are these any different than the 3 moves to the 6th rank we've already dismissed? Because there's some tricky maneuvering Black can spring that will allow him to force a draw if White isn't careful. So:
2...Kh8 and White is pretty much forced to snap up that dangerous Queen before it gets away.
3. Bxb1 a2!
And that's the point. White *cannot* take that pawn. If he does, then it's stalemate. If this is hard to see, go ahead and capture the pawn, and then look at the board. You will see that there is literally no square available for Black's king to move to.
(...and this is one of the reasons why I love chess so much: In even seemingly lost positions, there can still be fighting chances to be found that can turn the tables. "To the last, I grapple with thee; From Hell's heart, I stab at thee...")
So what is White to do? Black's pawn is threatening either a1Q or axb1Q and White's rook cannot guard against both. So, once again, he needs to buy some time:
4.Rh7+ Kg8
Forced.
5.Rh1 a1Q
6.Bh7+ and White's rook eats the newly-minted Queen next move, nom, nom, nom. And wins.
Now, back to move 2, Black's other option to get out of check is to move his King to f8. White can still achive his objective, but the smaneuvering will be just a bit different:
3.Rf7+ Kg8
Again, forced.
4.Rf2+ Qxa2
If Black moves his King then 5.Bxb1 with no danger of stalemate and that's all she wrote.
5.Rxa2 and wins.

So to recap, here is the complete solution without all my jabbering:
1.Rc7 b1Q
2.Ba2+ Kh8
3.Bxb1 a2
4.Rh7+ Kg8
5.Rh1 a1Q
6.gBh7+ 1-0
and the other branch:
1.Rc7 b1Q
2.Ba2+ Kf8
3.Rf7+ Kg8
4.Rf2+ Qxa2
5.Rxa2 1-0

___________
Note: that cryptic line of letters and numbers you see underneath each board diagram is a representation of the position in what is known as "Forsyth-Edwards Notation", or F.E.N. It's actually readable by humans. Most computer applications nowadays can read FEN, so those of you who may want to study the position, you can copy the line of FEN and paste into your chess app and it should automatically recreate the position on its display board.

___________
So that about wraps it up for this week. Chess thread tips, suggestions, bribes, rumors, threats, and insults may be sent to my yahoo address: OregonMuse little-a-in-a-circle yahoo dot you-know-what.

posted by Open Blogger at
05:30 PM
|
Access Comments