« Saturday Gardening Thread: Flags [KT]
|
Main
|
Saturday Afternoon Chess/Open Thread 05-28-2016 [OregonMuse] »
May 28, 2016
Ace of Spades Pet Thread [Misanthropic Humanitarian]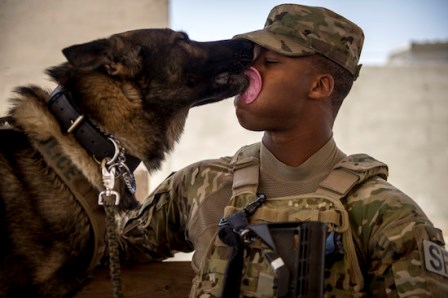 U.S. Air Force Staff Sgt. Mark Bush and his dog Xarius via www.petful.com

Welcome to the Memorial Day Weekend edition of the Ace of Spades Pet Thread. Thank you for your service and sacrifice.
From before Biblical times to the present dogs have been used in military service.The U.S. Military first used dogs in WW I. Originally German Shepherd Dogs and Dobermans were used. Labrador Retrievers eventually replaced the Doberman. Dogs are used as sentries, trackers, scout team and mine/booby/tunnel dog teams. All 4 branches of the military use dogs in some capacity. However the U.S. Army is the only branch that has veterinarians.
The U.S. Military is working on a robotic dog. Secretary of the Navy Frank Kelley declared that one day marines and soldiers will likely bond with the robotic dog as they would a biological dog. I don't envision a robotic dog "kissing" his Staff Sgt. But, that's just me.
Not all dogs who interact with the military are war dogs. Some are used for therapy. They help treat struggling soldiers with PTSD.
Feel good cat video
Rey was born eight months ago with no eyes. Alexander Speweik adopted Rey and her sister Leia, and Rey now gets around the apartment just fine. She even plays fetch!

Wadded up aluminum makes a great ball to roll around on a wood floor, and Rey follows it almost perfectly just by the sound. She also plays with boxes, climbs her cat tower, and wrestles with her sister. She doesn't chase a laser light, but likes to play with the chain attached to the laser pen!
Via neatorama.com

Some pet and animal items that made the news this week.


Here is one German Shepherd Dog that didn't make it as a war dog. However, he does get a B+ for ingenuity.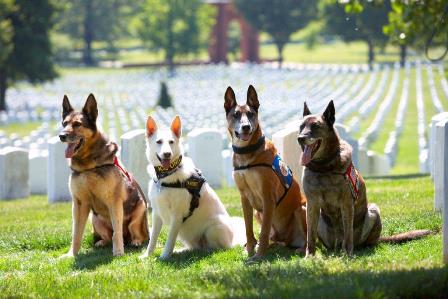 via www.usawardogs.org
We will resume Moron Pet Photos next week. Just a simple reminder we get more photos every week than what we publish. So we appreciate your patience in waiting for your pet's blog debut. You know how to reach us at petmorons at gee mail dot com.


posted by Open Blogger at
03:20 PM
|
Access Comments