« How Many Transgenders In America? 0.006% = About 20,000. Total. [CBD]
|
Main
|
Ace of Spades Pet Thread [Misanthropic Humanitarian] »
May 28, 2016
Saturday Gardening Thread: Flags [KT]
Good afternoon, gardeners and garden visitors. There is an open thread below this one for non-gardening topics.
Hope your Memorial Day weekend is going well. Are you thinking about visiting a Memorial Day garden display?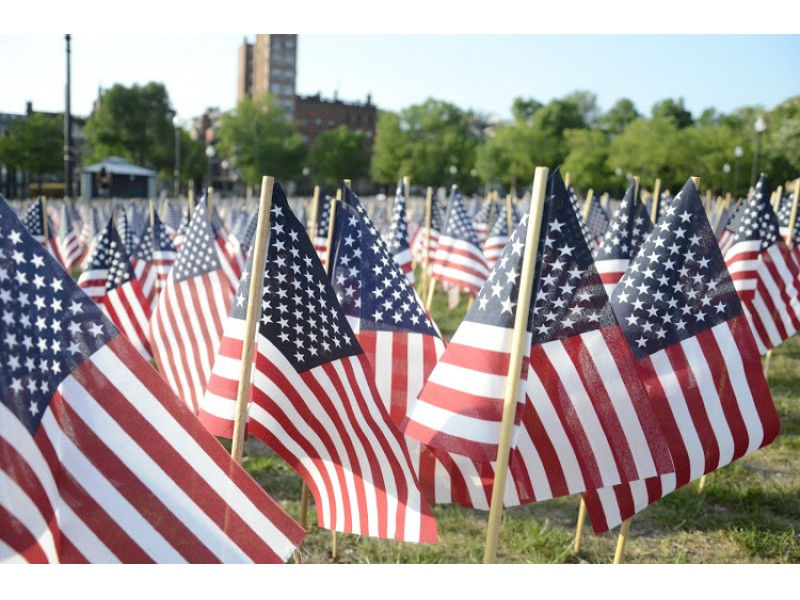 Memorial Day Flag Garden in the Boston Common
Do you associate any plants or trees with Memorial Day?

Gardening and Farming Weather
We had a welcome, unexpected cold front come through this week, with high temperatures in the 70s. Very unusual for this time of year and very pleasant (if sometimes quite windy) after the preceding hot temperatures. The heat is coming back now. We should be in the triple digits by Monday or Tuesday.
The baby broccoli that suppliers said was "bolt resistant" seems to actually be bolt-resistant. After a second cutting, I left the rest of the shoots to flower, planning to eat the flowers. It's not happening so far. Stems are getting tough, though. We will need to spay more attention to our garden plants. How is your weather affecting your plants?
Local Fruit Report
Those days of cooler weather were a bonus for the local strawberry growers. They lose much of their crop to heat in a typical year. The local cherry season is winding down. A friend's son got his first part-time job working graveyard at a packing house. He can get big boxes of "seconds" cheap. Many of the "seconds" were just too ripe to ship. Tasty. Our local cherries are typically smaller than the ones you will be seeing at the supermarket from the Pacific Northwest later in the season. But we're first. Heh.
Memorial Day and Flags
In our little town, they still hold a really nice ceremony at the cemetery on Memorial Day. Big American flags line the avenues in the cemetery, and small flags are placed on the graves of war dead and deceased veterans. I appreciate this.
When I was growing up in a cold-winter climate, there were usually peonies and bearded irises blooming on Memorial Day. But peonies were better for decorating graves. This seems to be one reason it was chosen as the State Flower of Indiana.
Peonies for Memorial Day in Indiana
The stunning beauty of an individual bearded iris bloom does not last long in a bouquet. That is a shame, because the flowers invite close-up viewing and smelling. You can use bearded irises in floral arrangements if you are willing to pick off individual flowers as they fade. And you may want to skip the darker colors. They can "look gruesome" as they wither, and stain hands or a tablecloth. Not many people want to go back to a cemetery to groom bouquets. Enjoy your cut peachy-colored bearded iris at home.
I still associate the bearded iris (and the fragrance of certain varieties) with Memorial Day, even though we left the flowers on the plants. The old-timers called them "flags".
A number of plants with long, strap-like leaves are called "flags", but today I want to concentrate on bearded irises. There are other beautiful irises the world, including natives. Some look quite different from bearded irises. And their garden uses and needs are often different. There is also a "Sweet Flag" in a different genus. Topics for the future, unless you have comments or questions today.
Bearded Iris
I have grown several bearded irises over the years, usually in violet, blue and/or white. But the one I remember by name is a peachy color. I grew it in Southern California, where the bloom will sometimes repeat in the fall. That was back in the day when there were not many re-blooming bearded irises, especially in the Tall Bearded Class.
Beverly Sills
The first nursery dedicated to irises that I became aware of was Schreiner's Iris Gardens in Oregon. They currently sell bearded irises in the following categories:
Dwarf

Border and Table

Intermediate

Tall Bearded

Fragrant

Reblooming

Historical
Beverly Sills is on their list of historical bearded irises. In fact, any iris introduced in 1995 or before is considered "historical" at this iris garden. Yipes! Makes me feel old.
Going further back in history, one of the plants Y-not saw on her visit to a Shaker farm was an iris used to produce orris root. As noted in Y-not's links, there are actually three species of bearded iris (or two species and a subspecies, depending on the botanist) that can be used to produce orris root. I have never tried to harvest orris root. I was surprised to learn that it takes one or two years for the dried roots to develop their sweet violet scent.
These irises are among the ancestors of today's remarkable hybrid bearded irises. I have grown the variegated version of Iris pallida. It has pretty, fragrant flowers. But the real attraction for me was foliage that extended the season of interest in my small yard. This iris likes a little more moisture and shade than the typical bearded iris.
Iris pallida 'variegata'
Most hard core bearded iris fanciers are more interested in a "blaze of glory" than in the "all-season interest" of a plant. At least when it comes to their irises. According to the American Iris Society, Tall Bearded Irises were often grown in isolation from other plants in the past for fear of disease. Apparently, people are working their Tall Bearded Irises into borders with other plants more often now. Makes sense to me.
I used to pass a huge bed of irises at the side of a farmhouse, in neat, crop-like rows, but in mixed colors. They were a beautiful sight in season, but pretty mundane the rest of the year. If you don't have a spare farm field for such a display, it can be nice to have a blaze of glory, then let other plants take over ornamental duties for the rest of the season.
Below is an example of a Border Bearded Iris. They were bred shorter that the Tall Bearded Iris to fit into a flower border more easily. This one is not as flamboyant as some Tall Bearded Irises, but it still has some flounce. Nice little summary on iris diversity at the link below the photo:
Batik, a Border Bearded Iris
For some reason, I think of the former Washington Post garden columnist Henry Mitchell, The Essential Earthman, when I think of bearded irises. He is gone now, though you can get his books through the AoSHQ Amazon Store. Worthwhile. Here's a classic Henry Mitchell quote:
Almost any garden, if you see it at just the right moment, can be confused with paradise.
This 2013 WaPo piece on advances in modern bearded irises doesn't have quite the same kind of wit that Henry Mitchell included in his columns, but it captures characteristics of the modern bearded iris hybrids very well. Read the whole thing if you are at all interested in irises:
If you like your flowers plain and simple, the bearded iris is not for you.

It is hard to say which aspect of the iris is the most ornate: its range and mixes of colors, its frills, its size or its intricate form. It is a baroque fop, as adorable as it is outrageous. . .

The flower lends itself to hybridizing, hence the continued twirling of the iris kaleidoscope by fanciers such as Don and Ginny Spoon. "This is a man-made plant, from five or six species and 300 years of hybridizing," said Don Spoon, taking me on a tour of the couple's three-acre iris garden near Cross Junction, Va., a few miles north of Winchester. . . .
There are nurseries in many parts of the countries that specialize in bearded irises. Many breed some of their own irises. There was such a nursery in the foothills not far from me, but they moved to Star, Idaho in 2013. Drat! I should have visited when I had the chance. They did leave a yearly Iris Festival behind in Porterville. California's loss, Idaho's gain. Here is one cultivar bred at Sutton's Iris Gardens:
Bottle Rocket
From the WaPo article linked above:
When you do get around to actually seeing the iris, you have to deconstruct so intricate a bloom. Each flower has a cluster of three vertical petals - standards - that sit atop three outward petals named falls. Each fall is marked by a furry ridge - the beard - which is designed to entice a bee pollinator to land for a sugary reward while spreading pollen.
Real iris fanciers pay close attention to each detail of these flowers. But this level of attention is not necessary to enjoy a few plant in your garden. Let me know in the comments if you are interested in specific growing tips.
Is there a Tennessee Rose?
Or is Tennessee Rose just a song? We got this question in the comments a while back. So far, I have not been able to find a rose identified as "The Tennessee Rose." I did find some great stuff from rose societies in Tennessee. If you live in the area, you might consider joining one. From the Nashville Rose Society, a page on growing beautiful roses in middle Tennessee. And from the Tennessee Rose Society, advice on pruning all those other kinds of roses. Nice.
Below, from the Tenarky District of the American Rose Society, a view of a rose garden in or near Knoxville, with the Tennessee river in the background.
One view from a Garden Tour
I thought that maybe we could discuss orange roses today, since the color orange is so prominent in the identity of the University of Tennessee. The administration is kind of picky about the color palette to be used in communications from the university. In case you want to paint your bathroom orange, maybe with smokey and white accents:
'University of Tennessee Orange' is a shade of orange that is 100% saturated and 97% bright.
I have never grown an orange rose as bright as University of Tennessee Orange. I have been out of the rose scene for a while, and the orange roses I have grown have been fragrant old-timers in the Hybrid Tea, Grandiflora and Floribunda classes. I like 'Tropicana' and 'Fragrant Cloud'. I love 'Just Joey', which some people call an "orange blend".
Just Joey
Yellow and orange coloration in modern roses comes mostly from one species of yellow wild rose, the 'Austrian Briar Rose' and its bicolored subspecies, 'Austrian Copper'. These roses have an odd, nose-tweaking scent, as indicated by the scientific name Rosa foetida. This rose passed a susceptibility to black spot down to many of its progeny.
The Elko County Rose Garden site notes that this rose is very prone to sporting flowers with different colors. There is a nice summary about this rose at the bottom of the page. It is hardy to USDA Zone 3 or 4. "Because of our very dry climate, black spot is not a significant problem in Elko."
Austrian Copper Rose with a petal sport
At my high school a long, tall hedge of the yellow and bicolor forms of this rose, left in the natural shape of the bushes, bloomed in the weeks before school ended for the summer. I have a sentimental attachment to this rose.
Maybe someday a black spot-resistant orange rose will be "The Tennessee Rose". Unless we can find some evidence that a Tennessee Rose already exists. Do you have a favorite orange or orange-blend rose?

posted by Open Blogger at
01:20 PM
|
Access Comments