« Sunday Thread For the Birds [Y-not]
|
Main
|
Sunday, May 22, 2016 Overnight Thread-49,000 Words [Weirddave] »
May 22, 2016
Food Thread: How To Read A Recipe, And The Limits Of That Reading [CBD]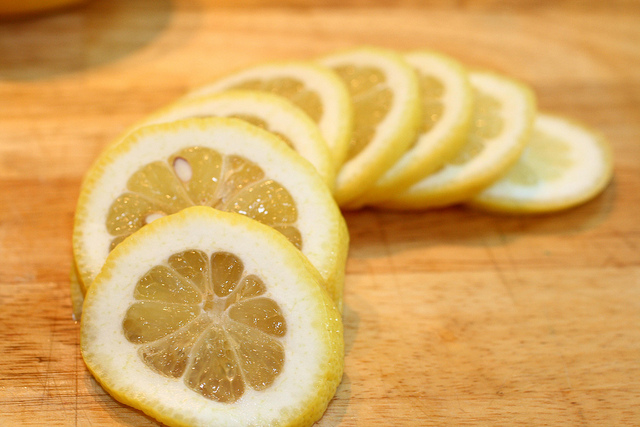 As much as most of us want to look at a photo of the finished dish, think, "Yeah! I want that for dinner!" and rush off to the store to buy whatever is needed, it is probably wise to read the damned recipe first. Pasta With Fried Lemons And Chile Flakes, from Melissa Clark -- the only NY Times food writer worth reading -- sounds fantastic. But....I have experience with fried lemons, and they can indeed be quite bitter, even after blanching. In my not-so-humble opinion the recipe is flawed, but can be prepared in a slightly different way that avoids the bitterness of the lemon pith.
It will be more work, but the few extra minutes of prep will (hopefully) yield a better dish.
Use a vegetable peeler and strip the skin from the lemons in long strips, being careful to leave the pith. Cut the skin into bite-sized pieces. Then slice the lemons into rounds, cut the pith away from the flesh, and remove the seeds. You will be left with all the good stuff and very little of the potentially bitter pith. The flesh won't stand up to the frying as well, but the flavors will be there.
But I would never have known that had I not had some previous experience. Sure, a few of the commenters mentioned it, but we all know that they are almost always completely full of shit, and NY Times commenters most of all.
Careful reading of recipes will often expose problems with technique or missing ingredients or some pot or pan that is needed that you don't have or is sitting in the dishwasher. Sure....you can wing it (and I often do), but for more complex recipes it really is important to spend a few minutes and figure out whether it is going to be a comfortable and enjoyable process or a cascade of problems culminating in a frantic call to the local pizzeria.
******
Watch: Brooklyn Knife Maker Creates One-of-a-Kind Tools
I saw this article and video a few months ago, and I was excited about learning something about knifemaking....until I actually read and watched them. It is a mass of pomposity and hipster superiority.
I don't know one sushi chef who would ever buy a market-made knife.
First of all, you are a hipster-bearded white person. Isn't your chosen craft the height of arrogance and cultural appropriation? How can you, a product of some leftist-run alternative school in Brooklyn be a genuine sushi chef?
Second: the silliness of proclaiming as an absolute that production knives are inferior is just embarrassing. Sure, custom knives can be grand! And I will bet that there are many custom knife makers whose products are inferior to a well-made production knife.
Third....I have to be honest, there is something quite impressive about the video. I will leave it to The Horde to identify it.

******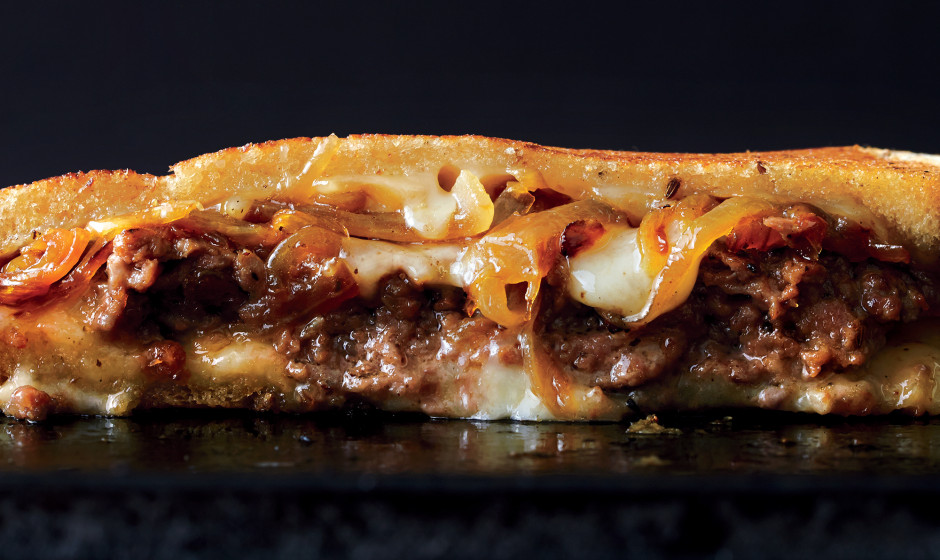 I love Patty Melts. In fact, I do not think that it is possible to make a bad one.
Here is a nice recipe, although you could swap out the hipster ingredients for pretty much anything else and it would still be damned good.

******
I like the combination of mustard and chicken, and I am planning on examining it in some detail on the grill this summer. And unbeknownst to the younger brat, one of those grilled chickens with mustard is really going to be rabbit, but don't tell her until after she eats it.
Roasted Split Chicken with Mustard Crust
[RedMindBlueState points out that this is Jacques Pepin's recipe. I couldn't remember whose it was, so thank you RMBS for the correction]
The mustard crust can be made ahead and even spread on the chicken a day ahead, if you like. I pour the cooked chicken juices into a fat separator with a spout and serve over Fluffy Mashed Potatoes, leaving the fat behind.
Mustard Crust
• 2 tablespoons chopped garlic
• 2 tablespoons Dijon mustard
• 2 tablespoons dry white wine
• 1 tablespoon soy sauce
• 2 tablespoons olive oil
• 1 teaspoon Tabasco hot pepper sauce
• 1 teaspoon herbes de Provence
• 1/2 teaspoon salt
• 1 chicken (about 3 1/2 pounds)
• Fluffy Mashed Potatoes
For the crust: Mix all the ingredients in a small bowl.
Preheat the oven to 450 degrees. Using kitchen shears or a sharp knife, cut alongside the backbone of the chicken to split it open. Spread and press on the chicken with your hands to flatten it. Using a sharp paring knife, cut halfway through both sides of the joints connecting the thighs and drumsticks and cut through the joints of the shoulder under the wings as well. (This will help the heat penetrate these joints and accelerate the cooking process.)
Put the chicken skin side down on a cutting board and spread it with about half the mustard mixture. Place the chicken flat in a large skillet, mustard side down. Spread the remaining mustard on the skin side of the chicken.
Cook over high heat for about 5 minutes, then place the skillet in the oven and cook the chicken for about 30 minutes. It should be well browned and dark on top.
Let the chicken rest in the skillet at room temperature for a few minutes, then cut it into 8 pieces with clean kitchen shears. Defat the cooking juices.
If you like, mound some Fluffy Mashed Potatoes on each of four warm dinner plates and place 2 pieces of chicken on each plate. Pour some juice on the mashed potatoes and chicken and serve.

******
Thank you to all of the Morons for your kind and comforting words and thoughts and prayers

posted by Open Blogger at
04:00 PM
|
Access Comments