« Gun Thread: Build Or Buy, That Is The Question [CBD]
|
Main
|
Food Thread: How To Read A Recipe, And The Limits Of That Reading [CBD] »
May 22, 2016
Sunday Thread For the Birds [Y-not]
OK, given the supposed origins of "for the birds," I hope that's not true of this thread, but time will tell.
Seems like we have a lot of amateur bird-watchers amongst the horde (and I have quite a few on my Twitter feed), so how about a thread for us bird brains?

Nevermore
It turns out that ravens make "very sophisticated nonvocal signals," according to researchers. In other words, they gesture to communicate. A study in Austria found that ravens point with their beaks to indicate an object to another bird, just as we do with our fingers. They also hold up an object to get another bird's attention. This is the first time researchers have observed naturally occurring gestures in any animal other than primates.
How can you tell if you're looking at a raven versus a crow?
Is that big black bird a crow or a raven? How can you tell? Ravens (seen right here) often travel in pairs, while crows (left) are seen in larger groups. Also, study the tail as the bird flies overhead. A crow's tail is shaped like a fan, while the raven's tail appears wedge-shaped. Another clue is to listen closely to the birds' calls. Crows give a cawing sound, but ravens produce a lower croaking sound.
Bird communication fascinates me. Back in the day, a colleague of mine studied (amongst other things) chickadee communication. Because of their small size and high metabolism, they form cooperative groups in the winter when food is scarce. Those groups develop "dialects" that they use within the group. I haven't kept tabs on my old colleague's research, but here's a recent study of how chickadee communication varies with elevation. Cool stuff.
Bird Brain
Ravens are known for being highly intelligent. On the other end of the spectrum, there's this:
LOL!
In defense of the goose, this researcher says they're using their brains to adapt to urban life. He begins by contrasting crows and geese:
One of my favorite stories about the cognitive superiority of crows relative to other birds comes from my friend Valerie Allmendinger. Valerie was enjoying a break at Harrison Hot Springs in British Columbia, Canada, when she noticed one of the kitchen staff members flipping slices of bread to a local flock of Canada geese. As the honkers waddled toward their tasty treats, about a dozen crows rushed ahead and individually placed fallen leaves atop the bread. For twenty minutes crows picked up single, red maple leaves and placed them directly over each bread slice, concealing the feast from the geese. The geese were miffed. Unable to perceive or comprehend that the bread was still there, albeit out of view, the geese lost out on a sure meal. Score one for the crows.
But then goes on to point out this:
That a crow can outsmart a goose does not mean the goose is dumb. Each species exhibits its intellect in distinct and often surprising ways. Most recently, geese showed me a cognitive side that I had not previously appreciated. A large flock of resident Canada geese prowl the lawns of my urban Seattle, WA, campus. They graze without fear of the 40,000 students who surround them and daily criss-cross their paths. It is rare that I see these honkers fly. They have habituated to humanity; learning to stay calm, graze on, and fatten with little expenditure of energy. I took this learned adaptation to city life for granted until last week when a storm pushed migratory geese into Seattle. The change in weather dropped a couple diminutive cackling Canada geese, four white-fronted geese, and a single snow goose into our flock of oversized, resident geese. The wild visitors had come from the arctic and surely had passed hunters as they traveled south. I expected them to fear people and nervously cope with the throngs of students. But this was not the case. Immediately upon joining their urban brethren, the wild geese became docile. They grazed and slept without concern as I stood less than two meters away. Instantly they were tame. When in Seattle, these geese did as the resident geese did. They learned by observation, itself a complex bit of cognition.
Share your stories of bird intelligence (or lack thereof) here.
Bird Photography
I think few animals are as beautiful as birds.
Enjoy some glorious bird photography here.
Are any of you "serious" photographers? Do you have tips for amateurs like me? Share your experiences with bird photography, from equipment to set up to photographs, here.
Birds Afield
Mr Y-not and I are not "serious birders," but we do enjoy visiting places where we might see some interesting birds or bird behaviors. Courtesy of WildBirds.com, here's a list of 250 places in North America that are suitable for bird watching.
I happened to visit one of the Kentucky locations a couple of weeks ago, the John James Audubon State Park.

Museum and nature center. (Read about the history of the park here.)
Although the grounds housing the museum and nature center are quite spectacular, we found the bird-watching opportunities rather limited. It may just be that we were in the wrong section of this 575-acre park, but the one area set up for bird-watching was cordoned off from visitors. We barely explored the woods (a little too warm that day), so perhaps there was more to enjoy further into the park.

The museum provided an in-depth window into Audubon's life and work, in addition to housing many of his prints (no photography permitted, unfortunately).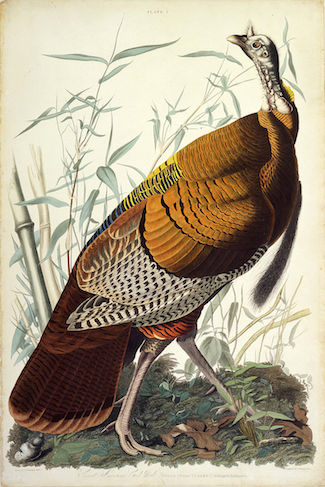 Audubon's wild turkey
After our visit, we stopped by a gastropub in town (Henderson, Kentucky) for lunch and walked around the riverfront park for a bit. The town is pretty depressed, but they are trying to make the most of their connection to Audubon.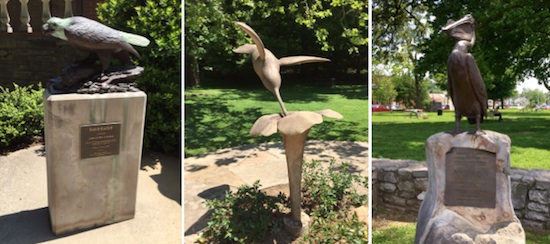 Sculptures on the grounds of the Audubon Museum (left, center) and in the town of Henderson (right).
Where do you like to go birding?
Birds of a Feather
Speaking of Audubon, this link from their Twitter feed sure is striking:
Follow this link to see a few more spectacular photographs of feathers.
If you're interested in learning a bit about how feathers came to be, you might enjoy this TED talk:
Another fun feather video here.
Backyard Birding
Of course, most of us do not have to travel far to enjoy our feathered friends. Here's Exhibit A:
That first "bird" sure is unusual!
It would be fun to see your backyard birding pictures from time to time. Send them, or any tips or requests, to me at bailesworth AT gmail (or @moxiemom on Twitter).
*tweet, tweet*


posted by Open Blogger at
01:55 PM
|
Access Comments