« EMT 5/22/16 [krakatoa]
|
Main
|
Gun Thread: Build Or Buy, That Is The Question [CBD] »
May 22, 2016
Sunday Morning Book Thread 05-22-2016: Rust Never Sleeps [OregonMuse]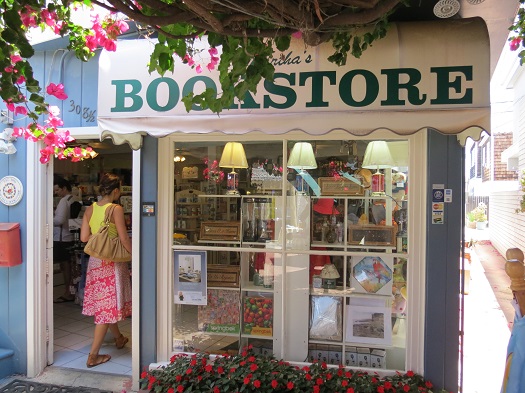 Another Defunct Bookstore

This charming little place was Martha's Bookstore on Balboa Island, Newport Beach, CA, which is now closed. That's the bad news. The good news is that it is now the site of Island Tales Bookshop, a bookstore specializing in children's books.
Good morning to all of you morons and moronettes and bartenders everywhere and all the ships at sea. Welcome to AoSHQ's stately, prestigious, internationally acclaimed and high-class Sunday Morning Book Thread, where men are men, all the 'ettes are lovely, space isn't safe, and snowflakes will melt. The Sunday Morning Book Thread is the only AoSHQ thread that is so hoity-toity, pants are required. And if you self-identify as a carrot, it doesn't matter what the Obama DoJ says, you still can't go sneaking into the other bin and molest the celery.

It Never Stops
This one has been sitting in my "to do" list fo a couple of weeks, now. About time I got to it:
278 The left churned out another Hiss is innocent book called American Dreyfuss. The premise was that Hiss set him up. LOL

The author was 20 y/o, living with her 52 y/o fiance who also "dated" her mom, when Alger Hiss showed up for dinner. This was 1960 after he got out of the joint. I cant believe she wrote this crap. Joan Brady is her name. Im amazed she found a publisher. No doubt she will be invited to speak and appear at functions and maybe money can be made that way but who but a small group of people thing Alger is still innocent?

Posted by: Bruce With a Wang! at May 11, 2016 10:00 AM (iQIUe)
I think BWaW! perhaps meant that Nixon set him up. Because I couldn't find any book called "American Dreyfuss" on Amazon, but I did find Alger Hiss: Framed: A New Look at the Case That Made Nixon Famous by Joan Brady, so this is most likely the one BWaW! is referring to. The release date is January 2017, and there's no "Look Inside" link, so I don't have anything to go by other than the Amazon blurb.
Get a load of this:
In this riveting investigation, Joan Brady—winner of The Whitbread Book of the Year—reveals how Nixon manipulated a media and public in the thrall of post-war anti-communist hysteria to make a fabricated case against Hiss...Brady has pored over newly available KGB files and makes a powerful argument that previously presented KGB documents bearing Hiss's signature were forgeries. With this new revelation, the corruption of President Nixon and his legacy comes into greater relief. Alger Hiss is necessary and timely, telling soberly the tale of a nation in the grip of paranoid fear and the man who took most advantage of this fear.
Oh my. This is such a target-rich environment, I scarcely know where to begin. I guess I can start out by observing that progressive scholarship really isn't scholarship in the traditional sense of the word, by which I mean the production and subsequent increase of human knowledge and, indirectly, the distribution of its benefits. Instead, progressive scholarship is simply progressives fleshing out and expanding upon the various bullshit narratives they've invented. Now, one very strong, and at this point, venerable, bullshit narrative is the "evil Richard Nixon" theme wherein Nixon is basically a stand-in for Satan. Even atheists have to have a devil, and Nixon is theirs. Now, you young-uns wouldn't believe the depths of the spittle-flecked madness that Nixon drove the left into back in the day. You've all seen Palin Derangement Syndrome, Bush Derangement Syndrome, and some of you older morons remember Reagan Derangement Syndrome, but I'm telling you that these were mere candles in the wind compared to the roaring conflagration that was Nixon Derangement Syndrome. Every evil or misfortune that occurred in the world was attributed to something Dick Nixon did, or didn't do, or said, or didn't say. It was absolutely insane. Yet it became just another tool in the progressive toolbox. Another day, another Nixon perfidy.
Another bullshit narrative is the much-used "anti-communism is delusional" dead horse that progressives have been flogging for decades. The problem is, they don't usually attempt to set forth a positive case for progressive beliefs, i.e. write hagiographies of Mao ZeDong and the glories of his Five-Year Plans, but rather, it's all attack, attack, attack, and kill the messenger: when an actual scholar does actual work, such as Chinese author Jung Chang did with her biography Mao: The Unknown Story, which was not favorable towards him, then suddenly a bunch of Maoist nincompoops will come crawling up out of the drains like sewer rats, squealing and twitching their whiskers in righteous fury at the woman who dared cast aspersions on their god. Some of the 1-star reviews of Chang's book bear this out.
The novelty of Brady's new book on Hiss is that it looks like it takes the "evil Richard Nixon" bullshit narrative and combines it with the "anti-communism is delusional" bullshit narrative, mixes them together and the resulting brew is even more intoxicating, like whiskey to a thirsty Irishman. I predict that when this book is released, the reviews from left-wing media such as the Guardian, Salon, and the HuffPo will be snake-handling levels of ecstatic. The right has pretty much fought the left to a standstill on the Hiss case for a number of years now, since the publication of Perjury: The Hiss-Chambers Case, written by left-wing author Allen Weinstein, who investigated the Hiss case with the intent of finding the reasons why Hiss was innocent, reasons he knew had to be there, but instead discovering that he was guilty as charged. With that, conservatives have pretty much moved on, but the left never does, never moves on, never sleeps, and is corrosive as rust. Brady's new book will be potent balm to salve their wounded souls. With the combining of the two bullshit narratives, I can hear the Guardian reviewer cry out with joy, "Hallelujah! Finally, after all these years, it now all makes sense."
Nixon did it! Yeah!
And with that, their ignorance will be nigh impregnable.
Walking the Walk
When last we heard from J K Rowling, author of the Harry Potter novels, she was saying that Donald Trump was 'worse than Voldemort.' And this after it was pointed out to her that, unlike Voldemort, Trump has never actually, you know, *killed* anyone.
So yeah, she's a dumbass.
On the other hand, earlier this week, she gave a speech in New York where she made it clear that she strongly disagreed with the recent petition circulating in the U.K. seeking to have Trump banned from entering the country:
"Just a moment," a smiling Rowling said. "Now, I find almost everything that Mr. Trump says objectionable. I consider him offensive and bigoted. But he has my full support to come to my country and be offensive and bigoted there."
And then she followed it up with:
"His freedom to speak protects my freedom to call him a bigot," Rowling continued. "His freedom guarantees mine. Unless we take that absolute position, without caveats or apologies, we have set foot upon a road with only one destination. If you seek the removal of freedoms from an opponent simply on the grounds that they have offended you, you have crossed a line to stand alongside tyrants who imprison, torture and kill on exactly the same justification."
I called her a dumbass, but this full-throated defense of free speech puts her way ahead of any number of academic types and college presidents in this country. If she thinks Trump is a dumbass but she does not want to restrict his speech, and I think J K Rowling is a dumbass but I do not want to restrict her speech, then it all works out for everybody.

Not Quite A Recommendation
A lurking 'ette read Mutiny In Space, as the author, Rod Walker, is being touted as a successor to Robert Heinlein. After reading it on the recommendation of Instapundit, she decided she prefers Heinlein:
For one thing I didn't really like Nicolai, the protagonist. Heinlein's kids were all likeable...Rovio, Nick's uncle lays out real life truths for Nick, but unlike the many father characters written by Heinlein there is no real warmth in his character.

There's no banter, no wisecracks, and nary a character beat for the sake of character dimensionality. Would Nick or anyone else in 'Mutiny' read Three Men in a Boat, play cribbage, build a still, or make the thickest malts in town? Only if it had plot utility later.
Bottom line:
So three out of five stars. I didn't waste my money, but I'll reread Heinlein before buying another one.
Heinlein, despite all the pornographic crap he wrote later in his life, had this conservative streak in him that was up front and center in his early juvenile fiction. And he frequently used scenes of parents explaining things to their kids, or teachers explaining things to their students, to get his point across. And some of these didactic passages could be quite lengthy. I've always suspected Heinlein felt that the Crazy Years were just starting to under weigh and he was doing what he could to delay their onset.
But on the other hand, Stranger In A Strange Land was a hippie favorite, so maybe he had thrown in the towel by then.

Moron Recommendations
It is hard for me to imagine the gut-wrenching emotions that mothers must feel when they know their sons in the military are placed in harm's way. Here are words no mother wants to hear:
"We have four levels, ma'am, from Not Injured to Not Seriously Injured to Seriously Injured and then Very Seriously Injured, as your son is listed."
I first heard about this from a new member in votermom's Goodreads group who joined up
...[p]artly because a friend has written [a book] about the "journey" with her son's recovery after being blown up in Iraq. The three psy-ops soldiers and the Iraqi interpreter with him were all killed. He has TBI and will never be the same. There has already been a movie, "The Corporals Diary" made about the event, now she has written a book from a mothers perspective about his recovery, battles with the VA to get him care, some of the amazing people involved with that care, and some of the Brass who moved mountains to get him what he needed.
The amazing story is that the soldier, Matthew Drake, has managed to achieve a certain amount of recovery to where he is functioning again. The book his mother wrote is not available on Amazon as far as I know, but it is available here: Just As He Is Right Now.
From the Book Summary page:
Heartbreaking and humorous, irreverent and inspiring, Just as He Is Right Now is a must-read for all those who love someone with a traumatic brain injury or anyone struggling to overcome a life-altering challenge. Readers will be uplifted by this story of an ordinary young man who wanted to be "one of the good guys" and rose from the ashes to become exactly that.

___________
I think this was mentioned in last week's book thread, but a moron e-mailed me to recommend Forgotten Skills of Cooking: The Time-Honored Ways are the Best - Over 700 Recipes Show You Why by Darina Allen. He says this cookbook
...encompasses a LOT more than just cooking. This would also be a good book for the 'survival enthusiasts. Lots of good recipes, lots of tips, how to use leftovers, produce gardens, raising chickens, canning, curing, etc.
This sounds like a good book to have on hand during the Burning Times.

___________
Another lurking moron highly recommends the books of Brandon Sanderson. I'll just copy and paste the e-mail, because, lazy:
Anyway, I wanted to recommend to my fellow morons the books of Brandon Sanderson. The Mistborn books are a good place to start. He calls much of his work "hard fantasy", which as far as I can tell means it has magic, but the magic has carefully defined rules, like hard s.f. In Mistborn, those born with the talent (allomancers) can consume and "burn" metals to produce various magical effects. The story concerns a low-born (skaa) thieving crew that sets out to overthrow the Lord Ruler, a supremely powerful allomancer who has ruled the world for a thousand years. It is fantastic. Oh, and some of the main villains are the Steel Inquisitors, men who walk around in black robes with shaved heads, facial tattoos . . . and oh yeah, freaking metal spikes going through their heads where their eyes should be!

They are fantastic books and a great introduction to an amazing author.
As I recall, Vic is a big fan of the Mistborn series and I very much enjoyed The Way of Kings, the first in the 'Stormlight' series. Haven't got around to the sequel Words of Radiance, yet, but it's on my list.

___________
High praise for the novel Mildred Pierce from one of my chess.com buds, moron lurker 'bonedaddi'. During one of our games, he told me:
I just re read Mildred Pierce and I think there is a case to be made that it is one of the greatest American novels ever written. Further, I think Veda is one of the greatest villains ever created - dare I say she is on par with Iago
They made this one into a movie with Joan Crawford, I believe, but she didn't play the villain.
Mildred Pierce was written by James M. Cain who has had some of his other novels made into well-known motion pictures, namely Double Indemnity, and The Postman Always Rings Twice.

Books By Morons
One of our lovely 'ettes emailed me this week to let me know her (lurking) husband has just published this book, Dying Horribly at Harding Hall (The Harding Hall Mysteries) (Volume 1). Murder and mayhem is afoot:
In Dying Horribly at Harding Hall, we meet a wealthy, aristocratic English family—generation after generation—of lecherous and greedy muttonheads.
Heh. It's the aristocrats!
Going back to the 1920s the heirs of Harding Hall have been dying bizarre and apparently accidental deaths. Our heroes, or more accurately antiheroes, brothers Lars and Loris Harding, have decided to call in a supposedly brilliant detective from India named Depak Chota. It's not that they are that deeply concerned about the deaths of their mostly despicable relatives. Rather, their interest has become a bit more urgent now that they are next in line to inherit Harding Hall.
Also available on Kindle.

___________
Moronette 'votermom' is putting together a list of moron authors over on the Goodreads site which is intended to be acessible to non-members. Here is the list she has compiled so far. Let her know if there's an author she's missing.
http://www.bookhorde.org/p/aoshq-authors.html

___________
Don't forget the AoSHQ reading group on Goodreads. It's meant to support horde writers and to talk about the great books that come up on the book thread. It's called AoSHQ Moron Horde and the link to it is here: https://www.goodreads.com/group/show/175335-aoshq-moron-horde.

___________
So that's all for this week. As always, book thread tips, suggestions, bribes, rumors, threats, and insults may be sent to OregonMuse, Proprietor, AoSHQ Book Thread, at the book thread e-mail address: aoshqbookthread, followed by the 'at' sign, and then 'G' mail, and then dot cee oh emm.
What have you all been reading this week? Hopefully something good, because, as you all know, life is too short to be reading lousy books.

posted by Open Blogger at
08:58 AM
|
Access Comments