« Ace of Spades Pet Thread [Mis. Hum.]
|
Main
|
Overnight Open Thread (14 May 2016) »
May 14, 2016
Saturday Afternoon Chess/Open Thread 05-14-2016 [OregonMuse]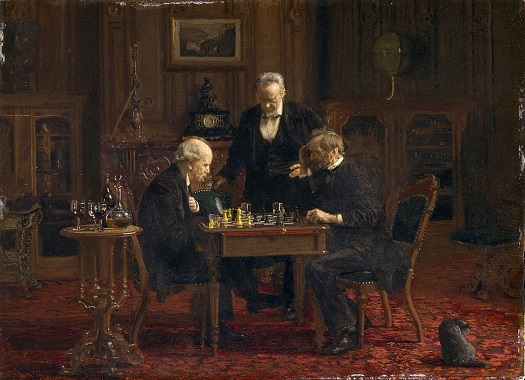 The Chess Players by Thomas Eakins, 1876

Full size version here.

Good afternoon morons and moronettes, and welcome to the Saturday Afternoon Chess/Open Thread, the only AoSHQ thread with content specifically for all of us chess nerds who pay homage in the temple of Caïssa, goddess of hung pieces and missed mates-in-1. And, for those of you who aren't nerdly enough for chess, you can use this thread to talk about checkers, or politics, or whatever you wish, only please try to keep it civil. Nobody wants to get into a big ugly pie fight on a Saturday afternoon.

Chess: Embracing The Suck
Are you a crappy chess player? Do you ever look at a game you're playing and think "I have no idea what I'm doing"? Do you ever get blindsided by some move that you never saw coming even though it was RIGHT THERE IN FRONT OF YOUR DAMN FACE THE WHOLE FREAKIN' TIME YOU WERE LOOKING AT THE BOARD?!?
Do you feel as Insomniac does?
The chess thread makes me feel like a total f*cking retard...I really hate it when I work on one of the boards and can't figure it out, then the solution gets posted and it feels like I missed the glaringly obvious. Much swearing ensues. Then the self-recriminations.

Posted by: Insomniac at May 08, 2016 11:30 AM (0mRoj)
He left out the part about the heavy drinking, although I suppose it was implied.
My response to him was basically, look, no matter how good you get, you're never going to reach a point where that doesn't happen. You're always going to get stumped. And during your games, you're going to be often confronted with positions where it's your move and you don't have the foggiest idea what to do. And then the move you end up making turns out to be the worst one you could've chosen. One that haunts you for days afterwards. One that you can't seem to stop thinking about, particularly when you wake up at 3AM in the lonely dark and can't get back to sleep.
Most of us are probably familiar with NBA superstar Michael Jordan's classic quote on failure:
I've missed more than 9000 shots in my career. I've lost almost 300 games. 26 times, I've been trusted to take the game winning shot and missed. I've failed over and over and over again in my life. And that is why I succeed.
Shorter Michael Jordan: I didn't quit.
And neither should you. I know this sounds kind of lame, but you need to keep at it. You only get good at something if you practice.
I am not a particularly good chess player. My last "official" USCF tournament was over 20 years ago, after which my rating remained underwater (below 'C' level). My only advantage is that I've been playing for 50 years, so I've seen a lot. And even after all of these years, the game fascinates me so much that I can't keep away from it.
If you're playing against a computer app with variable strength, crank it down to where you can beat it. Then when you get to the point where you start winning most of the time, crank it up a bit. I would say a good "sweet spot" to shoot for is one where you're winning 40-50% of the time. That way it's challenging, but not totally discouraging. If you crank it up too far, you'll just get crushed over and over again, and you won't stand a chance. So you want to get to the balancing point equidistant between boredom and self-loathing.
So: embrace the suck. Get out there and fail! Winning may be more fun, but losing is more instructive.

Black Mates In 1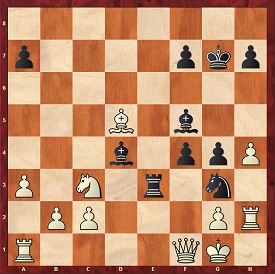 FEN: [8/p4pkp/8/3B1b2/3b1ppP/P1N1r1n1/1PP3PR/R4QK1 b - - 0 1]

This is from a game that is over 150 years old.
White Mates in 3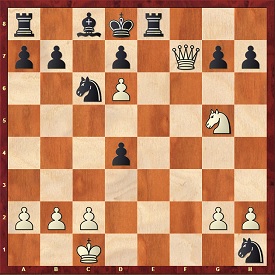 FEN: [r1bkr3/pp1p1Qpp/2nP4/6N1/3p4/8/PPP3PP/2K4n w - - 0 1]

Solution: 1.Qf6+ Re7 2.Qf8+ Re8 3.Nf7# <-- highlight blank area

Tactics Books
In order to get better at chess, you need to practice tactics over and over and over. In order to facilitate this, there are compilation books of tactical exercises that you should be practicing regularly.
The first is Practical Chess Exercises: 600 Lessons from Tactics to Strategy by Ray Cheng, who is actually a Moron, and who on rare occasions post comments under the nic 'GolfBoy'.
Also look at Tactics Time! 1001 Chess Tactics from the Games of Everyday Chess Players by Tim Brennan. Tim's puzzles come from actual games, and not just master games, but even some from players with ratings as low as 1500-1600. And do go to Tim's site and sign up for his FREE newsletter and you'll get a tactics problem delivered to your e-mail box every day.
Another good resource is Chess: 5334 Problems, Combinations and Games by László Polgár and Bruce Pandolfini. This book is over 1000 pages, and you can use it as a door stop. Or set it on fire, and it'll keep your house warm for an entire winter during the upcoming Burning Times. But it will keep you busy for a long time working through the problems.

White To Play And Win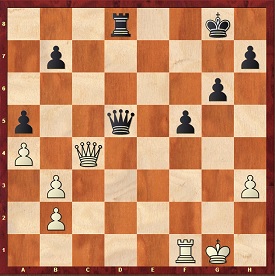 FEN: [3r2k1/1p5p/6p1/p2q1p2/P1Q5/1P5P/1P6/5RK1 w - - 0 1]

For this problem, a demonstrated checkmate is not necessary, just show how White can achieve a decisive material advantage. I'll post the solution in the comments in the fullness of time.

Open Question
Who is the greatest chess master never to be world champion? There are a number of candidates. I've got it narrowed down to two: Paul Keres and Reuben Fine. I can't decide which one would be the best choice.
Some might suggest all-time great Paul Morphy. He was never *technically* the world champion, since he never did get to play Howard Staunton. Yes, I know Staunton basically ran away from Morphy, so perhaps we should call his hiding in the tall grass a win for Morphy.

Endgame Of The Week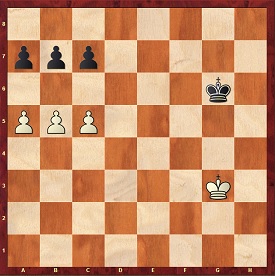 FEN: [8/ppp5/6k1/PPP5/8/6K1/8/8 w - - 0 1]

So this problem is aimed at beginners, and it is: White to play and win. And by "win", I mean queen one of them pawns before Black can get over there and screw things up. Once you get the passed pawn with no chance of Black stopping it, you can declare victory as we will assume you can finish the mopping up operation yourself. The technique you will use to spring one of the pawns is a good one to remember, as you'll no doubt get opportunities to use it in your own endgames.
Just remember not to over-generalize. This is not a universal solution. It only works given the relative position of the rows of pawns and the distance of the kings. If each row of pawns were down one rank, or if the kings were on the f-file rather than the g-file, Black would then have enough time to skedaddle over to the pawns and prevent White from winning. Try it and see.
The point is, as legendary GM Paul Keres says, "a player must weigh up all factors before plunging into such a sharp combination."

___________
Note: that cryptic line of letters and numbers you see underneath each board diagram is a representation of the position in what is known as "Forsyth-Edwards Notation", or F.E.N. It's actually readable by humans. Most computer applications nowadays can read FEN, so those of you who may want to study the position, you can copy the line of FEN and paste into your chess app and it should automatically recreate the position on its display board.
___________
So that about wraps it up for this week. Chess thread tips, suggestions, bribes, rumors, threats, and insults may be sent to my yahoo address: OregonMuse little-a-in-a-circle yahoo dott com.


posted by Open Blogger at
04:05 PM
|
Access Comments