« Tin Foil Hats: The Newest Thing In Psychiatry (CBD)
|
Main
|
Saturday Afternoon Chess/Open Thread 04-30-2016 [OregonMuse] »
April 30, 2016
Ace of Spades Pet Thread [Mis. Hum.]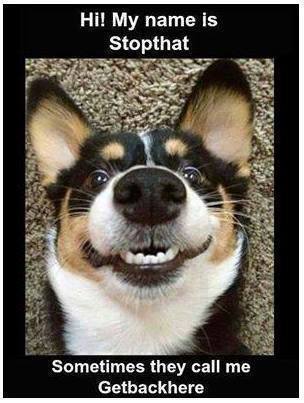 I guess it's better than being named Dammit. Welcome aboard to the Pet Thread.
Climb on a piece of furniture get comfy and take it easy.
Interesting pet and animal news
I was recently contacted by a first time dog owner who wanted to acclimate their dog to water. The dog is not a sporting breed which from experience take to water quickly. When young introduce them to puddles, a small swimming pool or a lake. Stay away from streams or rivers with strong current. While conducting research this website came up. I cant argue with any of the advice here.
During the research a couple of videos were found. Now granted both trainers have Labs which take to water like I take to cheese cake. But, they are both good starting points.


So Morons, do you have a pet that swims? What did you do to introduce your friend to water? Did you throw your pet into the water? Did you play fetch by throwing the object into the water? Let's help our Moron friend out today.
Just a reminder, try to keep your dog out of algae. The past 2 summers here in the upper Midwest several dogs have died from the bacteria in the algae. Also if your dog has a weak immune system be careful around small creeks, swamps and marshes where microbes present in the water can cause sickness and/or death. Romping through the great outdoors with your pal is fun, but caution must be taken at times.
Meet the Pet Morons
Catlady sent in this photo. I figured anyone named Catlady would have had at least double digit cats in the photo. I was wrong. They look at home there. Thanks for sharing.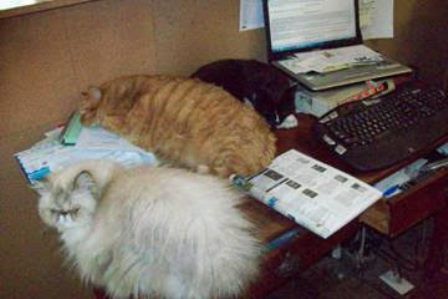 We received this submission from fish of his English Mastiffs, Poppins & Brutus.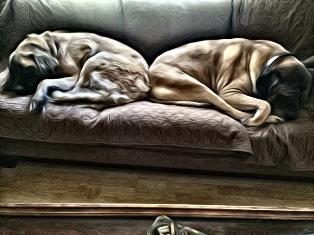 Black Orchid's Leo. She didn't say much about him, but from the looks of him he's adorable.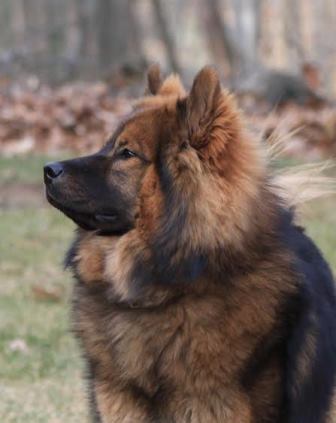 Meet Sneaker the Cat and Red the Dog. These critters own JohnFNotKerry.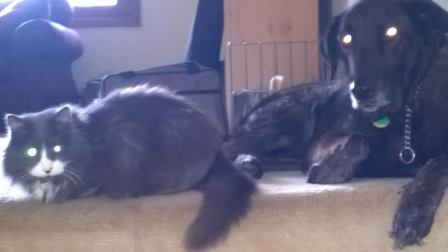 Mobile Command Unit claims to have the loudest under 20# dog there is. Sounds like Miri's bark is worse than her bite.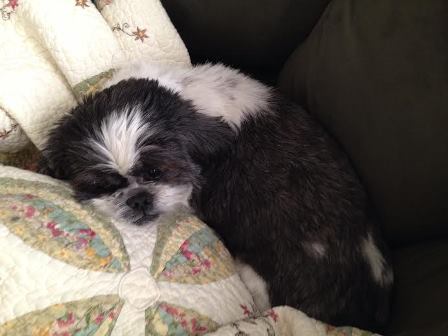 No Frank Zappa names for these 2 characters. Kasper is the German Shepherd Dog and Scout is his buddy, who was rescued. Interesting pose thank you Freaked for the submission.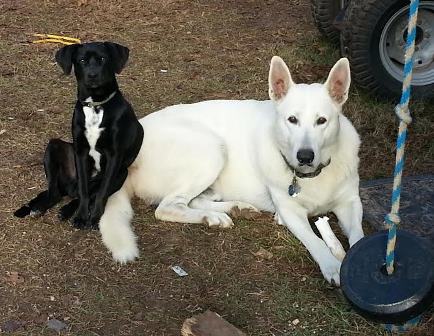 Madxmom has an older rescue dog by the name of Ginger. She likes long walks and has a cute disposition.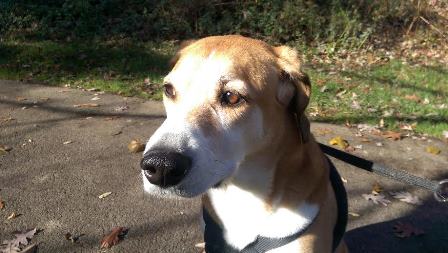 Holy-Moly, talk about cats. Moron Fish submitted this photo from top to bottom, Milk, Bruiser, Half n Half, Stanley & Penny.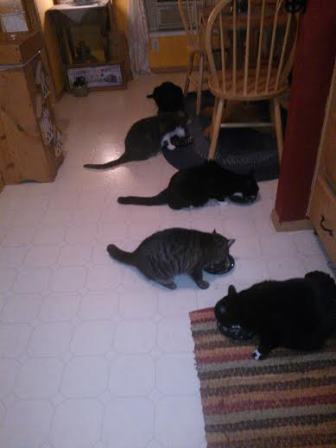 Sad story about the cat Hobbes, formerly owned by tcn in AK. Seems the poor cat got a hold of a mouse poisoned which poisoned the cat. Mouse/rat poison is some bad stuff. Be careful with it.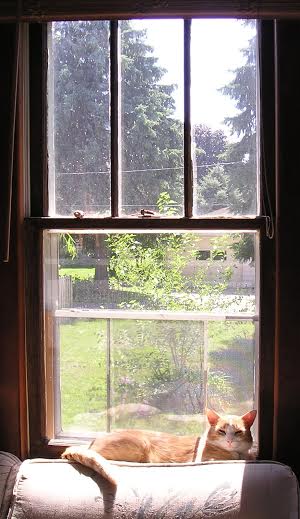 Meet a service dog by the name of Woofie. Just Another Anonymous Lurker didn't say what type of service dog it is. Woofie is a Pomchi.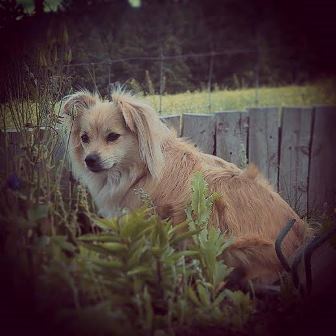 Last but not least is this submission from Peaches. The larger kitty was Henry who has passed on. The smaller cat is Cecil who now is 12. Cute picture, I can see why Peaches had used it for a screen saver shot.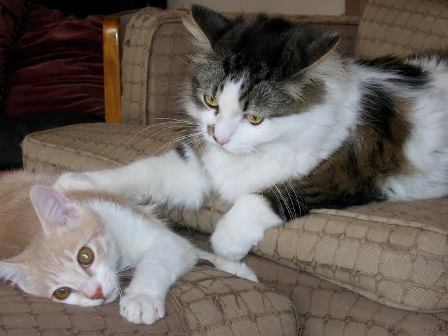 This concludes this weeks Pet Thread. Thank you for stopping by. As always if you have photos, tips, news, etc., feel free to pass along to us at petmorons at gee mail dot com.

posted by Open Blogger at
02:45 PM
|
Access Comments