« Ace of Spades Pet Thread [Mis. Hum.]
|
Main
|
Overnight Open Thread (30 Apr 2016) »
April 30, 2016
Saturday Afternoon Chess/Open Thread 04-30-2016 [OregonMuse]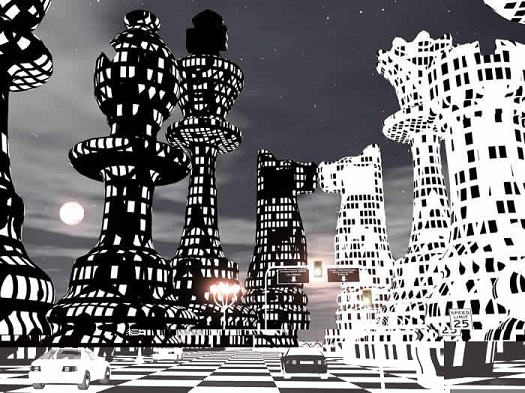 "Come To Chess City!"

Good afternoon morons and moronettes, and welcome to the Sunday Afternoon Chess/Open Thread, the only AoSHQ thread with content specifically for all of us chess nerds who pay homage in the temple of Caïssa, goddess of outside passed pawns and Modern Chess Openings. And, for those of you who aren't, you can use this thread to talk about checkers, or tiddlywinks, or Tigglypuff, or whatever you wish. Only please try to keep it civil. Nobody wants to get into a pie fight on a Saturday afternoon.
"Nowadays, because of computers, a 13-year-old would probably know more than Bobby Fischer knew when he retired."
--Garry Kasparov

Endgame Study
This is another one whose solution eluded me. And after I saw it, I said "duh". Hopefully, you'll do better. It's White to play and win.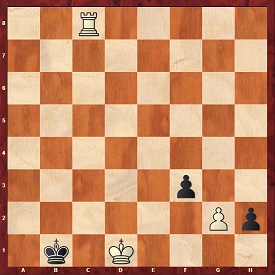 FEN: [2R5/8/8/8/8/5p2/6Pp/1k1K4 w - - 0 1]

One Knight Too Many
Over on our awesome chess.com group, GOOCH asks:
I think one of my weaknesses is the middle game in general and, in particular, dealing with knight threats. I have trouble arresting their march into my territory, despite good pawn structure, and knights are almost always behind my most frequent blunders. Anyone have any good tips on this they'd like to share? I'm open ears...
Yeah, no doubt about it, knights are tricksy little guys. For example: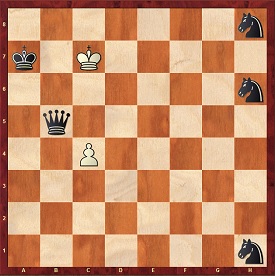 FEN: [7n/k1K5/7n/1q6/2P5/8/8/7n w - - 0 1]

This position is one of the ones found in the Lomosomov Tablebases, a giant database that contains all 7-piece endings:
7-man tablebases were calculated in 2012 on Computer Science department of Moscow State University. Calculations were done on supercomputer named Lomonosov...The tablebases contain the exact evaluations (draw or moves to mate) for all positions with no more than 7 pieces on the board. The total number of positions in the tables – more than 500 trillions (500 000 billions).
There's an Android app that allows you to train on endgame positions. This is where this problem came from.
And I have not been able to solve this it. I can only get so far: after I queen the pawn, which is easy, I can usually figure out a way to force the Black king into a fork and pick off one of the knights. But then Black manages to bury the king in one of the corners with the knights right next to him, and once that happens, I don't see any way how to pry him out.
Actually, I don't even know if forcing a mate from this position is possible within the constraints of the 50-move rule. So perhaps this problem is of theoretical interest only.

Yoot Chess
In United States chess, things are definitely looking up:
Benjamin Kwon does not look like a gladiator, but you should see him play the Fried Liver Attack, a wildly aggressive chess opening that wages an all-out assault on the opposing player's king. The opening is not for the fainthearted.

On a recent Friday afternoon, he beamed as he rattled off the first moves for both sides: pawn to E4, pawn to E5, bishop to C4, and so on, until he got to the real moment of attack, knight to G5. This is where the Fried Liver Attack gets hairy. "Nothing can block it," he said, his face lighting up.

Benjamin Kwon is 6 years old.
According to the current ratings list, Kwon's is only 684, so he's not exactly a phenom. But he's conversing about chess topics intelligently so you know he's going to get better. And not just Kwon. These days, many schools all across the country have chess integrated into the curriculum.
Chess is even used as a tool to reform juvenile criminals based on the theory that it cultivates habits of thinking that will help them make better decisions with their lives.
And because of this, because we're finally accessing a huge talent pool, we're eventually going to be cranking out champions. Only from the bottom up. Right now, 3 out of the top 10 players in the world are from the United States (So, Nakamura, Caruana). And this is only the beginning.
Thanks to CBD for the tip.
White Mates in 5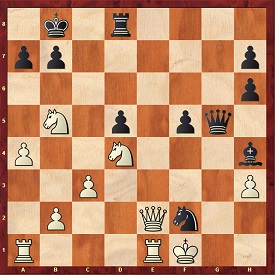 FEN: [1k1r4/pp5p/7p/1N1p1pq1/P2N3b/2P4P/1P2Qn2/R3RK2 w - - 0 1]

This problem is a good one to remember. The move sequence of the solution, and the piece configuration at the end, is one that comes up a lot in chess, and if you play enough chess, you'll eventually see this theme, or variations on this theme, occur in your games. Chess is mainly pattern recognition, and this is one pattern you should be able to recognize.
Thanks to 'Burn the Witch' for this problem

Snatching Defeat from the Jaws of Victory
There's not an actual chess club anywhere close to where I live (which is odd, this being a college town), but I did find a group of old guys who meet at a senior center every Wednesday morning for chess. And since I'm not all that younger than most of them, I fit right in. Here's a game I played at the senior center earlier this week. I managed, with great skill, to completely eff the whole thing up. This is the position after 11 moves: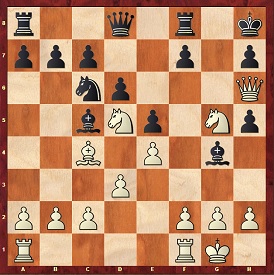 After 11.Ng5
FEN: [r2q1r1k/ppp2p1p/2np3Q/2bNp1Np/2B1P1b1/3P4/PPP2PPP/R4RK1 b - - 0 11]

At this point, I figure I have a completely won game. Black will realize that the pressure on his pawn on h2 is irresistible, and even without that, there's a Big Gaping Hole where his king-side defenses used to be. So I sat there, patiently waiting for his resignation. Instead, he hit me with this:
11...Qxg5
OK, fine, Black wants to drag it out a bit. The pressure is now off his h2 pawn, but it cost him his queen. He's still lost.
12. Qxg5 Rg8
Remember that Big Gaping Hole I spoke about earlier? Well, it kind of works both ways, doesn't it? Now what am I going to do with my queen?
13. Qh6
Perhaps better was 13. Qf6+, but if 13...Rg7, I'm not sure what would be a good follow-up. He's threatening Rag8 and now I've got a rook battery staring down my throat.
13...Bh3
14. Qf6+?
And here my troubles begin. I should have played 14. g3 and let him have the exchange. I can afford it.
14...Rg7
15. Kh1??
Bzzzt! Wrong! 15. g3 was mandatory. What was I thinking? Now I'm busted.
15...Bxg2+
16. Kg1 Bxe4+
17. Qg5 Rxg5# 0-1
I see 3 takeaways from this:
1. Many times, the way to refute a sacrifice is to return the material at the appropriate time for a lasting positional advantage.
2. If you think you've got the game won, sit back, take a deep breath, and re-examine the position for counterattacking chances you might have to face. Don't be like the wide receiver whom the instant replay shows looking at the end zone as the ball slips through his fingers.
3. If you think you've lost, look again.
Despite my maladroit blundering, I still think I have a won game at the original position. But it wouldn't have been as quick as I thought, and I would've had to guard against counterattacks.
I was flustered at how quickly my I was able to turn a totally winning position into poo. So I totally missed 17.Qxg7+ Kxg7 18.dxe4, which puts me, basically, up a rook. White's 18th suggests that instead of 16...Bxe4+, Black should have played 16...Bf3+. OK, so I never had the slam dunk I thought I had. Dang chess.

___________
That cryptic line of letters and numbers you see underneath each board diagram is a representation of the position in what is known as "Forsyth-Edwards Notation", or F.E.N. It's actually readable by humans. Most computer applications nowadays can read FEN, so those of you who may want to study the position, you can copy the line of FEN and paste into your chess app and it should automatically recreate the position on its display board.
___________
So that about wraps it up for this week. Chess thread tips, suggestions, bribes, rumors, threats, and insults may be sent to my yahoo address: OregonMuse little-a-in-a-circle yahoo dott com.

posted by Open Blogger at
05:01 PM
|
Access Comments