« Food Thread: Artichokes -- Buds We All Like! [CBD]
|
Main
|
Non-Diplomacy Open Thread, now serving as a provisional ONT [Weirddave] »
April 24, 2016
Ace of Spades HQ Diplomacy Games Update[Weirddave]
A few weeks ago, I started a thread asking if anyone wanted to play the game Diplomacy online. (Thread here. I explained the game in some detail in that thread, you can read it if you're not familiar. Note: Do not post to old threads or Pixy will instaban you! It's a spam fighting measure) The response was overwhelming. There were enough people asking to play to play that I could have run 4 complete games. That was a little bit more work than I had envisioned, so I ran 2 games. If you replied and got a "you're on the waiting list" response from me, be patient, I may run 2 more games when these are finished. Anyhow, for the armchair generals out there, here is an update on the progress in both games. I want to commend all of the people who asked to play, we've only had one player drop out because of RL commitments and everybody has been prompt with meeting order deadlines. Both games have just finished the 1903 turns and are awaiting winter build orders due tonight. To refresh, here is the starting map: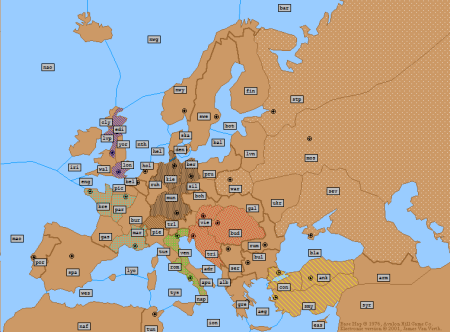 Game 1

(Please note that all commentary is by me just from observing the maps. I won't mention anything that players may have said to me in private emails)
As you can see, Central Europe is playing out much like it did during the actual WWI. France is holding her position while Germany is moving strongly to consolidate it's territory. England is still maneuvering to get a foothold on the continent. In the Balkans, Turkey is doing rather better than it did IRL, and poor old Austria has almost been crushed. Austria is statistically the hardest power to play successfully, and it's a real shame because Austria is the power that had to leave the game due to real life concerns after making an inspired opening gambit. Austria faked Italy out of position on the very first turn of the game and was poised to take Ven (Italy's fall 1901 orders email contained much invective directed at Austria), which would have given it a much needed 2 army build going into 1902 and a strong position moving forward. Alas, he only sent in hold orders for all units for the fall move and then had to retire from the game. I give a lot of credit to the Moron who volunteered to take over for him, he's played out a weak starting hand faithfully, which is always a problem in online Diplomacy. Players figure they are done and stop sending in orders. The new Austria hasn't done that. The game so far (click to see the animated version):
Game 2

And here's one of the reasons Diplomacy is such a fun game. Same starting positions, drawing from the same pool of players, and almost completely opposite results. Here Germany is clinging by its fingernails to a lone SC, and it's not even a "home" tile. Austria is the Central power that has cemented domination over the Balkans, driving Turkey back to its homeland as Russia slices into the Kaiser's still twitching corpse. Here's how it went down(click to see the animated version):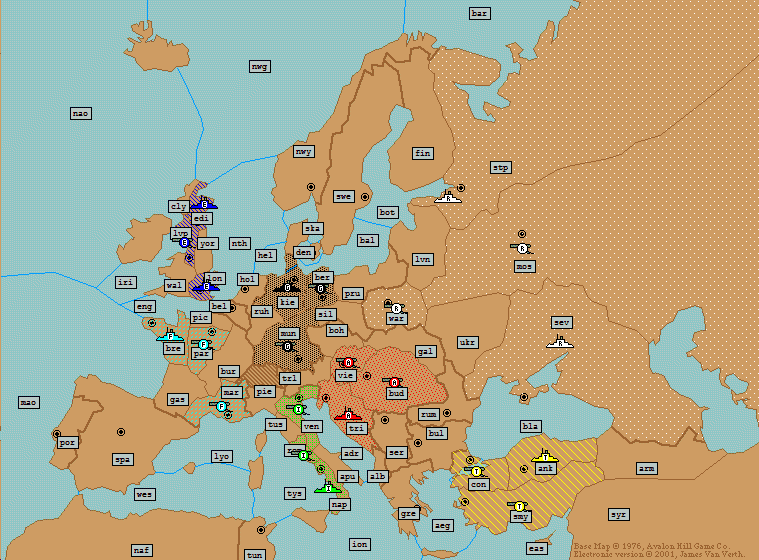 And that's where we stand as these wars drag into their fourth long year. The players have been asking for this thread, so I thought I'd oblige them. I haven't tied anybody's board names to their countries in either game, but if you want to identify yourselves in the comments, go ahead. The Four Horsemen of the Apocalypse have been ravaging Europe for three years now. Which power(s) will emerge supreme from this epic struggle? Stay tuned to find out next time. Same Ace Time! Same Ace channel!
**BTW, I'm aware that the maps could be clearer. This is the best I can do with the adjudication program that I use to run the games.(Realpolitik) Pixy says they are too big to upload as saved, so I have to shrink them before uploading them rather than just setting the display size in the HTML code. Sorry. That's why I put the animations on Photobucket, it can handle the larger GIFs.


posted by Open Blogger at
08:13 PM
|
Access Comments