« Return of the Travel Thread: North Carolina and Mississippi Edition [Y-not]
|
Main
|
Ace of Spades HQ Diplomacy Games Update[Weirddave] »
April 24, 2016
Food Thread: Artichokes -- Buds We All Like! [CBD]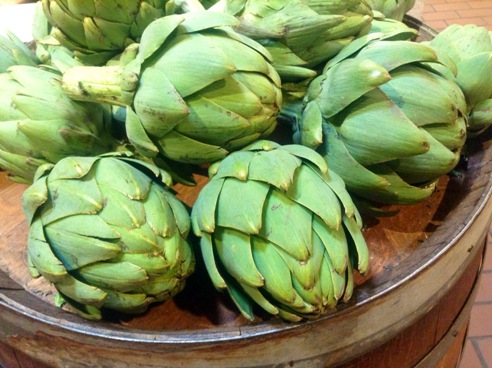 That's all it is....and it's a species of thistle to boot! Once the bud flowers it becomes inedible, as anyone who has bought an overly mature artichoke has discovered. Has anyone ever seen an artichoke flower? I have driven through California's artichoke fields many times and don't recall seeing blooms! Maybe because each artichoke is worth a lot of money....
I have read, and confirmed with my own experience that the thicker the stem the bigger the heart. So when you buy artichokes, go for the thick-stemmed ones.
As for cooking? I steam them for 45-60+ minutes, depending on size. Then I serve them warm with vinaigrette. But there are tons of recipes for them prepared in all sorts of ways. My favorite is baby artichokes fried crisp. I have tried to do it and failed miserably, probably because I am not ruthless in trimming them. I found a recipe for chicken braised with artichokes that looks great, but it's from the NY Times, so be warned...if you click on the link you will lose a few IQ points. Braised Chicken With Artichokes And Olives
******
There are so many hot sauces on the market -- probably thousands -- so I never really considered making my own. But somebody mentioned in a recent Food Thread that he made his own, so I poked around and found this:
The Meatball Shop's hot sauce recipe.
The restaurant is great! Yes, they make meatballs, but they are perfect, with wonderful sauces and fun presentations. The service leaves something to be desired, but still....they usually have good beer on tap, so the tatted idiots who pretend to be waiters are tolerable.
******
At first glance, Cook's Illustrated Ultimate Buttermilk Biscuits looked like a really good idea. Who doesn't want incredibly flaky and tender biscuits? That would be un-American. But the more I thought about it (and read the recipe) the more I thought that maybe biscuits should be kept simple. It takes me just a few minutes to make them...the baking takes longer than the prep. Why make something simple into something complicated? Of course this is Cook's Illustrated...they never found an extra step they didn't like.
Anyway, I haven't made these, and probably won't.

******
Peanut butter cookies can be damned good, but often they are dry and pasty and unappealing. I have no talent at baking, so my explanation for this is based more on my understanding of baking as one step away from alchemy and witchcraft. Or perhaps between them....
But this recipe looks pretty good, and the source is solid. Smitten Kitchen is one of those places I link to occasionally, and I am always pleased with the results when I cook one of her recipes.

******
I found this recipe at
Lidia's Italy
a long time ago, but it is no longer in her recipe rotation on her website. Lidia Bastianich is an accomplished restauranteur who also can cook up a storm. Her recipes are usually excellent and uncomplicated, unlike many of her ilk (Bobby Flay, I'm looking at you!).
Chicken Bites with Potato, Sausages and Vinegar
Bocconcini Di Pollo Con Patate E Salsicce
Ingredients:
2 frying chickens* (about 3 pounds each and preferably free-range)
¼ cup extra virgin olive oil
¾ pound sweet Italian sausage cut into ¾ inch pieces
Salt
Freshly ground pepper
1 ½ pound small red bliss potatoes, washed and cut in half
6 garlic cloves, peeled
3 sprigs fresh rosemary
¼ cup red wine vinegar
3 tablespoons chopped fresh Italian parsley leaves
Cut each chicken into 12 pieces. Wash and pat the chicken pieces dry, then season them generously with salt and pepper.
Preheat the oven to 450° F.
Heat 2 tablespoons of the oil in a wide, heavy skillet over medium heat. Add the sausage and cook, stirring often, until lightly browned on all sides, about 3 minutes for thinner sausages or 5 minutes for wider sausages.
Remove the sausage pieces with a slotted spoon and transfer them to a roasting pan or baking dish large enough to hold all the sausage, chicken and potatoes comfortably while allowing room for stirring. (An 18 x 15-inch roasting pan is ideal.)
Season the chicken generously with salt and pepper. Increase the heat to medium-high and add as many pieces, skin side down, to the skillet as will fit in a single layer. Cook, turning once, until well browned on both sides, about 8 minutes. As the pieces are done, remove them to the roasting pan and add the remaining chicken pieces as room becomes available.
When all the chicken has been browned and removed from the pan, add the potatoes, cut side down and cook until browned, about 6 minutes. Transfer those to the roasting pan as well.
Whack the garlic cloves with the flat side of the knife and scatter them and the rosemary over the contents of the roasting pan. Drizzle with the remaining 2 tablespoons olive oil and roast 15 minutes, stirring gently occasionally.
Sprinkle the chicken, sausage and potatoes with the vinegar and continue roasting, stirring gently occasionally, until the chicken is cooked through and the potatoes are very tender, about 15 minutes until golden brown.
Prop up one end of the roasting pan so the fat settles on one end and let rest 5 minutes. Spoon off the excess fat from the roasting pan, sprinkle the parsley over everything and transfer to a warm serving platter. Serve immediately.
*When I cook whole chicken, or any chicken on the bone, I always salt it three times: in its raw state, when I first begin to cook it and as it finishes cooking. It seems that the first two saltings are absorbed and somewhat dissipated, especially if you add additional ingredients as the chicken cooks. The last salting should be to balance the whole act. Each time you salt, it should be done judiciously to avoid oversalting and ruining the dish.

posted by Open Blogger at
04:00 PM
|
Access Comments