« Tuesday Morning News Dump (3/22/16) [Misanthropic Humanitarian]
|
Main
|
When Does Belgium Decide It's Had Enough? »
March 22, 2016
Explosions at Brussels Airport and Metro Stations, Kill 34, Injure 170 More
The Religion of Peace, no doubt.
Another burst of coordinated violence.
Three explosions that ripped through the Belgian capital of Brussels on Tuesday killed at least 34 people and wounded about 170 more, according to Belgian media, and raised the reality of terror once again in the heart of Europe.

"We were fearing terrorist attacks, and that has now happened," Belgian Prime Minister Charles Michel told reporters.

Belgian federal Prosecutor Frederic Van Leeuw said late Tuesday morning that it was too soon to know exactly how many people died in the bombings. Yet Belgian state broadcaster RTBF, citing emergency services, reported 20 dead at the Maalbeek metro station and 14 more killed at Brussels' international airport.

...

While there's been no official claim of responsibility, many prominent ISIS supporters celebrated Tuesday's deadly terror attacks in Brussels on social media.

One widely circulated Twitter post among these ISIS backers featured the words, "What will be coming is worse."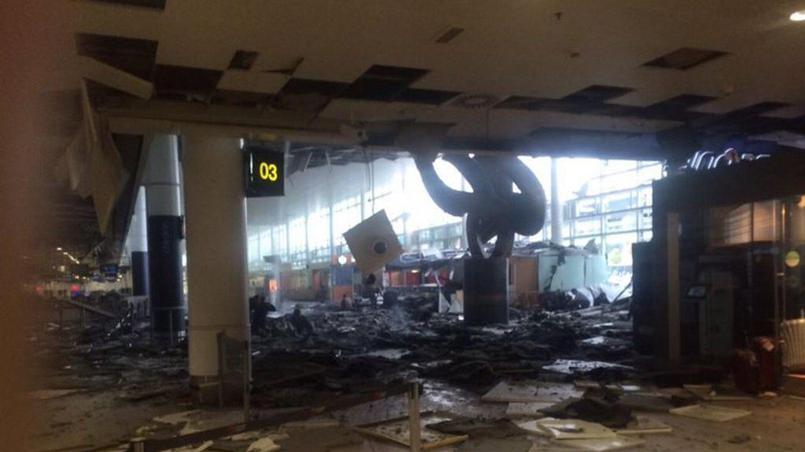 The blasted-out interior of the airport at Zaventem. Image from Le Figaro.

Ted Cruz says what a lot of us are thinking: in the aftermath of this latest bloodbath, we don't need another lecture on "Islamophobia." Snippets from his press conference at Townhall.
"Today's attacks in Brussels underscores this is a war," Cruz said. "This is not a lone war. ISIS has declared jihad."

"It is way past time we have a president who will acknowledge this evil and will call it by its name and use the full force and fury to defeat ISIS," he continued. "Until they are defeated, these attacks will continue. Their target is each and every one of us."

...

"We need a president who sets aside political correctness," Cruz insisted. "We don't need another lecture about Islamophobia."
Obama has only two modes: Lecturing law-abiding Americans about their claimed responsibility for Islamist violence, and missing 2-foot tap-in putts.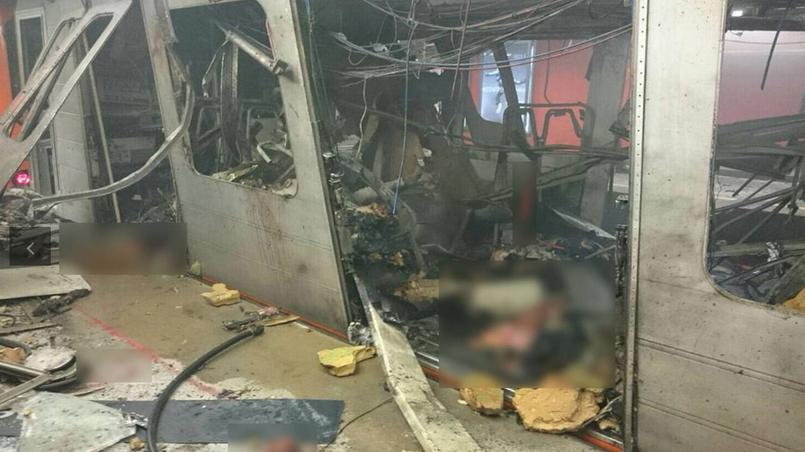 A subway car at Maalbeek. Image from Le Figaro.
Below, video of a metro train being evacuated in the dark, with only emergency power lights on, here.
Cruz: It's Striking that the Day After Donald Trump Calls for the US to Abandon NATO, ISIS Strikes Brussels, the Headquarters of NATO. No, this isn't "blaming" Trump for the attack, whiners. This is Cruz pointing out Trump's callow isolationism.
Incidentally, it's hard to even say Trump is "isolationist." One day he talks up a Ron Paul style isolationism and withdrawal, the next day he's hell-bent on sending troops to Syria.
I guess his supporters only hear the inconsistent messages they like, or assume that he's got some kind of yuge, Trumpian secret strategy that would make sense of this dog's breakfast of emotional outbursts masquerading as a policy.

posted by Ace at
10:10 AM
|
Access Comments