« Krauthammer on Why Obama Is Skipping Scalia's Funeral [CBD]
|
Main
|
Ace of Spades Pet Thread [Misanthropic Humanitarian] »
February 20, 2016
Saturday Gardening Thread: Tribute to the 7th President of the United States of America [Y-not and KT]
Y-not: Good afternoon, gardening morons and moronettes!
Let's start out with something beautiful:
Follow the link to enjoy the work of a number of still-life photographers. (You can find more of photography like the one featured above here.)

Next, for no reason other than I think these are cool:
We covered unusual/distinctive planters in a prior Gardening Thread, in case you missed it.
Here's another fun item that crossed my Twitter feed. (The wheelbarrow makes it a legitimate item for the Gardening thread - so there!)


Do we have any whittlers amongst us?
The Beginner's Guide to Whittling from the Art of Manliness reviews the types of woods best-suited to whittling.
Hickory is not amongst them, but that is the topic that the incomparable KT has chosen to cover this week. Take it away, KT!
Insect of the Week
Hello, Horde. Y-not sent me this photo of our Insect of the Week:
No, I am not suggesting that Bernie Sanders is an insect. Despite some of the positions he takes. The insect in the symbolic photo above is a Hickory Horned Devil, a caterpillar native to the USA.
These totally non-racist caterpillars come in a range of background colors from blue-green to green to yellow to tan. They have fearsome-looking but basically harmless (to people) orange and black curved horn-like protrusions on the thorax. There are shorter black spikes on other segments. They get to be big suckers. In fact, they are the biggest caterpillars in North America.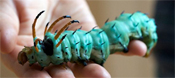 Hickory Horned Devil
The life cycle of this caterpillar reminds me a little of some young people who could be attracted to the idea of the Free (!) Bernie Sanders School of Economics. These insects start life in the leafy treetops, eating prodigiously. You are most likely to encounter them in autumn, when they wander around on the ground looking for a place to rest during their magical transformation to adulthood. They spend a couple of years underground before emerging as Regal Moths that will never be able to feed themselves.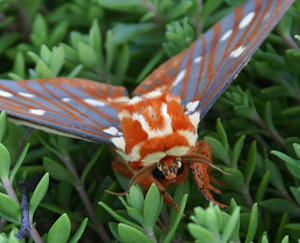 Regal Moth
The Regal or Royal Walnut moth is attractive, but not as big or striking as some other North American moths. There are nice close-ups of its life cycle in this video. I think the baby caterpillars are endearing in a kind of bristly, Bernie-ish way. But then, most babies are cute.
Hickory Trees
The Hickory Horned Devil feeds on the leaves of a number of trees that are not closely related to each other. One of its favorites is hickory. Hickory trees are in the genus Carya, which includes hickories, pecans and hybrids between hickory and pecan called "hicans". We can discuss pecans and hicans on another day. Hickories are part of the walnut family.
There are 17 to 19 species of hickory, the majority of which are found in the USA. "Hickory wood is very hard, stiff, dense and shock resistant. There are woods that are stronger than hickory and woods that are harder, but the combination of strength, toughness, hardness and stiffness found in hickory wood is not found in any other commercial wood." It is particularly favored for axe and hammer handles.
Hickory wood is also prized for building fires, for barbecues and for smoking meats like bacon and ham. Want to try it the old-time way? Here is Bill Dixon's Kentucky Smokehouse.
Then there are the nuts. A lot of hickory nuts are harvested by foragers. Some species have tastier nuts than others. The Pignut Hickory taste better than the Water Nut Hickory, for example. But they are not the best available hickory nuts.
The Eat the Weeds guy has some guidelines for identifying, gathering, shelling and using hickory nuts. There are no poisonous hickories (or walnuts), though some need to be leached or they are bitter. He includes a number of recipes at the bottom of the page, from desserts to dressing to hickory "coffee". For serious preppers, here is a video with tips on determining if the nuts you are foraging are good and on preparing the nuts for long-term storage.
Hickory nuts have a reputation for being hard to crack without destroying the nut. Mother Earth News ran a piece on cracking them with a hammer and getting mostly nut halves, along with foraging and roasting tips: "...it is my opinion that every fruit, nut, or seed has a hidden "zipper" or "door" somewhere." Here is another method for opening them with a knife and side cutter.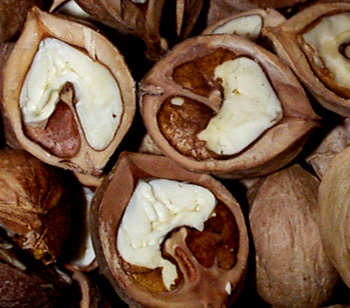 Various species of hickory prefer different growing conditions, but most of those in the USA grow in the East. If you are interested in planting hickories, we can discuss their needs in the comments. Many grow to 100 feet or more. They are particularly attractive to squirrels not only because they produce nuts but also because squirrels like to eat galls on hickory leaves produced by insects.
For nut production, I would suggest planting proven clones. Tress like this are a long-term investment. Skimping a few dollars up front and taking a chance on poor quality is a gamble. You would need more than one clone of the same or similar species, because trees are often self-incompatible for pollination. "...the shagbark hickory (Carya ovata) produces the most delicious nut while the shellbark hickory (Carya laciniosa) produces a much larger nut.." More nut-cracking tips and four recipes for hickory nut pie are included at the link.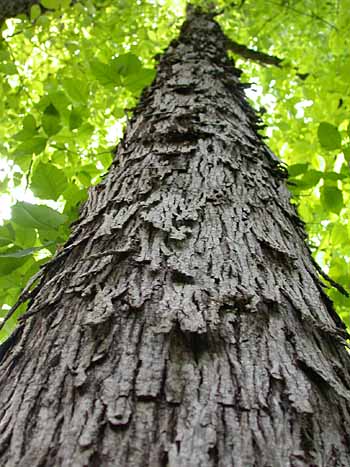 Shagbark Hickory
As mentioned in the comments on a very special Food Thread about maple syrup production, some people make syrup using Shagbark Hickory trees. "Unlike maple syrup, which is made by boiling down the collected sap of the sugar maple tree, hickory syrup is made by extracting flavor compounds from the bark of the shagbark hickory tree." Sounds easier than making real maple syrup. I do not think they taste the same. I have a suspicion that I would prefer eating the nuts. I have never tasted one. Have you?
Hickory, North Carolina
The city of Hickory, North Carolina began with a tavern. It is home to one of the oldest furniture manufacturers in the USA, Hickory White. The company made ammunition boxes instead of furniture during WWII.
Hickory was known in the years after World War II for the "Miracle of Hickory". In 1944 the area around Hickory (the Catawba Valley) became the center of one of the worst outbreaks of polio ever recorded. Residents who were then children recall summers of not being allowed to play outside or visit friends for fear of contracting the disease. Since local facilities were inadequate to treat the victims, the citizens of Hickory and the March of Dimes decided to build a hospital to care for the children of the region. From the time the decision was made until equipment, doctors, and patients were in a new facility, took less than 54 hours.
Do you think something like that could be done today?
Old Hickory
It is hard for me to write about hickories without mentioning Old Hickory. Andrew Jackson is currently under attack by some of our progressive neighbors, even though he is the populist credited with starting the Democratic Party. Interesting guy.
Gardeners visiting the Nashville area may be interested in visiting his home. "The Hermitage includes 1120 acres, thirty-two historic buildings, dozens of archaeological sites, two springs, a formal garden, a vegetable garden, and a cotton patch."
Old Hickory remained devoted to the memory of his wife, Rachel, who died just before he was inaugurated. He was buried next to her in Rachel's Garden, seen at about 2:40 in the video. A former slave, Alfred, remained at The Hermitage after emancipation, until he died at around 100 years of age. He is also buried in Rachel's Garden.

One thing you have to give Old Hickory is that he was tough and strategically-minded in battle. The Battle of New Orleans has been called a miracle. The familiar song about the Battle of New Orleans was written by a teacher who used the stage name Jimmie Driftwood.
...he originally started writing songs as a way of helping his students learn about history, and subsequently composed (or collected and re-composed) over 5,000 songs, many of them dealing with some element of Americas past and its history, telling old folk tales, or preserving some aspect of the daily lives of the people who sang them.
I still like the Johnny Horton version.
Y-not: Wow, thanks for that fascinating content, KT!
Moronettes, were you afraid of that picture of the creepy crawly KT posted above? Well, it may not be your fault! On the other hand, I was a tomboy as a kid - no fear of insects or spiders - but as I approached middle age (and menopause) I developed an aversion to them. In fact, I made Mr Y-not kill an assassin bug for me just yesterday. 'Not sure what to make of that.
To close things up, WANT:
Read about the invention of the Chia Pet here.

What's happening in YOUR gardens this week?


posted by Open Blogger at
12:00 PM
|
Access Comments