« Saturday Quick Hits [Y-not]
|
Main
|
Playoff Football! Kansas City Chiefs vs. New England Patriots [CBD] »
January 16, 2016
Saturday Gardening Thread: Rockin' Robin [Y-not and KT]
Y-not: Greetings gardeners! I did something to my wrist and it's killing me when I type, so this will be a short gardening thread.
Pretty flowers:
The biggest thing happening around here this week was that a huge flock of robins descended on our yard and ate all of the holly berries. I saw them in another part of our neighborhood the next day. Quite the sight.
We had robins year-round in Utah, but where I grew up in Maryland they flew South for the winter. I guess the ones I'm seeing here in Kentucky are on their way further South. Here's a cool link about robins.
Beautiful pictures of robins here: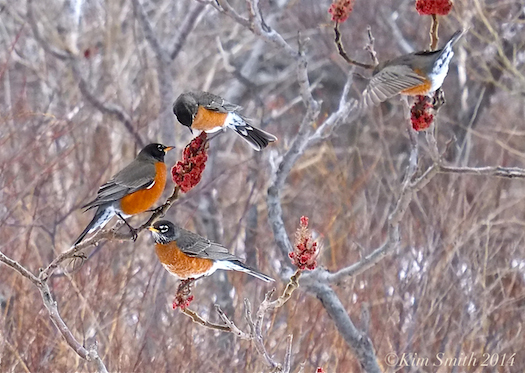 Have any of you seen large flocks of migrating robins (or other migrating birds like Cedar Waxwings) this year?

Now here's KT:
We have had a couple of crazy weeks at Casa Bar-the-Door, but the comments on the Saturday Gardening Thread last week reminded me that I had better get cracking on planting tomato seeds. Then on Sunday in the Food Thread, CBD said, "For all of you green-thumbed Morons, can those magnificent tomatoes you grow every summer, and you will have the makings of marvelous and fresh-tasting sauces all year long."
Heart Tomatoes
Are you thinking about one of those great, fresh-tasting sauces for Valentines Day? You can can (heh) just about any kind of tomato. But one marvelous, meaty type that many people do not know about is the "Heart" or "Oxheart" class of tomatoes. I sent in photos that included a medium-sized oxheart, Reif Red Heart, for an old Saturday Gardening Thread. It is at the top of the plate - sliced in the second photo so you can see how the interior structure differs from the typical tomato.
There is a lot of variability among oxheart tomatoes, but they are generally characterized by a long-ish or vertically flattened shape, sometimes resembling a single or double heart. They are meaty like a paste tomato, but the flesh is generally softer. They often have a wonderful, distinctive flavor. Many have narrow, wispy foliage, though there are some with more typical tomato foliage and even a few potato leaf cultivars. Most oxheart plants are big and sprawling, but there are a few dwarfs. There are a lot of relatively new stabilized open-pollinated varieties. There are very few F-1 hybrid oxhearts.
I think that the original oxhearts were mostly red or pink. Tomato Growers Supply has a good selection.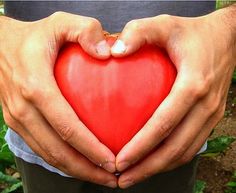 Kosovo
TGS lists its yellow, orange and bicolor oxhearts with other tomato types,
by color
. Orange Russian 117 is gorgeous. To me, it tastes more like a typical sweet bicolor than like a typical oxheart. It is fairly firm for an oxheart. It was bred from the huge, red "Russian 117" oxheart.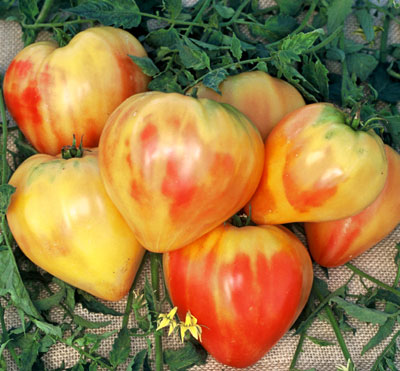 Orange Russian 117
I am not aware of any white or green oxhearts, but Brads Black Heart from Wildboar Farms is currently very popular. Like most black tomatoes, it should be picked when the shoulders are still green.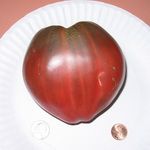 The Double Helix
The proprietor of Double Helix Farms says about Brads Black Heart, "Plants have the wilt gene like most hearts that make them look thirsty or droopy. This is normal and should not worry you. Once you taste Brads Black Heart you will not even notice the way the plant looks..."
Amish Paste has the typical wispy oxheart foliage and it may also have the "wilty gene". The woman who sells tomato plants a farmers market not too far from us keeps Amish Paste under the counter and only brings the plants out when customers ask for them. She does not want people thinking she is selling sick plants.
The narrow, wispy foliage of many oxheart tomatoes should not be confused with the "wilty gene". This gene is often associated with oxhearts. But it is a feature of some tomatoes with wispy foliage, some tomatoes with more typical foliage, and even some potato leaf tomatoes, whether or not they are oxhearts. Plants recover from wilting more slowly than other tomatoes after watering.
These varieties may look sick even when they are not sick. Be careful not to over-water cultivars with the "wilty gene" even though they look like they need more water than other tomatoes. The "wilty gene" is a dominant gene. Some basic genetic science here.
This year, I am pretty much sticking with tomato cultivars that have done well for me in the past. If you are looking for something different in a tomato, the variety descriptions at Double Helix Farms are fun to read. The proprietor is breeding and stabilizing new open-pollinated cultivars aimed at combining the disease resistance and productivity of modern hybrids with the flavor of heirlooms. He is enthusiastic about tomatoes.
I think Happy Jack sounds great: "Massive heart shaped tomatoes with a taste that is out of this world. I love this tomato and it is one of the hearts that can really take adverse growing conditions. . . Hearts are actually great for drying too. Big meaty slices fit easily on the drying racks and come out with a flavor that is quite unique."
The smaller New Zealand tomato sounds great for my area. Double Helix Farms is in Arkansas, which gets some hot summer weather, too. There are at least a couple of oxhearts called "New Zealand Pear" in circulation. One is a large tomato that reputedly stays productive in valley heat. I am still trying to track that one down.
Victory Seeds includes several oxheart cultivars among its 105 "Epic Tomatoes". These are varieties carried by Victory which are also included in a book by Craig LeHollier, a retired chemist and tomato enthusiast. You could order the book through the Amazon link at Headquarters if you are not placing an order with Victory Seeds: "Savor your best tomato harvest ever! Dr. LeHoullier, tomato adviser for Seed Savers Exchange, offers everything a tomato enthusiast needs to know about growing more than 200 varieties of tomatoes -- from sowing seeds and planting to cultivating and collecting seeds at the end of the season."
Of course, not everyone is this nuts about tomatoes. When Dennis Prager was only on the radio locally (well, in most of Southern California), he used to say that he would discuss any topic except gardening or architecture on his program. That was before he decided that he needed to concentrate on topics related to saving Western Civilization.
Garden-related architecture would have been a doubly-forbidden topic even back in the day. But we are not on radio, so this is different. From 2013:
"Agora Garden, a twisting skyscraper with cultivated and inhabited jungle in the Xinyin District of Taipei, is currently under construction. The 455,000-square-feet Agora Tower, designed by Vincent Callebaut Architecture, will incorporate nanotechnologies and vertical gardening into the inhabitants' mundane life.
Vincent Callebaut Architectures won a competition for the project in 2010 with a design inspired by two encircling hands clasped together and the helical structure of DNA. To make this one of the most eco-friendly structures in the city, the Tower will have an orchard, a vegetable garden, space for aromatic and medicinal plants, and a compost and rainwater capture system."
Does anybody know if they finished this skyscraper? If so, did the nanotechnologies and vertical gardening features spice up the mundane lives of the inhabitants?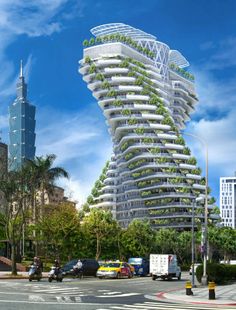 Closer to home, here are some wind sculptures at the Missouri Botanical Garden, including "Double Helix Sail".
You can buy similar wind art for your garden (videos at individual links). Some of the more artistic members of The Horde who have welding rigs might like to create some wind art. To keep gophers away, maybe.
But back to tomatoes. Do you industrious members of The Horde who canned tomatoes last season have some pints or quarts left over after feasting on the pasta sauce creations CBD suggested? If so, here is another recipe using canned tomatoes, perfect for noshing while snowed in, watching a winter sporting event on TV. Especially if someone else puts these together for you.

Have a great week. Try something new.

Y-not: Thanks, KT! I'm going to try to rest up my wrist... but my elbow may get a workout in Nashville this weekend!
To close things up, here's an appropriate song:

What's happening in YOUR gardens this week?

posted by Open Blogger at
01:00 PM
|
Access Comments