« Great Moments In Leftist Logic
|
Main
|
Holy Mackerel: Creepy Dolls Case Solved -- It Was In Fact a Well-Meaning Would-Be Santa Whose Intentions Were Misunderstood »
July 26, 2014
Saturday Garden Blog: Pioneer Day Edition [Y-not]
I was away for a couple of days celebrating Pioneer Day the way any good Utahn does --- by going to Vegas!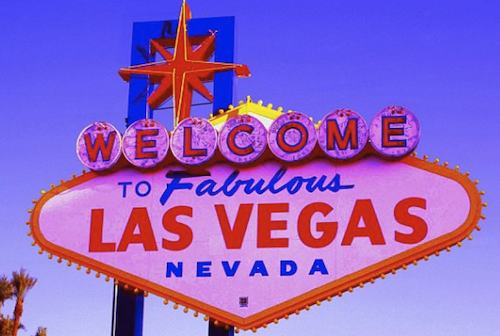 In any event, my mid-week getaway made it seem like a great time to have another Moron and Moronette Garden Show and Tell, so without further ado, here are your contributions:

From FastFreeFall, who is in North Carolina, we have these two contributions: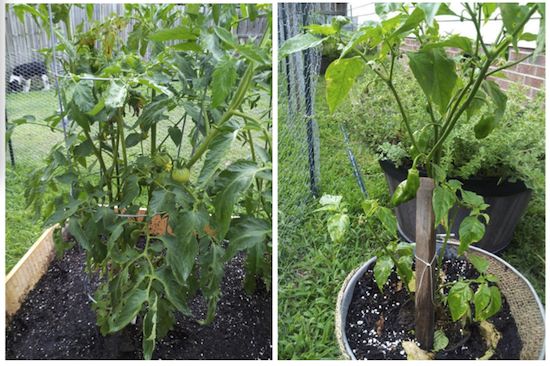 Tomatoes on the left and habaneros on the right

From a reader in Hawaii, Sailor Chick '95 (via Twitter), we have this contribution: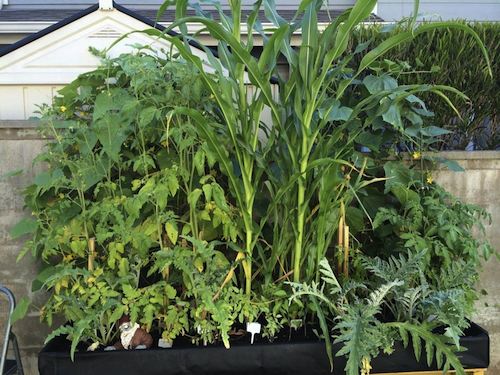 Sailor Chick: "yes, those are Zombie Gnomes"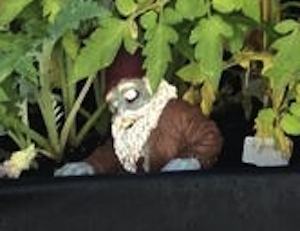 Here's a close up of the gnome

Moronette DangerGirl sends along this great picture of her herb garden: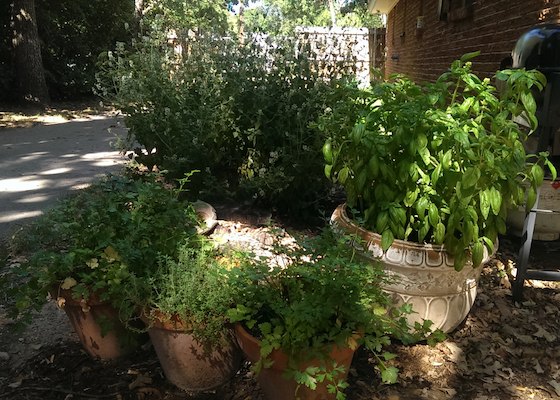 DangerGirl goes on to say (quite modestly... especially for a TEXAN! *wink*):
It isn't much, but it saves me tons of money and it's lovely to be able to step out the door and have a bounty of seasoning.

We have a small lot and barely no backyard here in Texas, so my gardening is in pots. Normally, my herbs do pretty well, but this year, with the cooler temps, they've exploded.

The pots are (LtoR) Italian parsley, thyme, more parsley and basil. The large "bush" in the back is catnip gone wild.

From Wisconsin moron Misanthropic Humanitarian, who is in Zone 4 (I shouldn't complain about my short growing season!), we have these beautiful flower pictures: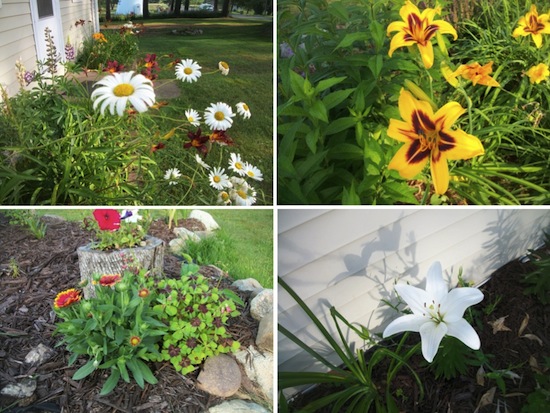 And these: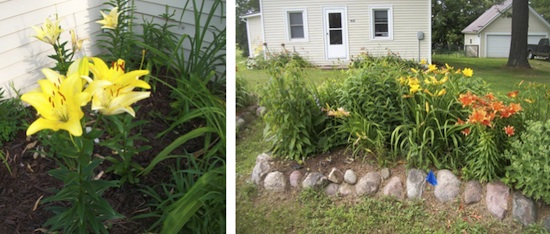 Mis shares the following about his garden:
Here are a few of our flowers from this morning. Simple flowers,
various lilies, daises, shamrocks, lupines.

Always wanted flower beds. The house we bought 2 years ago had a couple.
We've put in 5. Still waiting for Glads to bloom.

Past "Show and Tell" contributors from Virginia send this contribution:
[We are] lurkers from the Northern Virginia Piedmont. You kindly included a photo of our sawhorse, ladder, and Earth Box garden in an earlier garden post. Attached is a photo containing a very small sample of our harvest.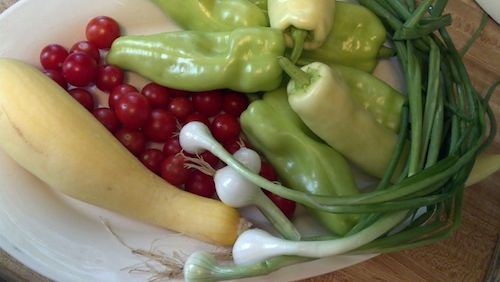 Yum!

Finally, from our resident garden expert KT, we have these contributions: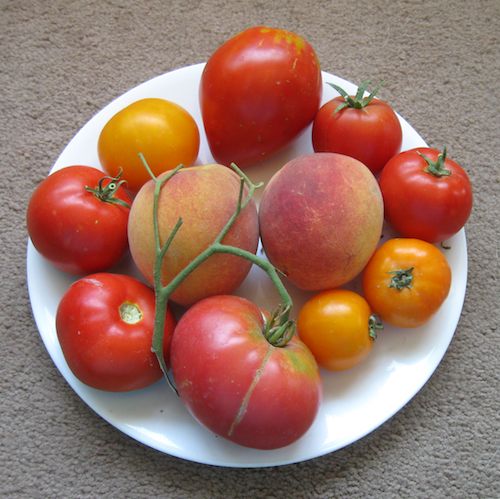 Indoor shot - Tomatoes, clockwise from the top: Reif Red Heart, Sweet Tangerine Hybrid, Stump of the World, Moreton Hybrid, and Golden Girl Hybrid. July Elberta Peaches in the center. Taken end of June.
Here's more information about each variety from KT:
Reif Red Heart: A medium-sized oxheart tomato. Oxhearts are generally meaty like paste tomatoes but have a softer texture and better flavor. The plants generally have wispy foliage. There are some really, really big oxheart tomatoes, but their productivity is variable. Get one recommended for your area.

Polbig Hybrid: An early determinate small slicer with good flavor. Name refers to its Polish origins. A lot of good tomatoes have come from Eastern Europe.

Sweet Tangerine Hybrid: A sweet, flavorful slicer with slightly tough skin, peels easily when ripe. I had some bigger ones earlier. This variety and Golden Girl (see at 10:00) seem to be alternating in ripening small and medium-sized tomatoes. They are both determinate and fairly early.

Stump of the World: My earliest non-cherry heirloom this year. A lovely pink beefsteak. Many tomato nuts describe it as similar to the famous Brandywine with a little more zing - nectarine vs. peach. Fruit is a little smaller than Brandywine, plant is earlier and more productive. Does much better in our heat than Brandywine. Makes a big potato-leaved plant.

Moreton Hybrid: A great BLT tomato. Deep, complex flavor. One of the famous old "Jersey Tomatoes", though it was developed in New York. It has a softer texture than many modern hybrids -- texture is more like the big heirlooms. Moreton Hybrid was once discontinued, then re-introduced due to popular demand after the parent lines were re-discovered. Makes a big, indeterminate plant.

Golden Girl Hybrid: Not quite as sweet as Sweet Tangerine, but a very nice slicer. If you want an even more flavorful (but lumpy, often misshapen) heirloom, try Orange Minsk. Wow. It is indeterminate but fairly early. It probably won't be as productive as the other two.

July Elberta (Early Elberta) peaches in the center: This is an old-fashioned peach with a "melting" texture. Must be ripe for full flavor. Not like newer super-sweet cultivars which can be eaten when still firm. This is not the same peach as the Early Elberta (Gleason Elberta) often sold in the Intermountain West.
KT also sends along this: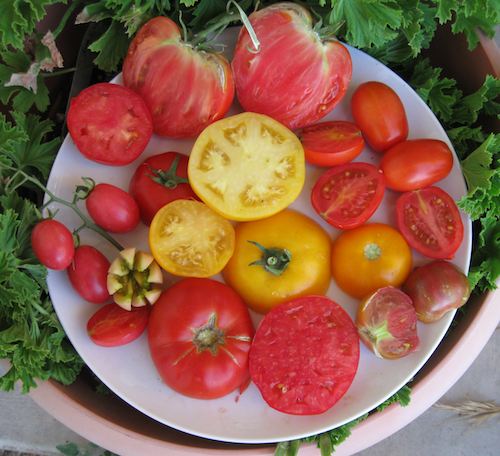 PHOTO 2 - Outdoors, cut tomatoes clockwise from the top. All are indeterminate varieties: Reif Red Heart, Barbara Hybrid, Lemon Boy Hybrid, Wrongly Identified Small Dark Tomato, Thai Pink Egg, and Big Beef Hybrid
More information from KT about these tomatoes:
Reif Red Heart: Not much juice, not many seeds. Nice flavor.

Barbara Hybrid: A discontinued disease-resistant plum-shaped saladette. Firm and sweet. Taste test winner in Davis, California (paste/plum division).

Lemon Boy Hybrid: Does well in heat. Light flavor. I like it best when it turns kind of orange, with a little water restriction. Recommended as the best variety for fried green tomatoes.

Wrongly Identified Small Dark Tomato: It was supposed to be Chocolate Stripe, but grew into a potato-leafed plant. Whatever this one is, it is very sweet with a complex flavor when it still has green shoulders. Bland when it looks ripe. This is characteristic of many dark tomatoes.

Beefmaster Hybrid: Kind of dinky for this variety, but it shows the meaty interior configuration of a beefsteak tomato, with small seed cells scattered through the flesh. I will try this variety again in a different location.

Thai Pink Egg: Looks better than it tastes. Recommended for roasting and stir-fries. The unripe fruits are an ivory color with green interior. I cut one into a blossom in case somebody wanted to consider a tempura fried green tomato. If you want roasted, dried or grilled tomatoes or halves, you might want to try Juliet Hybrid instead. About the same size, widely available and easy to grow. There are recipes on the web specifically for Juliet. Raw, some people recommend it for badminton practice, as is is quite firm. I'm growing one this year. Not bad for a very firm, chewy tomato, especially in hot weather. Sweet.

Big Beef Hybrid: This is a dinky one, but it's generally a reliable, fairly large slicer with good flavor. Does well in heat. Fairly early for a large tomato. Grows into a really big plant.

My tomatoes have tended to be undersized this year. I have cucumber mosaic virus in the yard, and we've had strange weather.

Y-not: I don't know about you but I'm planning on tracking down KT and raiding her garden in the dark of night! Those photos are mouth-watering!
There have also been a lot of questions about pollination (no, not THAT type, you pervs!) so KT provides this information about tomatoes and tomatillos:
TOMATO AND TOMATILLO POLLINATION

Don't worry about bees for pollination of tomatoes. An electric toothbrush handle buzzed against the stems of open blossoms is more effective. Tomatoes don't need cross-pollination. If you have trouble getting tomatoes to set when the weather is warm (but under 85 degrees), check to see if you're using a high-nitrogen fertilizer. Phosphorus (and potassium in high rainfall areas) with less nitrogen will get you more fruit and fewer leaves. Check soil for too much or too little water.

You can also snip off some branch tips and leaves of indeterminate varieties to turn the plant's attention to setting fruit instead of growing into a tree. You can snip a few leaves from a determinate plant, but you probably don't want to take off branch tips, where the blossoms and fruit will form.

If you want to save pure seed of an open-pollinated tomato variety, tie a piece of single ply toilet or facial tissue (or something similar) loosely over a blossom just before it opens, with a brightly-colored twist-tie. This is called "bagging" a blossom. Over the next couple of days, shake the blossom if the air is still. Leave the tissue on until the blossom withers, then remove it. Leave the twist tie on the stem so you remember which tomato(es) to save for seed. If you don't care about stray hybrid seeds from accidental cross-pollination, you can save the seeds from any tomato on an open-pollinated plant without "bagging" them first.

Tomatillos and ground cherries DO need cross-pollination from another plant, so bees make a difference. You normally need at least 2 plants to get fruit. They can be the same variety, but probably not cuttings from one plant.

Next year, I may try "Pineapple" tomatillos from Tomato Growers Supply. I grew "Pineapple" ground cherries last year. They are dinky and seedy but very interesting. Don't confuse the "Pineapple" tomatillo with the ground cherry of the same name. Some catalogs are not real clear in their designations. The ground cherry is only about a half inch in diameter.
KT sent lots of more great information (Pixy decided to ban her IP so she hasn't been able to comment lately), but I'm going to greedily save them for future posts!

What's happening in your gardens right now?

To wrap things - and in honor of my Utah Pioneer Day Las Vegas vacay - here are Donna and Marie:

Ahem, Mr Y-not and I went to see Le Reve instead. (I denounce myself.) Here's a little bit about the technical aspects of the show:

BTW, I would be terribly remiss if I did not thank my coblogger, Charlie Brown's Di, who was kind enough to put up the post for me today while Mr. Y-not and I were trying to make bail. Thank you, CBD!


posted by Open Blogger at
01:00 PM
|
Access Comments