« Football Sunday in America! - [Niedermeyer's Dead Horse]
|
Main
|
Football Sunday in America! - Afternoon Edition - [Niedermeyer's Dead Horse] »
January 10, 2016
Food Thread: Tomato...Tomahto...Just Don't Cook 'Em [CBD]
NDH has a magnificent football thread all ready to go...so don't worry, you will have your chance to throw things at Aaron Rodgers or Kirk Cousins.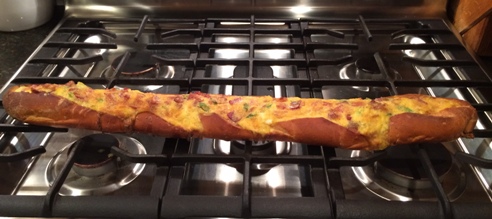 The internet is filled with recipes. Literally millions of them, of varying degrees of quality. Most are riffs on standards, and can be ignored. Some are just ridiculous -- everything with quinoa comes to mind -- but some are worth a second look, especially if they are easy and for breakfast or lunch. Yeah....I am a dinnerist. The first two meals of the day are simply preludes to the important one.
Anyway, breakfast and lunch recipes are usually quick, and require inexpensive ingredients, so even if it's vile and I toss the remains, I won't be out the cost of anything more than a few eggs and some bread.
That thing in the photo above (sorry, I am no pro photographer) is a simple concoction of five eggs, four ounces of pre-cooked bacon, four ounces of cheddar cheese, some chopped green onion and about three ounces of half & half, whisked together and poured into a hollowed out baguette, then baked at 350° for 25 minutes. It firms up nicely and can be sliced into portions.
It came from a stupid Facebook video that someone sent me, and I can't manage to embed it or find it anywhere but Facebook. But that's okay, because it's just a bacon and cheese custard in a baguette. Nothing novel at all. In fact, I made too much for the baguette I had (six eggs instead of five) and cooked the rest in a ramekin, and that might be the way to go.
******
Speaking of millions of recipes...most of them are probably for tomato sauce. But I long ago stopped cooking most of my tomato sauces, and just use good quality canned tomatoes to which I add a bit of oregano, basil, thyme, salt and pepper. I then taste to see whether it needs a pinch of sugar. And that is it. For all of you green-thumbed Morons, can those magnificent tomatoes you grow every summer, and you will have the makings of marvelous and fresh-tasting sauces all year long.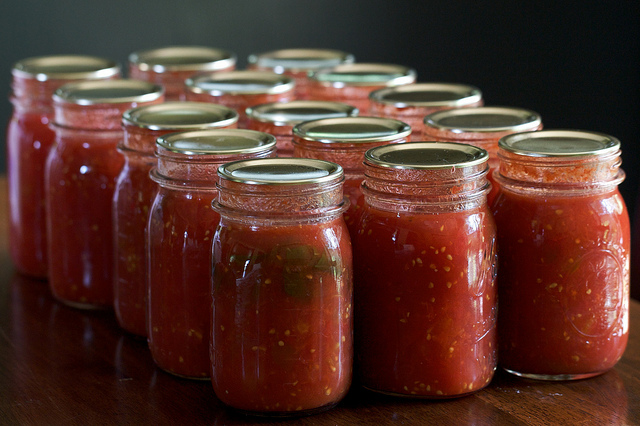 I'm lucky because around here I have access to dozens of different brands of canned tomatoes, and I can always find one that is at least good, and often excellent.
I know you traditional maniacs will mock me and abuse me and cast aspersions about my lineage, but just try it before you dial it up to 11.
******
Now that I have waxed poetic about the joys of fresh sauce....Here's a nice recipe for a cooked sauce from artisanal 'ette.....
Chicken Spaghetti Sauce
From the Culinary Arts Institute American Family Cookbook.
Ingredients
1/ 4 cup olive oil
3/ 4 cup chopped onion
1 clove garlic, minced
1 Tbsp chopped celery
2 tsp snipped parsley
2 cans (8 oz each) tomato sauce
3/ 4 cup water
3/ 4 cup port wine (optional – I rarely use this)
1/ 2 tsp salt
1/ 4 tsp pepper
4 to 6 cups cubed, cooked chicken breast
1. Heat the olive oil in a large skillet. Stir in the onion, garlic, celery, and parsley; cook until onion is lightly browned.
2. Stir in the tomato sauce, water, wine, salt and pepper; simmer, uncovered, about 1 1/ 4 hours, or until of desired consistency; stirring occasionally. Mix in desired amount of chicken; heat thoroughly.
3. Serve sauce over cooked spaghetti and sprinkle with grated Parmesan cheese.
About 2 pints sauce.

******
I rant and rave about salt, and the bum rap it has gotten from the government and their fellow travelers in the health industry. I ignore them now, mostly because so many of their pontifications have been debunked by actual research (margarine anyone?).
My point? I have been salting everything I intend to grill about an hour before it hits the heat, and it seems like the more salt the better. I use Kosher salt, mostly because it's easier to pinch between my fingers. One day I will measure how much I use, and I am sure that the Surgeon General will send his SWAT team to my backyard if I report that I have used more than 2.3 grams/day.

******
Here's a nice riff on Osso Bucco, which has become ridiculously expensive now that the slim-hipped hipsters have discovered it.
The chef uses lamb
, which, while it isn't cheap, is a lot less expensive than veal shanks.
******
For oven pulled pork, this is about the best I have found. The recipe is from an old friend, but where he got it I have no idea. And make the sauce. It's fantastic. Oh...I have one of these in the oven right now.
Mike's Pulled Pork Barbecue
Dry Rub:
3 tablespoons paprika
1 tablespoon garlic powder
1 tablespoon brown sugar
1 tablespoon dry mustard
2-3 tablespoons coarse sea salt
1 (5 to 7 pound) pork roast, preferably shoulder or Boston butt
Cider-Vinegar Barbecue Sauce:
1 1/2 cups cider vinegar
¾-1 cup yellow or brown mustard
1/2 cup ketchup
1/3 cup packed brown sugar
2 garlic cloves, smashed
1 teaspoon kosher salt
1 teaspoon cayenne
1/2 teaspoon freshly ground black pepper
Pan drippings from the pork
12 hamburger buns
Pickle spears, for serving
Mix the paprika, garlic power, brown sugar, dry mustard, and salt together in a small bowl. Rub the spice blend all over the pork. Cover and refrigerate for at least 1 hour, or up to overnight.
Preheat the oven to 300 degrees F. Put the pork in a roasting pan and roast it for about 6 hours. An instant-read thermometer stuck into the thickest part of the pork should register at least 170 degrees F, but basically, what you want to do is to roast it until it's falling apart.*
While the pork is roasting, make the barbecue sauce. Combine the vinegar, mustard, ketchup, brown sugar, garlic, salt, cayenne, and black pepper in a saucepan over medium heat. Simmer gently, stirring, for 10 minutes until the sugar dissolves. Take it off the heat and let it sit until you're ready for it.
When the pork is done, take it out of the oven and put it on a large platter. Allow the meat to rest for about 10 minutes. While it's resting, deglaze the pan over medium heat with 3/4 cup water, scraping with a wooden spoon to pick up all of the browned bits. Reduce by about half. Transfer to 2 cup glass measuring cup and allow to separate, then remove all but about 10% of the fat. Pour what remains into the saucepan with the sauce and cook 5 minutes.
While the pork is still warm, you want to "pull" the meat: Grab 2 forks. Using 1 to steady the meat, use the other to "pull" shreds of meat off the roast. Put the shredded pork in a bowl and pour half of the sauce over. Stir it all up well so that the pork is coated with the sauce.

To serve, spoon the pulled pork mixture onto the bottom half of each hamburger bun, and top with some slaw. Serve with pickle spears and the remaining sauce on the side.
*At 170 degrees, the pork is still firm, so keep cooking it until it hits 190-195 degree....covering it if it seems like it will dry out.

posted by Open Blogger at
04:00 PM
|
Access Comments