« Christian Art And Music: Yeah You Win -CBD
|
Main
|
Don't Even Say It! - Niedermeyer's Dead Horse »
January 02, 2016
Saturday Gardening Thread: Hippo Gnu Bear [Y-not and KT]
Y-not: Greeetings gardeners!

No bear in this story, but here's a hippo and a gnu.
Storms and accompanying floods continue to wreak havoc throughout much of the U.S.
The Aqueduct Global Flood Analyzer maps the susceptibility of regions across the world to flooding: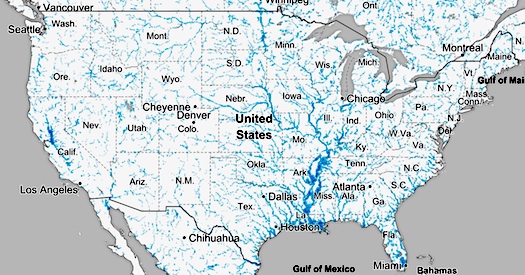 The map above shows the "flood protection level" within a 10-year window.
Flood protection level describes how well protected any given area is against flood damage. There are different kinds of flood protection systems, including dams, levees, and so on, and each system can have different protection standards or capacities. For example, a 500-year flood protection system protects an area against anything equal to or smaller than a 500-year flood. A 500-year system is more robust, and therefore provides better protection, than a 100-year flood protection system.
Here's the same analysis from a 100-year window: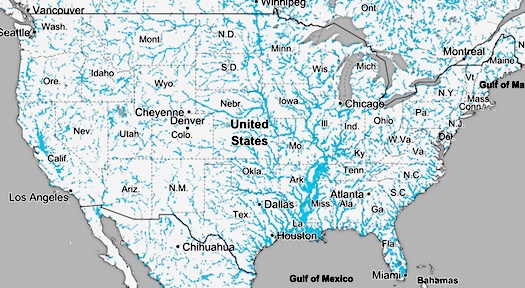 In case you've forgotten your second-grade geography, this map might help you glean the major contributor to flooding: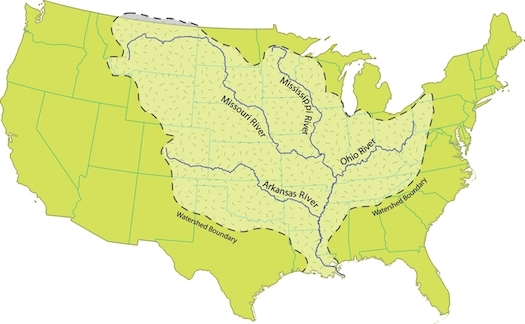 River basins dominate the South and Midwest, particularly the Mighty Mississippi. Periodic river flooding can make for fertile soil, but also causes devastating floods. "Generally the larger the river, the longer it takes for the flooding cycle to run its course."
I'm not sure how you protect your community against this: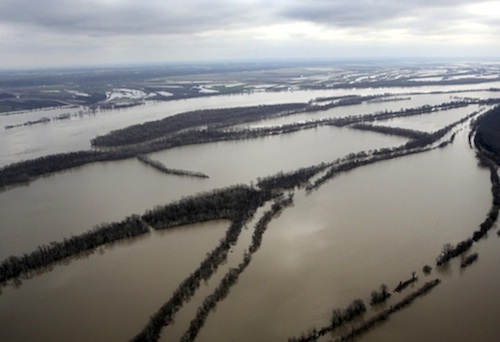 Flooding in the US midwest typically occurs in the spring as snowmelt swells rivers. Freezing weather in the region has added to the challenges as the waters have slowly started to recede from the St Louis area.

Most of the deaths from the rare winter floods have been caused by people driving into flooded areas after days of downpours.
Let's all say extra prayers tonight for the millions affected by these record floods.
Now, here's KT:
Dang. Tornadoes last week, big time flooding this week. Hope everyone is OK. Makes me think about staying safe and cozy, maybe with a homemade cookie.
Kookie for Cookies?
Although Christmas is over, I have been thinking about how to work cookies into the Saturday Gardening Thread. Maybe I could also include a savory winter dish with garden produce, or some booze in recognition of the Moron Lifestyle. By the way, CBD has posted some enticing content in the Food Thread lately. There have been some great ideas in the comments, too.
THE COOKIE TREE

Did you make a resolution yesterday to give up sweets? Perhaps you could just sniff the fall and winter blossoms of the Daisy Tree, Montanoa grandiflora, when that craving hits. It will grow in the mildest climates in California, Sunset zones 16, 17 and 20 - 24. Its flowers smell like freshly-baked cookies, or like cupcakes, depending on whom you ask. It is native to Southern Mexico and El Salvador and grows 12 feet tall. Some sources do not consider it to be particularly striking when out of bloom. It prefers rich soil and water.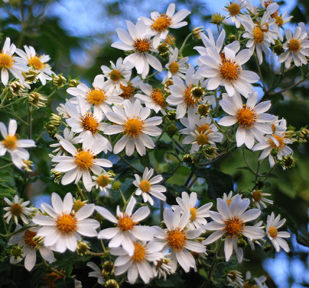 Take a sniff
Four related species are grown in the Mesoamerican Cloud Forest at the San Francisco Botanical Garden. One has flowers that smell like cherries. I do not know if M. grandiflora can take the combined heat and humidity of the southeast coast, but some related species live there. Sometimes people get these species confused. People also confuse the seed heads of some species with flowers - "those white petal-like things are actually the seed heads with white bracts - not petals."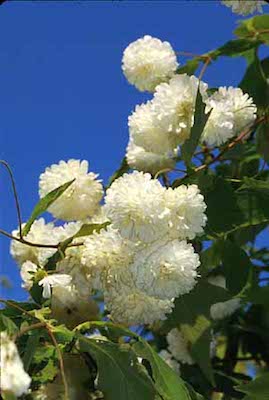 Puffy seed heads. Happy New Year!
M. hibiscifolia
has become a noxious weed in Hawaii. Dang. If you are going to have an alien invader, why not the one that smells like cookies?
ANISE
Has anybody been stuck with just a TV to help time pass because of flooding or other weather events? If so, have you ever wondered what the alien called Anise, from Stargate, would look like with bangs and a bottle of something alcoholic? Here ya go, Morons.
Now on to the garden plant: Anise, featured in many holiday treats from around the world, is rated by Sunset for gardens in all continental western climates in the USA, and for Hawaii. It should do well in much of the East, too. It is a Mediterranean native that grows quickly in warm weather, preferring light soil and regular water.
The plant first produces a clump of basal leaves that look sort of like cilantro leaves. Then feathery leaves and umbrella-shaped flower heads rise above the basal clump. The flowers produce seeds (actually 10-ribbed fruits) after about 4 months of warm weather. You can see the two leaf forms in the drawing below.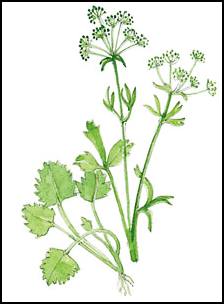 Anise is thought by some to protect against the evil eye. I do not think it protects against certain evil-eyed people I can think of. But you never know when you might need some protection from another kind of evil eye. You might want to keep some anise on hand, just in case: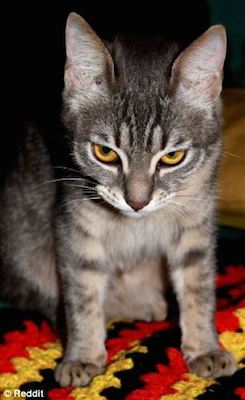 Evil-eyed kitties can appear without warning.
Sunset advises starting anise plants indoors in cold climates, outdoors in early spring in mild-winter climates and in fall for spring harvest in hot-summer areas. "Plants are fairly wispy and look best in groups. They are taprooted and do not transplant easily once they begin to put on size".
Young anise leaves can be used in salads. Outside Pride recommends coriander (cilantro) as a companion plant. Anise leaves might be a surprise in salsa if mistaken for cilantro, however. You can also use anise leaves to make a refreshing, naturally sweet tea, either fresh or dried.

Wind protection is recommended. Other sites recommend a little support for young plants. The picket fence in the photo below is about the right height to offer season-long support.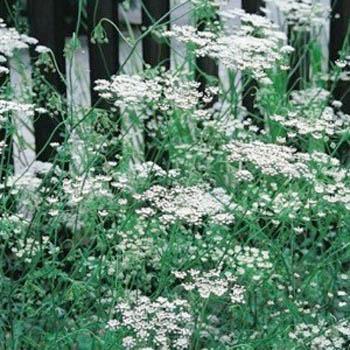 Anise in a garden
Many Christmas cookies and other bakery treats are made with anise extract or even anisette. But if you grow your own anise, you will probably want to choose a recipe that includes seeds, like
Anise Seed Borracho Cookies
, from the Rio Grande region of Texas. The seeds are soaked in rum overnight.
Star anise, the spice used in many Asian dishes, is a truly tropical small tree. Its seeds have a flavor almost identical to that of anise. It is not grown in the USA, but some of its relatives are. There are garden cultivars of
Florida Anise
, a shrub with aromatic foliage. The flowers have a scent that some describe as resembling freshly-caught fish. It is hardier than it sounds. The foliage is toxic and therefore deer-resistant.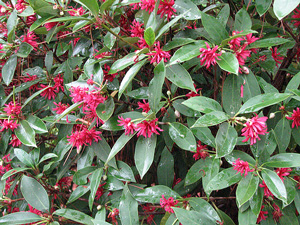 Florida Anise
CARAWAY
Caraway is native to Europe, Western Asia and Northern Africa. Like anise, the "seeds" we eat are actually fruits, but with 5 ridges instead of 10. It is used in a very wide variety of foods: starchy, savory or sweet.
A guy named Caraway has been in the news lately. Has anybody ever watched him fight?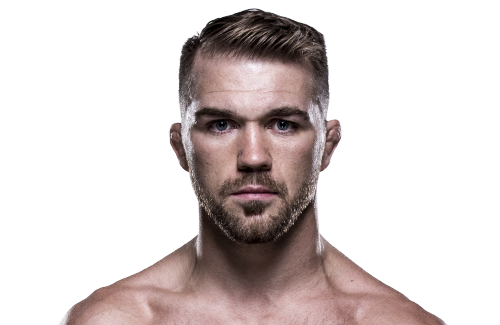 Bryan "Kid Lightning" Caraway
Speaking of fighters, the Roman Meal Bread Company was built on the legend that Roman soldiers conquered Europe while eating large rations of wheat or rye. Seems out of step with the widespread emphasis on reducing gluten intake these days. But caraway may have played a surprising part in the diet of Roman soldiers, too.
Caraway roots (like parsnips, but smaller) are edible and may have been the base of the Julius Caesar's "Chara". At one point, during the war with Pompey when Pompey thought he had Caesar in a tight spot because his men could not be supplied with food, Caesar had his men mix Caraway root with milk to make a form of bread. Caesar had his men throw loaves at Pompey's men, to show them that instead of starving, they had food to throw away. (In Weinmann, Johann Georg, 1769.)
Anise is an annual, but caraway is a biennial. It can be planted in the fall or in the spring, depending on your climate. Fresh seed sprouts best. If you need to store seed, refrigeration or freezing is probably a good idea. The first year it forms a rosette of leaves 1 or 2 feet tall, resembling a carrot plant. The second year flowering stems shoot up above the plant to form seed heads. " . . easy to work into a border; I have mine growing among Astrantia Major "Roma" and Centaurea montana. When all three are in flower, it gives a lovely appearance of meadow."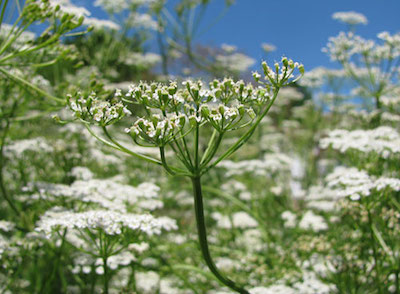 Caraway, Perfume Ingredient
The roots are sweet like parsnips with a different flavor. In Norway, where caraway grows wild, work has been done to select caraway for larger roots. The slightly bitter leaves are also eaten in a traditional Norwegian soup and in salads.
Caraway is used in certain alcoholic spirits, traditional at holiday celebrations in some countries. "On the surface, aquavit, a spirit whose dominant flavor is caraway seeds -- the nutty seed in rye bread -- seems a little peculiar. But is a caraway seed-based spirit really all that different from gin, a spirit whose dominant flavor is juniper berries?" You could make your own aquavit with caraway seeds you grow yourself. Kummel includes caraway, cumin and fennel.
Most Americans probably think of caraway as a flavoring for bread, savory dishes or cheese. The only fresh sauerkraut I ever made included some grated carrots and caraway seeds along with the cabbage. I liked it a lot. Here is a recipe for Savoy cabbage with caraway seeds if you would like a hearty winter side dish.
But what if you want an interesting cookie instead? Caraway and similar seeds were used in some of the first "Christmas Cookeys" in America. Yankee magazine features an updated lemon-glazed caraway Christmas cookie.
Caraway folklore often relates to the ability of the seeds to keep animals, people and things from straying - possessions targeted by thieves, for example. That would be one reason to grow caraway yourself. If you try this, I hope the seeds keep your pigeons, your lover or your favorite possessions where you want them.
Have a great New Year!
Y-not: Thanks, KT!
Speaking of Mississippi, how about a (silly) song?
Related extra bonus video below:

What's happening in YOUR gardens this week?


posted by Open Blogger at
01:45 PM
|
Access Comments