« EMT 11/28/15 [krakatoa]
|
Main
|
Colleje Football Thread: Week 11 [CBD] »
November 28, 2015
Saturday Politics Thread: Turnout Trends and Strategies [Y-not]
I side-barred this the other day, but you may have missed it. Dan McLaughlin wrote a great piece about trends in voter turnout over the past several presidential elections. It's full of crunchy data -- follow this link to read it.
The gist of the article concerns the much-circulated myth that some 4 million conservative voters stayed home in 2012, leading to Romney's loss.
Here's what Dan has to say about that:
To the extent that any of these analyses are based on the proposition that Romney got millions fewer votes than McCain, they are provably wrong. What happened is pretty simple: some states and localities take longer to count the votes than others -- some big cities are notorious for this, some count absentee ballots slowly, California traditionally counts very slowly, and some of the jurisdictions hit hard by Hurricane Sandy in 2012 were understandably slow getting finalized. But the final numbers are not what was originally available in the immediate aftermath of the election:

In 2004, George W. Bush got 62,039,572 votes vs 59,027,115 for John Kerry.

In 2008, John McCain got 59,950,323 votes vs 69,499,428 for Barack Obama -- in other words, McCain lost about 2 million votes from what Bush had received, while Obama gained over 10 million vs Kerry's total.

In 2012, Mitt Romney got 60,934,407 votes vs 65,918,507 for Obama -- a million more votes for Romney than McCain, and 3.5 million fewer for Obama (but still up around 6 million compared to Kerry).

Presumably, some of Bush's voters in 2004 stayed home in 2008 and 2012, while others switched to Obama or one of many minor third party candidates. But even if we compare Romney to Bush, he's off by only a little over a million votes, not such an enormous number in an electorate of around 130 million people. And exit polling doesn't really support the notion that self-identified conservatives were noticeably missing...
Dan goes on to make some observations about what voters are up for grabs, including Evangelicals and Catholics, and working-class white. (I'd just note that American Catholics do not vote as a bloc. With the exception of JFK, their voting patterns generally mirror the country as a whole.)
This figure derived from Sean Trende's analysis shows which regions of the country had lower turnout (blue) versus higher turnout (red).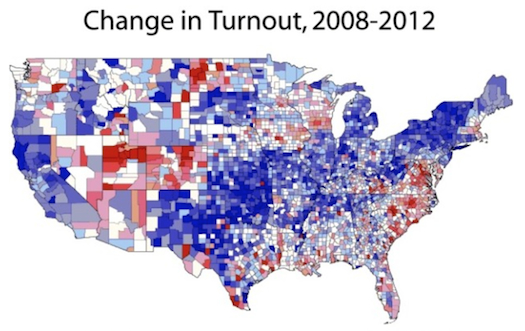 Dan concludes:
No matter who the Republican Party nominates in 2016, there's a lot of work to be done trying to expand the GOP presidential electorate, whether by appealing to new, young voters, disenchanted Obama 2012 voters, evangelical Christians, working-class white Northerners/Midwesterners, or some other group. History suggests that the opportunity is real, and the task is achievable. The electorate is never set in stone, the battle never over. A clear message, and an appealing candidate who means what he or she says and stands for something and can explain what it is and why, is certainly an important asset in that process. But even then, there's no magic formula, no cavalry of millions of conservatives waiting just over the hill to save the day, and no single issue or message that will flip the switch. The work will be hard, and will take energy and determination and a whole lot of one-voter-contact-at-a-time labor to register, to activate, to persuade. George W. Bush did that work to get Republicans 11 million new votes from 1996 to 2000, and another 12 million in 2004. Barack Obama did that work to get Democrats 10 million new votes from 2004 to 2008. It will need to be done again.
If you enjoy analysis based on data rather than "feelings," I encourage you to read this article.

Open thread for politics.


posted by Open Blogger at
10:44 AM
|
Access Comments