« Hillary Clinton's Plan to Defeat ISIS: Step One: Defeat ISIS
|
Main
|
Morning Thread (11-20-2015) »
November 19, 2015
Overnight Open Thread (11-19-2015)
Let's be clear: Islam is not our adversary. Muslims are peaceful and tolerant people and have nothing whatsoever to do with terrorism.

-- Hillary Clinton in a speech to the Council on Foreign Relations today
Quote of the Day II - Restraint Edition
"French police on Wednesday in their raid of an apartment in north Paris fired no less than 5,000 bullets, leading many in Israel to question the double standard of the West demanding Israel show 'restraint' in the face of terror. Reportedly 110 officers took part in the raid on an apartment in the suburb of St. Denis, where the Islamic State (ISIS) mastermind of Saturday's lethal attacks, Abdelhamid Abaaoud, was believed to be hiding out."
Saint-Denis is one of France's most historic places. French kings were crowned and buried through the centuries in its famed basilica, a majestic Gothic church that towers over the area. Today the district is home to a vibrant and very ethnically diverse population and sees sporadic tension between police and violent youths.

-- From an AP report on the Paris raid on the terrorists' hideout
The generals who won World War II would start by leveling Raqqa, the ISIS caliphate's capital. Civilians would die, but those remaining in Raqqa have embraced ISIS, as Germans did Hitler. The jihadis must be crushed. Start with their "Berlin."

Kill ten thousand, save a million.

Unthinkable? Fine. We lose.

-- Ralph Peters
See, a lot of us conservatives walk around in a reassuring trance believing that people like and want small government. Most people don't. At most, they like and want small government for other people. Farmers like farm subsidies, defense-contractor employees like big spending by the Pentagon, most senior citizens explode at the slightest mention of cuts to Social Security or Medicare. Most self-identified conservatives not only don't fight for smaller government, they fight against it when it personally impacts them. And then they turn around and complain that lawmakers never manage to reduce the size of government.

-- Jim Geraghty
Report: Abaaoud, the Mastermind of the Paris Attacks, Entered Europe Posing as a Refugee
He had an EU passport but since he was already on the wanted list for a shootout with Belgian police, it's believed he snuck back into the EU from Syria posing as a refugee.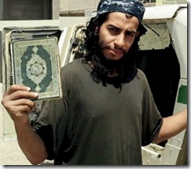 Officer May I Suggest You Use Your Waterboard
On November 5, nine days before the terrorist attacks on Paris, a 51-year old Montenegrin was stopped on an autobahn by German police. The officers found a revolver in the man's glove compartment and continued searching the car. They discovered that the vehicle had been professionally modified to create secret compartments for weapons. The cache reportedly included eight AK-47s, two pistols, two hand grenades, fuses, detonators and a half pound of TNT. The man had driven from Montenegro through Croatia, Slovenia and Austria before being stopped in Germany. The GPS in his car was set for Paris.

Since his arrest, the man reportedly has said nothing. French intelligence officials have now arrived in Germany to question him. They are a little late, unfortunately.

The police also found several Parisian telephone numbers and addresses in the car.
Ooh This is Going to Be Soooo #Problematic
"Information security is an endeavor that is frequently described in terms of war," writes Lysa Myers. "But what would the gender balance of this industry be like if we used more terms from other disciplines?" Just 14 percent of U.S. federal government personnel in cybersecurity specialties are women, a number startlingly close to the 14.5 percent of active duty military members who are women (at least as of 2013). By comparison, women are well represented in other STEM fields: "As of 2011, women earn 60 percent of bachelor-level biology degrees. Women also earn between 40 and 50 percent of chemistry, mathematics and statistics, and Earth sciences undergraduate degrees," writes Myers. Why the difference? Myers points to a comment from someone who taught a GenCyber camp for girls: "He found that one effective way to get girls to feel passionate about security was to create an emotional connection with the subject: e.g. the shock and distress of seeing your drone hacked or your password exposed," writes Myers.
The DoD Makes Paris a 'No Go' Zone for Military Personnel
US Embassy: Avoid the Vatican Too
Gawker's New Business Plan: Concentrate on Shitting on Politics in 2016
One funny bit of trivia: apparently the hardcore humorless feminist Gawker site Jezebel will be "become the primary voice for celebrity and pop culture coverage in the network."
Vox Media Bans Staff From 'Mansplaining'
Canada's New, Liberal Prime Minister Immediately Moves to Cripple Their Energy Industry
Petroleum accounts for a quarter of all Canada's exports so of course Trudeau wants to ban oil tanker traffic at Canadian ports.
Greens Push UK Power Grid to Brink of Collapse
When You're Rich (or Poor) Enough, You Can Live Okay Pretty Much Anywhere
California has a statewide variation on the Manhattan problem: It's an attractive place to live if you're too rich to care or too poor to care, but it's pretty rough if you're in the middle, where you have to care. The fact that San Francisco is rich doesn't tell you much more about the progressive model of governance than the fact that Tribeca is rich does. It's a relatively small enclave where the average home costs north of $1 million. Though I've never understood the allure of San Francisco (I'm more of a Los Angeles kind of guy), it's obviously an enormously attractive place to a great many very wealthy people from all over the world. Hurray for them. But to Senator Paul's point, the challenge before us isn't making the country a great place to live if you're a billionaire; everywhere's potentially pretty nice if you're a billionaire. But if you're a family of four earning $60,000 a year, you're probably going to be happier and more secure in Oklahoma City than in San Jose.
The Guns Of Parisian Law Enforcement
Mostly SIG P2022s and Beretta M12 sub-machineguns along with Mini-14s and FAMAS rifles. I have a P2022 and it's a great pistol.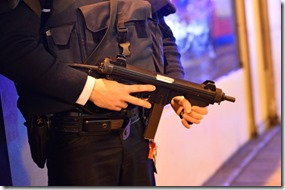 H&K: Because You Suck. And We Hate You.
If you've never read Larry Correia's classic rant on H&K and their disdain for civilian shooters, now's your chance.
And produces logs.
Young Girl Has No Idea How to Hang up a Phone
And why does this cell phone have such a big charging wire?
Yahoo group. That is all.
Come on be a smartie and join the yahoo group party! For the children. Why do you hate children?
And my lo-fi Twitter spew.
Tonight's post brought to you by the Korean spicy scale: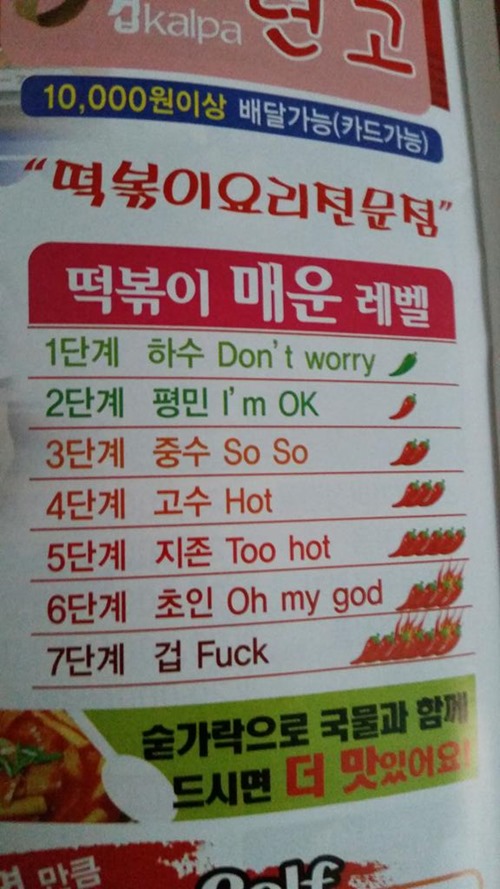 Notice: Posted by permission of AceCorp LLC. Mannequins and crossbows are for display only. Do not taunt happy-fun ball. Parking not validated after 12am.

posted by Maetenloch at
11:06 PM
|
Access Comments