« Rumor: Famously Womanizing Hollywood A-Lister Has Had AIDS for a While
|
Main
|
Female Cops Succeed in Discrimination Lawsuit; Will No Longer Have to Prove Physical Fitness »
November 12, 2015
Game On: Cruz Goes After Rubio On Amensty
We got a taste of it Tuesday night during the debate but Ted Cruz went after Rubio directly last night in New Hampshire.
"It is not complicated," Mr. Cruz said, then paused before adding, "that on the seminal fight over amnesty in Congress, the Gang of Eight bill that was the brainchild of Chuck Schumer and Barack Obama, that would have granted amnesty to 12 million people here illegally, that I stood with the American people and led the fight to defeat it in the United States Congress."

Mr. Cruz said: "In my view, if Republicans nominate for president a candidate who supports amnesty, we will have given up one of the major distinctions with Hillary Clinton and we will lose the general election. That is a path to losing.

"And part of the reason the debate last night was so productive is you started to see clear, meaningful policy distinctions, not just between what people say on the campaign trail. Talk's cheap. But between their records. When the fight was being fought, where did you stand? That speaks volumes about who you are and where you will stand in the future. And we're entering the phase now in the presidential race where primary voters are starting to examine the records of the candidates."
In response Rubio said, hey everyone supports legalization. But not everyone has this in their history.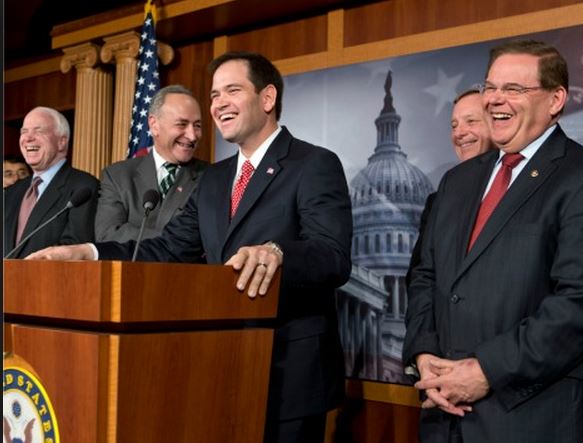 But on the merits, he's right. There's no one in the field that is going to make anti-amnesty* types happy. They've all had some sort of heresy at some point, even Cruz, and they will also say, Hey we have to secure the border first! Ok, but then what? And how do you define "secure the border"?
This is what makes everyone nervous.
As a pretty strong opponent of amnesty and legalization of any kind (Call me old fashioned, I'm for enforcing the law) here's how I evaluate a flawed field.
First, Rubio is out. He claimed to oppose amnesty* and then came to support it. Not only that but he cut a deal with Chuck Shumer, Harry Reid and Barack Obama when the GOP was reeling from the 2012 defeat. Instead of trying to act from a position of strength, Rubio partnered with the most reviled Democrats who were dancing on the GOP's grave. That was not the time to hand the Democrats another win and further split a party that was bitterly divided after a big loss.
Rubio showed applying judgement not just on policy but on politics.
As for his supposed conversion (or reconversion) I don't buy it. Why should I? He's already shown he'll say anything to get elected and the flip-flop around like a fish out of water.
Cruz also reminds us that for all his talk about border security now, Rubio voted against all the amendments to his bill that pretended to make security improvements because they were too tough for Democrats. Remember the CORKER-Hoven sham?
Don't think this will hurt Rubio? Follow that last link to see how much the Gang of 8 hurt Rubio at the time. People just need to be reminded of it.
As for Rubio's new plan, break up the bill into pieces...security/enforcement, legal immigration reform, and amnesty* he refuses to answer a basic question. If we do this, what's the timeline? How long between "security/enforcement" and legalization?
The problem has always been that while there are promises of enforcement at some point in the future the legalization happens nearly immediately (6 months in the Gang of 8 bill if I recall correctly). Security/enforcement proponents worry that we'll get the legalization in few months but the security/enforcement will never happen. It's a reasonable concern. See the bit about the entry/exit system that was supposed to happen in the 90s but never has.
With Rubio a non-starter, what about the rest?
Here's my thought...how invested are they and to whom would they owe their nomination and election?
In short, which of the candidates is likely to make amnesty a top priority of their presidency and what would the risk/reward calculation be?
I just don't see Cruz, Jindal, or Rand Paul making this a top priority (those are my three guys, not in any order). They all have other priorities, like shrinking the government, they are more likely to spend their capital on. They would also owe any wins to groups not likely to support amnesty and certainly not support making it one of their top priorities.
Presidents only get to push a handful of big things. Rubio has shown he's willing to spend his limitied political capital on pushing the Democrats version of amnesty. Actions are more important than words here.
As for Trump...come on. He thought Romney was too harsh. Maybe he wouldn't push amnesty simply because if he somehow won it would be on that issue or at least the backs of people who supported his position. But I don't trust the guy.
Jeb? He'll be as bad or worse than Rubio. He's passionate about this and would clearly make it a top priority.
We're dealing with a flawed field. That's politics. Hell, that's life. The key will be finding people who aren't out to screw us and who would fear the price of a double cross. Nominating and electing Rubio would be rewarding him for his betrayal.
*Amnesty, huh? People who support it don't want to admit what it is. Well, it is amnesty.
Don't believe me? How about this guy?


posted by DrewM. at
01:46 PM
|
Access Comments