« Because Selling Fetal Body Parts Isn't The Only Vile Thing Planned Parenthood Does....[CBD]
|
Main
|
Overnight Open Thread 9/19/15 - [Niedermeyer's Dead Horse] »
September 19, 2015
Weekend Links [Y-not]
Top thread is getting a bit gamey, so here's a bunch of links from the sidebar that you might have missed, plus this: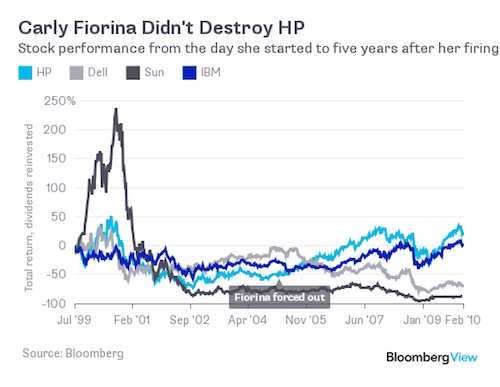 Carly Fiorina's HP Record in One Chart. More at Legal Insurrection.
From the sidebar:

Ballotpedia Topics and participation in the CNN Republican debate . Interesting graphical representations of who participated in which segments and for how long.
Jon Gabriel at Ricochet: The Mean Streets of Mackinac Island Chuckle-worthy account of the contretemps between Rand's guy, John Yob, and Rubio's guy, Rich Beeson. Background here.
The Lid: OMG I'm Going To Jail! Climate Gurus Want Obama To Throw Skeptics In The Pokey "In a letter to President Obama, Attorney General Lynch, and OSTP Director Holdren, UN IPCC Lead Author Kevin Trenberth and 19 other climate: scientists asked President Obama to have the thought police put climate skeptics in the pokey."
Finally, Phoenix freeway shooter suspect arrested. " 21-year-old Leslie Allen Merritt, Jr. was arrested Friday evening. DPS says he is "forensically linked" to the first four shootings." (Video) Father says he's innocent.

Open thread.


posted by Open Blogger at
05:54 PM
|
Access Comments