« Free Beacon Catches the NYT in Another Credibility-Compromising Situation, and the New York Times Once Again Runs to Politico to Comment
|
Main
|
Some Newsbites »
June 08, 2015
So, This "Texas Pool Party" Story Seems to be Premised on, Get This, a Huge Lie
Yay! A new distraction to be outraged about!
Here's he real story -- narrated by a black resident of the neighborhood.
Benet Embry just wanted a respite from the heat when he went to his neighborhood pool Friday. Talking to CNN Monday about the national story that rolled out of that simple, mundane summer activity still has him pretty well dismayed.

The 43-year-old African-American has lived in Craig Ranch, a planned community, for eight years. It's a nice place. Racially diverse. People get along there.

Thinking back on the pool party, he might have known it would be crowded. The invite to the party had earlier caught fire on Twitter and social media. Craig Ranch's strict homeowners' association rules prohibit bringing more than two guests to the pool.

So when crowds of teenagers showed up, huddling by the gate and shouting to let them in, things got out of hand. Some kids jumped over the fence, Embry said. A security guard tried to get them to leave but was outnumbered, so the guard called police.

Police would arrive, and one officer seen on a video later posted to YouTube, would be placed on administrative leave. The officer cursed at several black teenagers, yanked a 14-year-old girl wearing only a bikini to the ground and knelt on her back. He also unholstered his firearm and chased teenage boys as they approached him while he was trying to control the girl.

Shortly after the approximately seven minute video hit YouTube, many on social media alleged that the white officer was racist. The Texas NAACP called meetings because members suspected as much, its president, Gary Bledsoe, said on CNN Monday.

Embry disagrees.

"Let me reiterate, the neighbors or the neighborhood did not call the police because this was an African-American party or whatever the situation is," he said. "This was not a racially motivated event -- at all. This whole thing is being blown completely out of proportion."
Embry was more emphatic in a FaceBook posting:
Look, I LIVE in this community and this ENTIRE incident is NOT racial at all. A few THUGS spoiled a COMMUNITY event by fighting, jumping over fences into a PRIVATE pool, harassing and damaging property. Not EVERYTHING is about RACE. WE have other issues that NEED our attention other flights of made up make believe causes.
So, this neighborhood has a pool that's open to residents only. Well, residents, and they can each bring two guests.
So guess what one teenaged resident did? She began advertising for a cookout/party, without clearing this with the other people -- you know, the other people who actually own the pool and have the right to use it on a hot weekend day -- and over a hundred teenagers -- strangers to the other residents -- showed up and took over the pool.
You know, the pool that the other people had paid for.
In fact, some residents say the teenagers began charging a fifteen dollar entry fee to the pool they owned (jointly) and had a right to use in quiet enjoyment.
That's the backstory here -- that 100+ teenagers with no right to be upon other people's property descended on the property, because one (1) resident broke the rules and began advertising widely for a pool party that she decided to hold, without clearing it with anyone.
And, maybe, decided to make some money on, charging $15 a head.*
And police were called, and teenagers refused to leave, telling the cops to get bent.
So that's the notion of "civil rights" at the moment: If black teenagers disagree with the law, or disagree with someone else's right to use his own property for his own enjoyment, they are entitled to do so, and any cops attempting to force them to disperse are "racist" and should be fired.
Oh, and if they get a little bit "aggressive" and actually violent towards you on your own property?
Tough shit, Racist.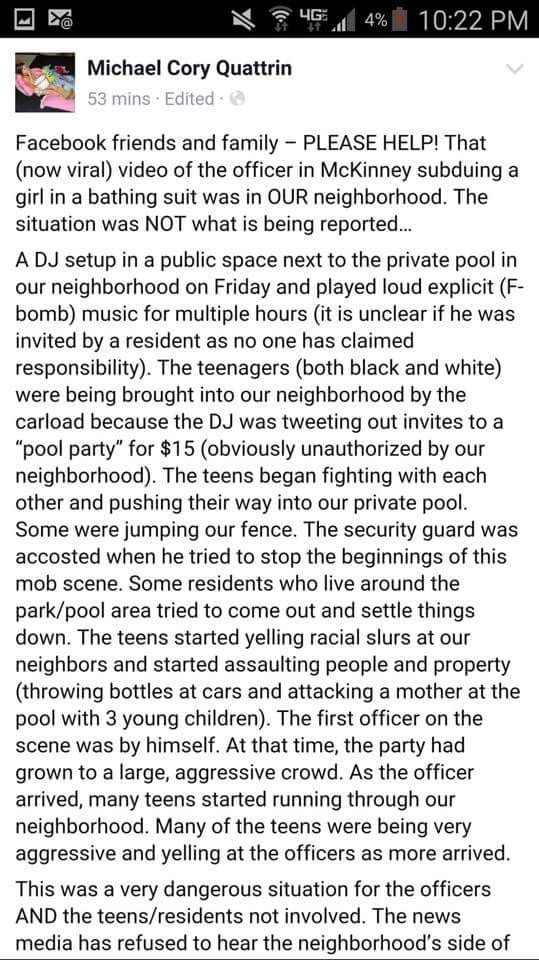 * If this is true, the teenager who organized this bears all responsibility for the chaos. Having made people pay $15 per head to get in, those people are going to be very reluctant to leave when the cops tell them to -- where do their refunds come from?
Yet the left and the media (but I repeat myself) is treating this teenager, and her mom who apparently supports renting out other people's property to strangers, as the Victims in all this.

posted by Ace at
06:02 PM
|
Access Comments