« Spike, Allegedly a Channel for "Men," Now Censoring a Minor Reference to "Caitlyn Jenner" That Just Wasn't Moistly Affirming Enough
|
Main
|
Free Beacon Catches the NYT in Another Credibility-Compromising Situation, and the New York Times Once Again Runs to Politico to Comment »
June 08, 2015
Some Quick N Fun Stuff
First, I want to let everyone know I'll be pushing the main Bookclub thread to Sunday evening, around 6 or 7 Eastern, to give people a chance to read. And hopefully it's a more convenient time.
I may post a quick one on Friday (as previously planned) if people want to do some discussion then, too.
Anyone started reading the first book, Pynchon's The Crying of Lot 49,, yet? It starts out kind of spastic and all over the map, but then settles down into a coherent narrative. Well, let's just say narrative.
How about American Pharaoh? First Triple Crown winner in 37 years, and now he's heading out to race some more.
BTW, they misspell Pharaoh in the horse's actual name (spelling it "pharoah" -- o and a reversed).
A hero's welcome greeted Triple Crown winner American Pharoah in Kentucky on Sunday, the first of many such receptions expected for the sporting world's newest superstar.

The 3-year-old colt has more racing in his future, along with an avalanche of publicity and money-making opportunities after pulling off the first sweep of the Kentucky Derby, Preakness and Belmont in 37 years.

Before leaving Belmont Park, trainer Bob Baffert led American Pharoah onto a patch of grass outside of, fittingly, Barn 1 on a sunny and warm morning. It was only hours after his front-running, 5 1/2-length victory, but the low-key champ appeared to enjoy the attention, dutifully posing for photographers and patiently letting bystanders pet him.

"He's a really sweet horse," Baffert said. "We're going to share him with everybody."

I can't wait until Obama sucks some celebrity off him.
On Game of Thrones, there was some unpleasantness. Stannis did a Bad Thing.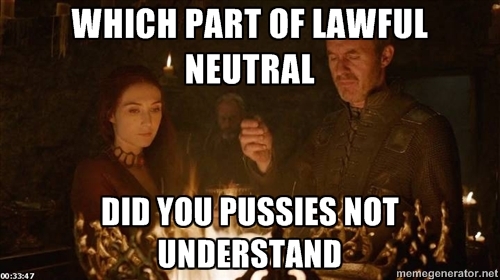 I've read a little bit around, and people -- including conservatives, and including "neutrals" -- are rage-quitting the show again. Their main objection seems to be what happened wasn't nice and I only like nice things.
I can't tell you how childish I think this all is. People have the right to stop watching a show if they like -- and God bless 'em for watching less TV.
But this childlike whine that Things should be nice because nice things are nice is unbecoming for an adult population. If we're really down to the level where all we talk about is goddamned TV Shows, can we at least talk about them like adults?
Stannis has always been depicted as an almost unthinkably cruel man. Just, honorable, direct, honest -- and merciless and cruel. The story of the Onion Knight, which perhaps didn't have much impact on the show (as it was just mentioned as an anecdote) illustrates his strictly cruel character. Davos had been a smuggler. A criminal. But when Stannis was besieged at a shore castle with no food (they ate rats, until they ran out of rats), Davos began using his smuggling skills to deliver food and water to the starving men.
And how did Stannis reward him? Well, he knighted him. But Stannis also applied the full legal punishment for Davos' previous smuggling -- and cut off all the fingers on one hand down to the second joint.
He both knighted him and maimed him. Absolutely unwavering in his merciless sense that the Rules Are Always Right.
Well, Stannis thinks the Rules say he must be king, and he thinks he has some kind of strange (possibly Satanic) god saying he should be king too.
So Stannis followed the rules, cruelly.
This scene was absolutely horrible. I was saying, out loud, No no no no no as it happened.
But I don't get this Little Kid mentality apparently so many of us have bought into, where everything, from our politics to our disposable trash nighttime fantasy world soap operas, should be nummy.
Aren't adult palates supposed to be pleased by flavors other than sweet? Aren't we supposed to have, by now, cultivated a taste for spice, and bitters, and sours as well?
I can't help but shake the feeling that most of us have decided that adulthood isn't really for us, and so we're (most of us) rushing back to the comforts of infancy.
Bonus: A friend told me to listen to the We Hate Movies podcast on Jesse Ventura's Oscar-wining triumph, Abraxas, Guardian of the Universe (1990).
Apparently it's about Jesse Ventura, who's an alien. Sure you're saying, that's obvious. But the twist is that his son doesn't know he's an alien.
Here's the weird part.
Jim Belushi is in the film, playing a Principal Latimer, the Principal of the high school the son goes to.
Why is that weird? Because Jim Belushi played the same character, Principal Latimer, in 1987's The Principal, with Lou Gosset Jr., and a bunch of punks who need straightening out.
The We Hate Movies guys are confused: Is this movie saying that Abraxas and The Principal are part of a shared cinematic universe, like the Marvel movies...?
And... why?
Why would you do that? One's a goofy sci-fi father-son action movie, the other's a gritty Death-Wish-like urban violent drama, set in a high school. Why would these two movies take place in the same universe?
And speaking of: Get ready for the Boondocks Saints Cinematic Universe (BSCU).

posted by Ace at
03:54 PM
|
Access Comments