« BuzzFeed WhiteHouse: WH Now Tweeting Cute Pictures of Cuddly Animals to Sell Trillion Dollar Fiasco to Public
|
Main
|
Abortion Fanatic Wendy Davis Running for Governor of Texas for Some Reason »
September 26, 2013
The Nummifcation of Political Culture
Adam Carolla had a rant.
Of course he did.
The rant was about Starbucks Moccachino coffee-shakes, topped with lots of whipped cream.
And the rant was about adults drinking these beverages. Not just as a treat. But as a daily thing.
His rant was about what he called our culture's hard turn to the "nummy." To childish tastes.
Everyone likes sweets, of course. But he was getting at the idea of reversion to the juvenile. That adults, rather than simply attaining the taste for actual coffee, and you know, drinking coffee, were instead reverting to their Childhood Palates of insisting that all things be "nummy."
That they be very sweet, and even very cute. "Moccachino." That's cute, isn't it?
And what adults had historically done, he said, was embrace adult tastes. Cigars taste good to an adult cigar smoker because he has cultivated that taste. Oysters don't taste good to a kid; oysters taste good to an adult who has cultivated a taste for oysters. Cognac isn't good because it's sweet. Cognac is good because we have embraced adulthood and trained ourselves to embrace more sophisticated tastes.
He mentioned something dirty too which I won't mention because Family Blog. Let's just say the point of that was that not everything good that adult might do should involve sickly-sweet Numminess.
A moccachino, topped with lots of nummy whipped cream, is not a sophisticated taste. We emerge from the womb craving the sweetness of sugar, after all.
Again, it's one thing to indulge in a treat. But it's another thing to decide to simply revert to one's childhood self.
Now when he was on this rant, I thought he was full of shit and just being annoyed because Being Annoyed is how Adam Carolla makes his rent.
He also, I'm sure, went off on his typical rant about adult men watching Super Hero Movies, which does in fact hurt my butt. And I'm sure he connected that to the New Nummy.
But looking at the White House's new "Adorable Care Act" Cute Overload animal pictures, and the continue rise of BuzzFeed, despite, you know, everyone knowing it's a big of a joke, I now appreciate there was a deeper level to his rant about the problem of Numminess in America.
Actual tweet by Brad Woodhouse,
Democratic National Committee Communications Director
We are indeed becoming a more childlike people. We are more and more shirking the expected obligations of adulthood, such as marriage and procreation, and even more basically, we're rejecting the obligation of adults to actually think, in terms of numbers, and of best outcomes, and so forth.
The national mode of thinking is now Nummy. "We" -- and by we I mean Americans, not "we" meaning us here right now -- increasingly think in terms of cute, and easy, and glib, and dumb, and fun.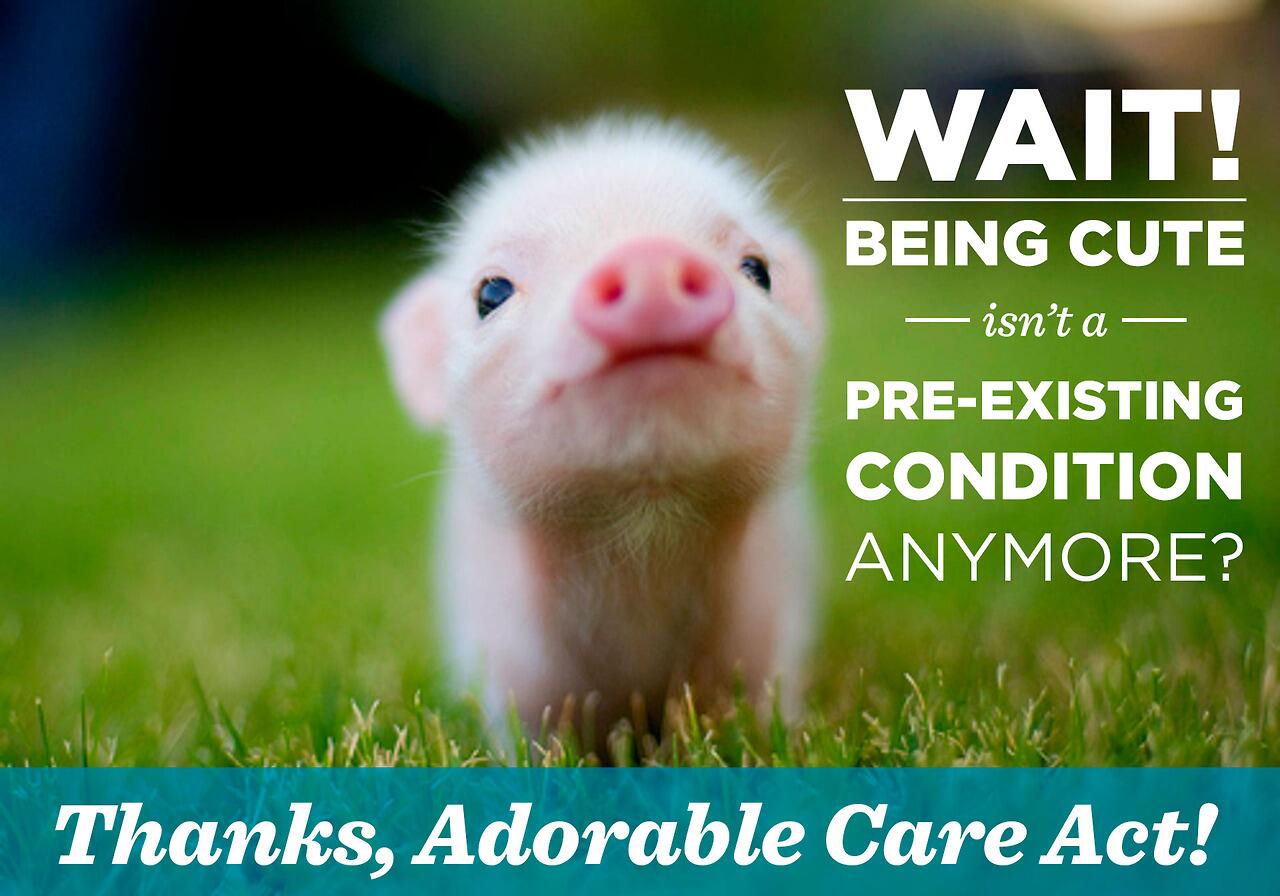 Why boycott Barilla? Do we really support a world in which every utterance, act, thought, belief, or gesture must be pre-cleared with the 100-million-strong leftist Committee of the Whole before we dare it?
We don't think about things like that. We think in terms of Nummy. Barilla is being Non-Nummy towards Gays, who are themselves très Nummy. Ergo, to be One with the Nummy, one must spit up soft little pieces of half-digested pablum, like a collicky baby, and then one can take satisfaction in Thinking Nummy Thoughts.
Over at Slate, a guy writes this about the contrived Barilla Nummy Controversy:
Barilla is not your enemy and Absolut is not your friend; they are just businesses with PR departments that are at different points along the road toward realizing that influential, "taste-maker" minority groups are worth courting, both for direct patronage and easy image-boost-by-association. It's unfortunate, I guess, that Barilla (or at least Guido Barilla) is behind the times on this matter, but the earnest anger I'm seeing online about that fact is perplexing. I mean, are you really so starved for approval that you need it to come packaged with pasta?
Why, Yes, actually. Because having all of your trivial cultural preferences flattered by impersonal corporations at every turn is itself Very Nummy Indeed. All little girls want to be told that they're the Best and Prettiest Little Girl there is, and all little boys want to be told they will play for the Yankees when they Get Big.
To have one's head patted and cheeks pinched by Admiring Grown Ups at all possible times is the Nummiest Nummy Thing there is.
Years ago, when Titanic ruled at the box office, Hollywood began chattering: Will culture -- I mean, popular culture -- be determined by the tastes of the 16-year-old girls who turned that film into a billion-dollar bonanza by repeat viewings?
I think they rather overshot the mark. The culture is now dominated by the tastes and preferences of Tweener Girls. Or, in reality, 50 year old men and women attempting to channel their inner Tweener to appeal to a population which has decided that they were fools to have ever turned 13 at all.
You know, thirteen -- when you lost your innocence. When you stopped thinking Smurfs were All That and a Bag of Gummy Bears.
Now I have to caveat this: Prior to Tweener Girls becoming the default National Tastemakers, our national culture was determined by the tastes of 19 year old boys, per the Zanuck Postulate.*
So this isn't just a sexist thing. It's about losing at least those seven years of maturation, too.
We are drowning in nostalgia and crushing debt and we can't see the latter because we've checked out into our Happy Place to chase the former.
I can't blame the White House or BuzzFeed for these trends. They're pushers, but they didn't create the sad addiction. This stuff works in America.
But why? Why does it work?
When did we all check out of adulthood to revert to tweenerhood? And when did we stop thinking that might be a little indulgent and shameful?
* The Zanuck Hypothesis was offered by movie producer David Zanuck, who observed:
Girls will see things that boys will see, but boys won't necessarily see things that girls will see, and in fact probably won't.
Younger children will see things that teenagers will see, but teenagers will refuse to see things that younger children want to see.
Adults will see things that older teenagers would see -- but only older teenagers.
Therefore, Zanuck declared, one's best shot at turning a profit with a film is to craft it relentlessly to appeal to the tastes of 19-year-old males.
And now you understand why every single movie in the theaters seems like it was written for a teenaged boy. Because they all were.
Except I think "19 year old" has been out of vogue for decades. Try "15."
And yet the new Nummfication drives that Sweet Spot Age down even further, to 12.

posted by Ace at
05:14 PM
|
Access Comments