« Jerry Seinfeld Rips Millennials' Militant Political Correctness
|
Main
|
Some Quick N Fun Stuff »
June 08, 2015
Spike, Allegedly a Channel for "Men," Now Censoring a Minor Reference to "Caitlyn Jenner" That Just Wasn't Moistly Affirming Enough
I should have slipped this into the last post, but I missed it.
Clint Eastwood made a vary minor reference to "Caitlyn somebody" in some kind of a Guys' Choice Awards show.
By the way, enjoy the totally juvenile tone of this dispatch.
This is so disappointing. While introducing Dwayne 'The Rock' Johnson at Spike TV's Guys Choice Awards on June 6, Clint Eastwood totally mocked Caitlyn Jenner. On a positive note, the crowd groaned and refused to laugh at the insensitive joke. Find out all the details here.

As Clint was introducing The Rock, he compared the San Andreas star to former athletes who have become actors, like "Jim Brown and Caitlyn Somebody…," according to an eyewitness. Instead of laughing, the crowd groaned, and Clint said that he knew the joke wouldn't work when he brought it up to the show's producers

Spike has now confirmed that they'll be cutting a very minor bit of joshing from the Guys' Choice Awards.
You don't see courage like this too often anymore.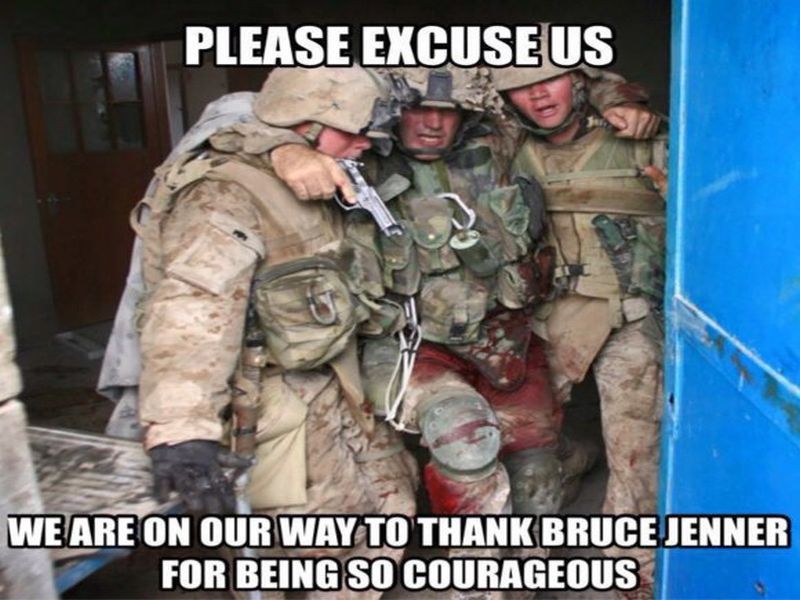 Incidentally, this column from last year by a former chief psychiatrist at John Hopkins is getting renewed notice. He says that transgenderism is a species of body dysmorphia, and that the answer is psychiatry, not surgery.
[P]olicy makers and the media are doing no favors either to the public or the transgendered by treating their confusions as a right in need of defending rather than as a mental disorder that deserves understanding, treatment and prevention. This intensely felt sense of being transgendered constitutes a mental disorder in two respects. The first is that the idea of sex misalignment is simply mistaken--it does not correspond with physical reality. The second is that it can lead to grim psychological outcomes.

The transgendered suffer a disorder of "assumption" like those in other disorders familiar to psychiatrists. With the transgendered, the disordered assumption is that the individual differs from what seems given in nature--namely one's maleness or femaleness. Other kinds of disordered assumptions are held by those who suffer from anorexia and bulimia nervosa, where the assumption that departs from physical reality is the belief by the dangerously thin that they are overweight.

With body dysmorphic disorder, an often socially crippling condition, the individual is consumed by the assumption "I'm ugly." These disorders occur in subjects who have come to believe that some of their psycho-social conflicts or problems will be resolved if they can change the way that they appear to others. Such ideas work like ruling passions in their subjects' minds and tend to be accompanied by a solipsistic argument.

For the transgendered, this argument holds that one's feeling of "gender" is a conscious, subjective sense that, being in one's mind, cannot be questioned by others. The individual often seeks not just society's tolerance of this "personal truth" but affirmation of it. Here rests the support for "transgender equality," the demands for government payment for medical and surgical treatments, and for access to all sex-based public roles and privileges.

With this argument, advocates for the transgendered have persuaded several states--including California, New Jersey and Massachusetts--to pass laws barring psychiatrists, even with parental permission, from striving to restore natural gender feelings to a transgender minor. That government can intrude into parents' rights to seek help in guiding their children indicates how powerful these advocates have become.

How to respond? Psychiatrists obviously must challenge the solipsistic concept that what is in the mind cannot be questioned. Disorders of consciousness, after all, represent psychiatry's domain; declaring them off-limits would eliminate the field.
OMG: Thanks, of a sort, to Lauren, who recommends this NYT piece written by a feminist aghast at the (from their perspective) regressive and sexist claims made by transgenders -- that there a "female brains" and "male brains," and that all it takes to be a woman is to have a "front hole." (Transgenders don't like the word "vagina," as it implies that all women have vaginas.)
The "I was born in the wrong body" rhetoric favored by other trans people doesn't work any better and is just as offensive, reducing us to our collective breasts and vaginas. Imagine the reaction if a young white man suddenly declared that he was trapped in the wrong body and, after using chemicals to change his skin pigmentation and crocheting his hair into twists, expected to be embraced by the black community....


In January 2014, the actress Martha Plimpton, an abortion-rights advocate, sent out a tweet about a benefit for Texas abortion funding called "A Night of a Thousand Vaginas." Suddenly, she was swamped by criticism for using the word "vagina." "Given the constant genital policing, you can't expect trans folks to feel included by an event title focused on a policed, binary genital," responded @DrJaneChi.

WHEN Ms. Plimpton explained that she would continue to say "vagina" -- and why shouldn't she, given that without a vagina, there is no pregnancy or abortion? -- her feed overflowed anew with indignation...

Let me get this right: The word "vagina" is exclusionary and offers an extremely narrow perspective on womanhood, so the 3.5 billion of us who have vaginas, along with the trans people who want them, should describe ours with the politically correct terminology trans activists are pushing on us: "front hole" or "internal genitalia"?
In fairness, reducing women to their breasts and especially vaginas has been the feminists' bread-and-butter for 30 years. It's not like "Caitlyn" came up with this on shexer* own.

* "Shexer" is my own choice for a non-binary possessive pronoun for those Pyrsons who have a front hole.

posted by Ace at
02:12 PM
|
Access Comments