« EMT 5/30/15 Soccer is Ridiculous edition... [krakatoa]
|
Main
|
Fundamental Concepts - Seven deadly sins? I only need two to run the world.[Weirddave] »
May 30, 2015
Saturday Politics Thread: And On We Slog [Y-not]
Actually, I lie. I'm not going to do much of a slog on the immigration issue this weekend. Between the short week and some family obligations, I didn't make much headway on further analysis of the candidates' positions on illegal immigration, amnesty, and work permits.
Fear not! There's still some political news for us to chew on today.
Via the New York Times, here's a handy tool to help you track Who Is Running for President: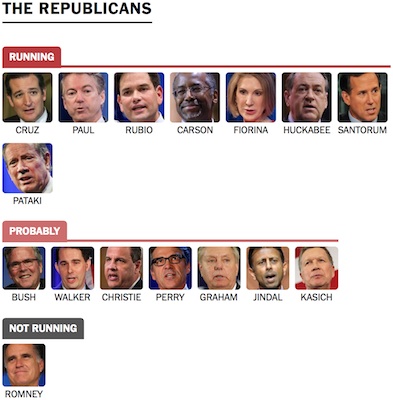 We didn't discuss them in any depth when they happened, but Ben Carson, Carly Fiorina, and Mike Huckabee announced their candidacies during the first week of May.
Rick Santorum announced last week:
Senator Santorum's announcement speech was held in Cabot, Pennsylvania, which could make Meatball happy, I suppose. (OK, I'm sure Santorum isn't Brandon's cup of tea, but still... Pennsylvania!)
I did find this interesting:
Former Sen. Rick Santorum of Pennsylvania says that even his father, who was stuck for some time in Benito Mussolini's Italy, wasn't upset with America for his situation.

"I'm the son of an immigrant, I believe in immigration, but my dad spent seven years in fascist Italy under Mussolini because my grandfather couldn't bring him into this country until he became a citizen and when he did, he brought him over," Mr. Santorum, a 2016 GOP presidential candidate, said this week on Fox News' "The Kelly File."

"I said, 'Were you ever upset with America because they separated you from your dad for seven years?'" he said. "He said, 'No -- America was worth the wait.' And so I look at it as someone who's said you know what? America is worth the wait -- it's worth doing it the right way."
Look, he's not my guy. I find his candidacy mildly annoying, frankly. But I'll give him credit for expressing support for legal immigration and for WAITING IN LINE. This sentiment should require no courage for a politician to express.
Also announcing this week... Former Governor George Pataki. Here's a bit of what he said:
"They say we are against the middle class. This too is nonsense," he said. "Unless by middle class, they mean someone who left the White House 'dead broke,' and 10 years later had $100 Million. Unless by middle class they mean someone who charges a poor country $500,000 for a half-hour speech. That's their party's candidate. She speaks for the middle class? They are the party of privilege; we are the party of the middle class."

"They say we, are anti-immigrant," he said. "We, the proud children, grandchildren, and descendants of immigrants, know that immigration has and will continue to enhance the greatness of this country."

He also said the first part of immigration reform "must secure the border," which is a common position among Republicans. But the son of immigrants who speaks Hungarian, Spanish, French and German, also sent a message that his is not anti-immigrant. He spoke a line of Spanish in his speech and implored that "everyone coming here is coming not to harm us, but to be a part of a better America."
Again, Pataki's candidacy is unlikely to go anywhere. (Apparently he's pro-abortion, which is usually the death-knell to a GOP primary candidate.) But if he wants to hammer on Hillary for a while and unapologetically defend his fellow Republicans as being pro-immigrant while supporting border security, I'm happy to have him on board for a little while.
BTW, Lindsey Graham is expected to announce his candidacy next week.
Rick Perry will make his announcement on June 4th. He will be joined by Taya Kyle (Chris Kyle's widow) and Marcus Luttrell (author of Lone Survivor).
As long as we're talking about the GOP Primary field, I enjoyed this column by Bill Whalen over at Ricochet. It's called "Sorting the Republicans' 2016 Kingdom" and in it he comes up with a novel way to categorize the GOP hopefuls. Here's an excerpt:
There are at least three ways to sort the Republican candidates.

You can do it by national polls, such as this most recent one by Quinnipiac University.

Or you can look at what's going on in the early-primary shaping/re-shaping states, such as this CNN New Hampshire poll from earlier in May showing how various GOP contenders stack up versus Hillary Clinton.

Here's yet another way to divide the field: taxonomically -- i.e., by the many phyla that exist within the political kingdom that is the Republican Party.
I liked this one:
Attack/Retreat. A group that includes Senator Lindsey Graham and Kentucky Senator Rand Paul. Defining traits: the polar extremes of U.S. foreign policy as viewed through a Republican lens -- no one rattles a saber quite like Graham (he think it's time for a new surge in Iraq), whereas the non-interventionist Paul would have you believe that it's his own party that paved the way for ISIS' land grab in Syria and Iraq (in his words, GOP hawks "created these people"). In Latin: Bellum Ostrichus Nukum Avoidum.
Heh.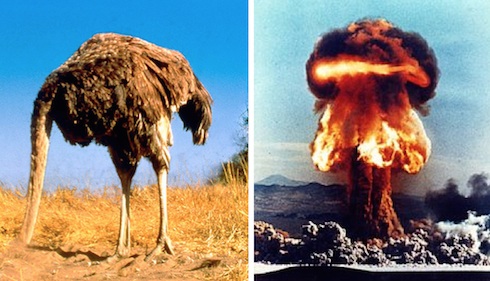 Senators Rand Paul and Lindsey Graham
Related, Jay Cost went on an epic Twitter rant yesterday. He's incensed by the Smart Set's (my term, not his) handling of the GOP debates. Here's a sample: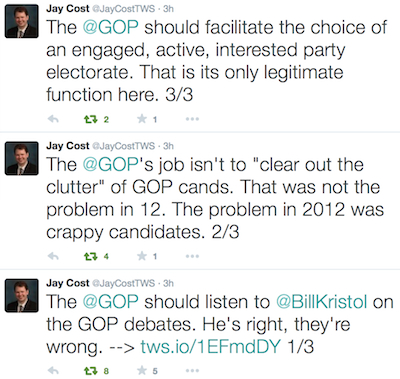 He really hits the nail on the head, imho, when he points out that "The @GOP leadership is unelected by the party voters nationwide. Why should it play such a role in deciding?"
Why indeed.
Finally, a couple of more infographics about the GOP field:
And this one, which I believe I've posted before:
So how are you feeling about the GOP field as it is currently shaping up? Do you think the conservative vote will get split, allowing a "RINO" to slip in or do you think there's hope?

*UPDATE: People are discussing Rand Paul's recent statements about ISIS. Here are a couple of links to help you come up to speed:
Rand's remarks here:
JOE SCARBOROUGH, MORNING JOE: A guy that works very closely with John McCain that is going to be running against you, we think, he's going to be a heat-sinking [missile against Rand] the entire campaign. Lindsey Graham, Lindsey Graham would say, ISIS exists because of people like Rand Paul who said let's not go into Syria, what do you say to that?

SEN. RAND PAUL: I would say it's exactly the opposite. ISIS exists and grew stronger because of the hawks in our party who gave arms indiscriminately, and most of those arms were snatched up by ISIS. These hawks also wanted to bomb Assad, which would have made ISIS' job even easier. They created these people. ISIS is all over Libya because the same hawks in my party loved Hillary Clinton's war in Libya, they just wanted more of it.
Krauthammer's reaction here.
FWIW, Rand slightly walked back from his initial remarks. I can't find the link, but basically he just softened the 'created ISIS' thing without really changing the core of his accusation.


posted by Open Blogger at
08:25 AM
|
Access Comments