« EMT 5/23/15 Stop Me if You've Heard This One edition[krakatoa]
|
Main
|
Fundamental Concepts - Born on Third Base [Weirddave] »
May 23, 2015
Saturday Politics Thread: Immigration, Part Two [Y-not]
Good morning, horde! Today we'll continue exploring one of the trickiest (and most depressing) of the issues facing conservatives today: immigration.
Last week we had a brief "history lesson" on how U.S. immigration policies have evolved over the past 50 years. We also looked at a snapshot of the illegal immigration population, including which states have the largest populations of illegals.
In trying to decide how to proceed with our candidate evaluations, I decided that it might be most helpful to start with their reactions to Obama's manufactured border crisis. My rationale was that this would be the best way to come up with a head to head comparison given that many of our GOP prospects had limited experience with illegal immigration prior to last year. Of course, the challenge here is that, with the exception of Jeb Bush, most GOP hopefuls are starting to talk tougher now that the primary season is underway. Whether or not their tough talk matches their previous statements and records (I'm looking at YOU, Scott Walker) will be left for later posts.
I'm going to do my best to pull from a variety of sources and to identify what, if any, bias I think any given source has. Feel free to jump in with any information you have about the sources and candidates.
In addition, I've decided to widen the scope of these evaluations to include thoroughly unpalatable (and yet "serious contender") candidates like Jeb Bush. The reason is simple: we have got to confront the Worst Case Scenario. If we don't, we are going to let the perfect become the enemy of the good while we try to decide which of the conservative candidates we favor.
One last thing, as you know, a couple of months ago when I did the "candidate mid-terms" post, I let you all know that my top four candidates are Cruz, Jindal, Perry, and Nikki Haley. It's also no secret that stopping (and reversing) illegal immigration is a top issue for me. That said, I don't know that any of my favorite candidates, including Cruz, measure up to my ideal on this topic. I'm still evaluating them. So there is no reason for me to egg the pudding and try to sell you on one of these guys over any of the others. (You can trust me!)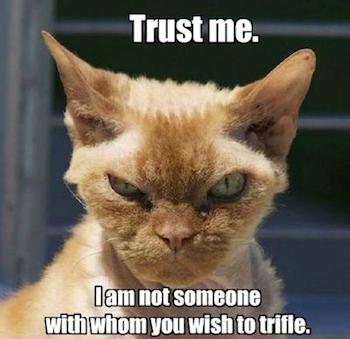 Last November, the Conservative Review published a roundup of many of the GOP hopefuls' reactions to Obama's border crisis. I follow the Conservative Review's Daniel Horowitz on Twitter (you should, too) and I think he's a Ted Cruz backer (or leaner, perhaps), so bear that in mind.
Based on this roundup of reactions, I'd say that Chris Christie's response was the worst:
Christie, in his usual blunt fashion, said he's said enough on illegal immigration in the past and didn't want to talk about it now. The Daily Mail reports:

"New Jersey Gov. Chris Christie refused to engage on the subject of illegal immigration at all, saying as he had several times in the past, that he would make his views on federal issues known when and if he runs for president.
But he did come out swinging against Republicans in Congress floating a government shut down unless Democrats go along with their plan to bar immigration agencies from using federal funds to support Obama's edict.
'It's incumbent upon everybody in Washington, D.C., to do their jobs. And running the government is their job,' Christie said. 'All this kind of hysteria about shutdowns to me is just people who can make news.'"
That's some real leadership there. SMDH
Jeb Bush and Mike Huckabee, who are both widely thought of as being soft on illegal immigration, at least took the time to criticize the president, even if their own solutions are probably not much better than Obama's executive amnesty.
I though Rand Paul's response was rather weak:
Rand Paul's reaction to the President's amnesty executive action was to counsel his colleagues to "pass some things", the Washington Post reported.

"Two Republicans who are mulling presidential bids, Sen. Rand Paul (R-Ky.) and Sen. Rob Portman (R-Ohio), cautioned their colleagues to focus on fighting the policy, rather than on fiery rebuttals that could alienate the voters the party must woo in 2016.
'Pass some things,' Paul said, when asked about how the party should react. He suggested an expansion of work visas as an example of one potential piece of legislation."
Both Governors Jindal and Walker were highly critical of the President's power grab. Jindal called it "arrogance" and Walker called it "incredibly audacious."
Follow the link for the complete roundup from the Conservative Review.
I think I liked Ted Cruz's reaction best:
Ted Cruz: Senator Cruz took to POLITICO to write about what congress should do in the wake of Obama's executive order. Cruz laid out two key ways to fight back. The first is to refuse to confirm virtually all of Obama's nominees until amnesty is rescinded. The second is to use the power of the purse to refuse to fund Obama's amnesty. Cruz sums up what is at stake:

"Of course, these confrontations are not desirable, and it is unbecoming for an American president to show such condescension towards the voters.
The American people, however, are not powerless. They have elected a new Congress full of members who have promised in their campaigns to stand up to this lawless President and stop the amnesty. We must honor our commitments. If the president will not respect the people, Congress must."
Here's a link to Senator Cruz's column in Politico, which is entitled Obama Is Not a Monarch.
It's been half a year since Obama opened the flood gates to illegal aliens. What have the GOP hopefuls said since then? Are any of the 2016 prospects still talking about illegal immigration and immigration more generally? I'd like to examine that in more depth next week, but for now I'll just update you on a couple of challenges to Obama's amnesty.
As of January of this year, the Hill was reporting that two dozen states were suing Obama over executive amnesty. (That number rose to 26 a couple of weeks later.)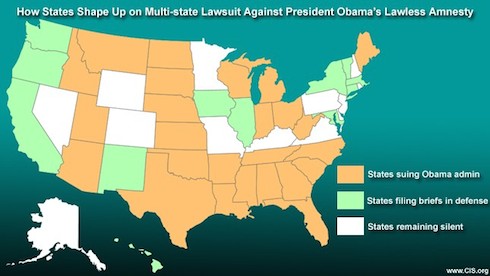 Most of the governors we're interested in are participating in the lawsuit against the Administration. Sadly, New Mexico filed a brief in defense of the Administration. However, I do not think that originated with Governor Martinez, who opposes amnesty and has been trying to repeal the drivers license measure her predecessor enacted in her state. Governor Martinez did not sign the brief in support of Obama. It was signed by Democrat Hector H. Balderas, New Mexico's Attorney General. I think this highlights the challenges Martinez faces in a purple state.
Earlier this month, 113 lawmakers signed a brief in support of the states' suit against Obama:
The Republicans, including Senate Majority Leader Mitch McConnell (Ky.) and House Judiciary Committee Chairman Bob Goodlatte (Va.), are siding squarely with the states, arguing Obama's executive action "changes the law and sets a new policy, exceeding the executive's constitutional authority and disrupting the delicate balance of powers."
"Congress has created a comprehensive immigration scheme -- which expresses its desired policy as to classes of immigrants -- but the class identified by the [Homeland Security Department] directive for categorical relief is unsupported by this scheme," the lawmakers wrote in an amicus brief filed with the 5th Circuit Court of Appeals in New Orleans.
"Instead of setting enforcement priorities," they added, "it created a class-based program that establishes eligibility requirements that, if met, grant unlawful immigrants a renewable lawful presence in the United States and substantive benefits."
The brief was endorsed by 113 Republicans, including Sens. John Cornyn (Texas), the majority whip, and Ted Cruz (Texas), a 2016 presidential hopeful. In the House, the supporters include Reps. Trey Gowdy (S.C.); Tom Price (Ga.); Michael McCaul (Texas), head of the Homeland Security Committee; and Lamar Smith (R-Texas), the former head of the Judiciary panel.
Senator Marco Rubio also signed the brief. Senator Rand Paul did not.
Next week, I'll try to untangle more of the candidates' recent statements on immigration.
Looks like I picked the wrong month to stop sniffing glue.


posted by Open Blogger at
08:27 AM
|
Access Comments