« For a limited time, buy your horse genitalia mod for the low price of $100 (Gaming Thread)
|
Main
|
Overnight Open Thread (4/26/15) [tmi3rd] »
April 26, 2015
Food Thread: Yes, "Food Babe" Is In Fact An Idiot [CBD]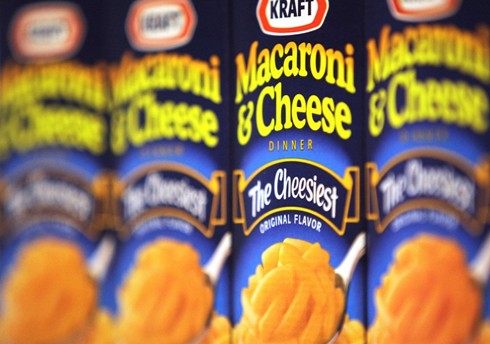 Kraft recently caved to pressure from Vani Hari (The Food Babe) and her army of ignorant sheep. They are removing that intriguing combination of yellow food dyes that create that unmistakable and marvelous color.
For many Americans, the color of Kraft Macaroni & Cheese is the color of childhood. Nothing triggers nostalgia like the sight of a steaming plate of sticky pasta, as unnaturally orange as a nuclear dawn.
Ignoring the cowardice of Kraft, the pressure came primarily from a blogger who has demonstrated time and time again her breathtaking ignorance of the most rudimentary rules of scientific analysis. Not to mention her complete and total ignorance of...uh...all of science and the world around her and, probably, the library. I present this quotation as proof:
A few facts about what airplanes do to your body -

When your body is in the air, at a seriously high altitude, your body under goes some serious pressure. Just think about it -- Airplanes thrive in places we don't. You are traveling in a pressurized cabin, and when your body is pressurized, it gets really compressed!

Compression leads to all sorts of issues. First off your body's digestive organs start to shrink, taxing your ability to digest large quantities of food. Secondly, this compression reduces the ability for your body to normally circulate blood through your blood vessels.

[and one more, just for kicks]

Additionally, the pressurized cabin reduces the humidity by 40% of what humans typically thrive at. The Sahara Desert has more humidity at ~25% than your airplane does at ~10%. Remember your body is made up of 50% water, if the humidity is reduced by 40%, your body becomes very dehydrated, very quickly and usually without you feeling the effects until after you get off the plane. Dehydration causes all sorts of issues from fatigue, headaches, constipation, light headedness and even death in extreme cases.
If you go to this [insert Boston accent] retahd's web site (no link...she doesn't deserve the traffic) you will find a mass of conjecture, unsupported statements, facts based on correlation, and many other basic logical fallacies. I cannot imagine why she is successful other than the fact that she is rather pleasant to look at.
But...there is another hottie who is actively combating this stupidity: The Food Babe Blogger Is Full of Shit is the actual title of a piece written over on Gawker about this clueless, brainless bint. Science Babe refutes everything that Food Babe says, and takes some well-placed shots at her from other angles. Both the article and Science Babe's website are worth a read.

*******
60% of frozen shrimp is contaminated with various bacteria.
Why this would be surprising is beyond me. The cultivation of shrimp has exploded all over the world, and most of the facilities are vile, disgusting places. So I guess the pro-tip would be not to eat frozen shrimp from Bangladesh and India and Thailand without cooking it first. And gee what a shock; fresh shrimp from the Atlantic (U.S. and Argentina) was the cleanest.
*******
I am not a huge fan of Jaimie Oliver. He has become the poster child for politicized food and cooking, but he does know how to cook, and some of his combinations are wonderful. This one is a little weird, with mint and bacon in the same dish. But it is a damned fine pasta, and worth the effort.
Shell Pasta With Creamy Smoked Bacon and Peas
Adapted from "Jamie's Food Revolution," by Jamie Oliver.
Sea salt
10 slices smoked bacon or pancetta
1 pound dried mini-shell or other small pasta
2 tablespoons olive oil
1 tablespoon butter
Freshly ground black pepper
2 cups frozen peas
2 tablespoons creme fraiche or heavy cream
2 tablespoons finely chopped fresh mint leaves
Juice of 1 lemon
6 ounces finely grated Parmesan cheese.
1. Bring a large pot of lightly salted to a boil. Meanwhile, cut sliced bacon crosswise into thin slivers, or slice pancetta into julienne. Add pasta to boiling water and cook to taste.
2. While pasta is cooking, place a large skillet over medium heat, and add 2 tablespoons olive oil and the butter. Add bacon or pancetta and a sprinkling of pepper, and fry until golden and crisp. Immediately add frozen peas and stir for a minute or two. Add creme fraiche or heavy cream and chopped mint.
3. Reserve 1 cup of the pasta cooking water, and drain the pasta. Add pasta to the skillet and stir. Add lemon juice, and adjust salt and pepper to taste. Bring to a simmer, then remove from heat. The mixture should be thick; if desired, a splash of the pasta water may be added to the sauce to thin it slightly. Add Parmesan and stir to mix. If desired, serve with a green salad.

posted by Open Blogger at
04:05 PM
|
Access Comments