« Food Thread: Yes, "Food Babe" Is In Fact An Idiot [CBD]
|
Main
|
Morning Thread (4-27-2015) »
April 26, 2015
Overnight Open Thread (4/26/15) [tmi3rd]
Hi there, Morons and Moronettes. I'm tmi3rd, and I'm your assigned host for this evening while Maetenloch is on assignment.

For Morons who are unfamiliar with me, I've been here for about a decade (!), and I usually post about hurricanes that are going to strike the continental US... ergo, you haven't seen much of me in the past eighteen months.

Anyway, we've got plenty of stuff for you this evening... let's dive in! More below the fold...
Let's get this party started...

Okay, which one of you was this?

Teen bitten on face while trying to kiss deadly snake

I read this and I was all...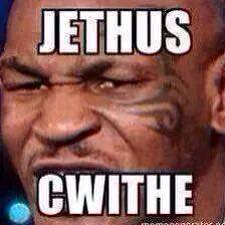 A Tampa teenager known by his friends for his love of snakes is recovering after his new pet denied his affection.

Austin Hatfield was bitten in the face by a water moccasin.

Tampa police said Hatfield caught the venomous snake in a pillowcase and kept it under his bed.

His friend claims that Hatfield kissed the snake 12 times, but on the 13th try, the 4-foot reptile struck back.
Since I couldn't even, I figured it was time for a different laugh...

Man 'has sex with tree, claims he is God and tried to stab cop with badge while high'

A man who allegedly had sex with a tree, told police officers he was God, shrugged off being tasered twice and tried to stab a cop with his own badge while on powerful drugs has been arrested.

Kenneth Crowder, of Melbourne, Florida, was tripping on flakka, a worrying new drug that authorities say is sweeping the state, police said.

According to a Melbourne police report, Crowder, 41, was spotted by witnesses running naked through a Melbourne neighborhood, yelling that he was a god before committing a sexual act on a tree.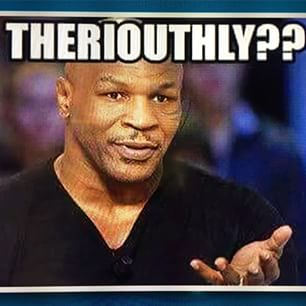 Stuff like this makes me want to give up on humanity at times... but then I see stuff like this...

This was in the DFW area... this girl had been paralyzed from the waist down for eleven days, and stuff just started working again. Not going to pretend I have any idea how this happened, but I'm glad it did.

On a more personal note...
Ace is, of course, a do-not-miss on Twitter, and Saturday night, he was utterly incandescent in his remarks about the dysfunction of the interactions between the "three thirds" of this country- left, right, and center, for lack of a better term.

Here it is on Storify. Please read it, because he makes some excellent points (unsurprisingly).

Ace summarized it, essentially, as a marriage headed for a divorce, and his reasoning was (as usual) very sound... no matter who's elected president, one-third of the country will be driven utterly insane by it. The past couple of decades have demonstrated the truth of that statement.

He made the remark that he's tired of hating the left- it's too personally costly to hate them, and I've been personally impacted by it on both ends (as I imagine many of us have). Maybe it's better that we work out the details of the divorce so that we can be free of one another.

I think Ace may be- in fact, probably is- right on this, but this got me to thinking about why I went into what I did for a living (I'm working on getting my MD), and as my own views crystallized, I wanted to run this by you:

I do what I do for the same reason I'm not ready to give up on America... there are plenty of bad guys out there, and many live among us. But at the same time, there are a lot of good people among us, and many may have been led astray by some very nefarious types that genuinely qualify as Bad Guys.

They could win. We could lose. History is largely not on our side on this. But we don't have to lose. Do we need to break the cycle that's making things worse and making us spiral down? Of course we do, and that's going to be the real heavy lift.

I'm surrounded by kids on campus every day who are starting to realize they've been lied to and underinformed for a very long time. They're going to have to be gently led back to the path of liberty, but that's through no fault of their own. These are good kids who don't want to be wards of the state, but they need convincing to find their way back to the light.

As such, I want to impress on everyone reading this to encourage these kids, not berate them... I'm getting good results when I ask them what makes men most free. Find your sales pitch that doesn't beat these kids up and we can make our Garden of Freedom grow again. I hate to think that this chapter of history ends with the dissolution of the United States of America. That said, let me leave you with a quote from Robert Heinlein in Starship Troopers...

...'juvenile delinquent' is a contriction in terms. 'Delinquent' means 'failing in duty.' But duty is an adult virtue -- indeed a juvenile becomes an adult when, and only when, he acquires a knowledge of duty and embraces it as dearer than the self-love he was born with. There never was, there cannot be, a 'juvenile delinquent.' But for every juvenile criminal there are always one or more adult delinquents -- people of mature years who either do not know their duty, or who, knowing it, fail.

"And that was the soft spot which destroyed what was in many ways an admirable culture. The junior hoodlums who roamed their streets were symptoms of a greater sickness; their citizens (all of them counted as such) glorified their mythology of 'rights' ... and lost track of their duties. No nation, so constituted, can endure."
Be safe, my friends!

-tmi3rd

posted by Open Blogger at
10:15 PM
|
Access Comments