« Open Thread
|
Main
|
Jerry Seinfeld: Network TV Is Dead »
April 17, 2015
Ted Cruz: The Candidate To Thread The Needle On Foreign Policy
I'll admit some of my assumptions about Ted Cruz's foreign policy were a little off. I thought he was in the "super hawk" camp but after he announced it became clear that there are some differences between Cruz and a loud and proud hawk like Marco Rubio.
Philip Klein has a piece worth reading on the difference between the two.
As a concrete example, Cruz went on to describe his opposition to launching a military attack on Syria. Though he described Bashar Assad as a "brutal tyrant," he said "the enemy of your enemy is not necessarily your friend. And just because he is a brutal tyrant doesn't mean the rebels are any better." He said radical Islamic terrorists infiltrated the rebel groups, and if Assad's regime fell, those terrorists could get their hands on chemical weapons, "an even worse outcome for U.S. national security interests."

He summarized, "My view, just like President Reagan on foreign policy, is if and when we are called to use military force, we should do so with a clear defined objective that is directly keyed off of U.S. national security. We should go in with overwhelming force. And then we should get the heck out. I don't think, and I think most Americans don't think, we should be engaged in nation building, building democratic utopias across the world."
It sounds good but I think a bit of skepticism, not specific to Cruz, is in order. Every candidate says, "if we use the military it must be in our security interests." It's defining those interests and applying them to individual circumstances that is important.
The challenge is you can't imagine everything a President will face in the next four years. So how to do you take these kind of boilerplate assertions and forecast out into the future? I think the best you can look at someone's general philosophy as demonstrated by their reaction to previous events and hope they apply it going forward.
Cruz's opposition to involvement in Syria, which I honestly wasn't aware of until he announced his candidacy, strikes me as a positive indication. I also like that he seems to accept that getting rid of Assad is a nice idea in theory, the practical consequences are dangerous.
But again, George W. Bush ran against nation building and but due to events that changed. It's going to be a crap shoot to go with a guy like Cruz or Paul but for me that's better than hoping Rubio moderate away from the McCain-Graham-Bush wing.
Speaking of which...an interesting article on the situation in Iraq in Salon of all places.
The author worked with US forces during the surge as a civilian adviser and has been back to the country a number of times since then. She thinks Obama's withdrawal is to blame for the current situation.
"Was it inevitable that Iraq would disintegrate?" I asked Rafi. No, it was not, he assured me. Iraq had been moving in a positive direction after the surge. This downward trajectory began in 2010 when the United States had not upheld the right of Iraqiya to have first chance at trying to form the government after it won the elections. "We might not have succeeded," he admitted, "but the process itself would have been important in building trust in Iraq's young institutions."

Bad decisions taken by Americans in 2010 destroyed the country, he believed. Since then, Obama had regularly cited ending the war in Iraq as one of his greatest foreign policy successes. On Nov. 1, 2013, with Maliki by his side in the White House, Obama stated: "We honor the lives that were lost, both American and Iraqi, to bring about a functioning democracy in a country that previously had been ruled by a vicious dictator. And we appreciate Prime Minister Maliki's commitment to honoring that sacrifice by ensuring a strong, prosperous, inclusive and democratic Iraq." He appeared to be paying scant attention to Maliki's growing authoritarianism and the deteriorating situation in the country.

Rafi listed the Sunni grievances that had simmered until they had finally boiled over. Maliki had detained thousands of Sunnis without trial, pushed leading Sunnis out of the political process by accusing them of terrorism, and reneged on payments and pledges to the Awakening members who had bravely fought al-Qaida in Iraq—its leaders were dead, fled, or in jail. The request by provincial councils in Salah al-Din, Diyala, and Mosul to hold a vote on the formation of regions—in accordance with the Constitution—was prevented by force. Peaceful, yearlong Sunni protests demanding an end to discrimination were met by violence, with dozens of unarmed protesters killed by Iraqi security forces. Maliki had completely subverted the judiciary to his will, so that Sunnis felt unable to achieve any form of justice.
My problem with the blame Obama for Iraq narrative a lot of conservatives have adopted is it vindicates the initial rationale to invade and remake Iraq.
Full disclosure: I supported the idea at the time and knowing what we knew then it made sense to me. My problem is ignoring what we learned after it.
Yes, the surge worked but it solved problems we never thought would exist...an insurgency and sectarian civil war. Remember the initial though was we'd go in, decapitate the regime while the rest of the government and civil society stayed intact and we'd be out in a year or two.
No one planned for a long occupation required to hold together a country that was far more fractured than we thought. This wasn't an accident, it was policy. From the book Fiasco....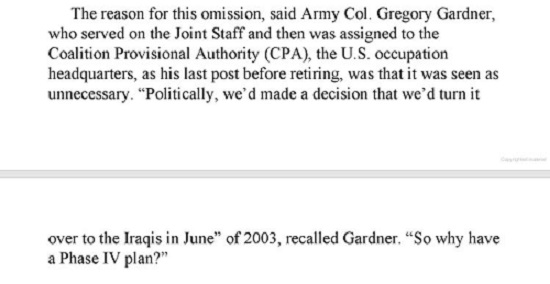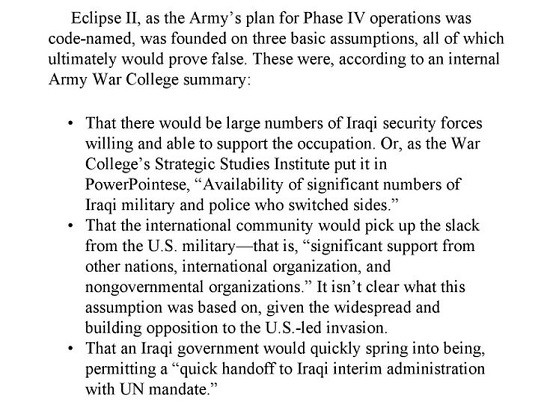 We shouldn't let the fact that the military salvaged enough of Iraq to let us get out while the getting was good obscure the fact that it turned out we had no clue what we were getting into in the first place.
We should be honest and admit that the Muslim nations of the Mideast are what they are. They are not interested in our notion of liberty or joining the "family of nations". Their culture is much older than ours and they don't aspire to be like us. Trying to remake them in something approaching our image is a fool's errand. Anyone who thinks we just need to be a little smarter the next time we try another Iraq or Libya just isn't skeptical enough about the limits and competency of government for my liking. And yeah Marco Rubio, I'm looking at you.

posted by DrewM. at
10:48 AM
|
Access Comments