« Sarah Silverman Struggles to Come Up With Her Own Tale of Wage-Discrimination Woe; Comes Up With One Example, Then, When Confronted With the Facts, Apologizes and Admits It's Not a "Very Good" Wage Discrimination Story At All
|
Main
|
Morning Thread (4-16-2015) »
April 15, 2015
Overnight Open Thread (4-15-2015)
Howard Husock: A Tale of Two First Ladies
Hillary famously dissed Tammy Wynette back during Bill's 1992 campaign for president:
In 1992, as charges first emerged about her husband's alleged extra-marital affairs, both Clintons appeared together on CBS's 60 Minutes. Their goal? To defend Bill and to assert Hillary's independence. She told interviewer Steve Kroft, "I'm not sitting here some little woman standing by my man like Tammy Wynette. I'm sitting here because I love him and I respect him."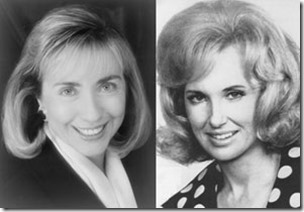 But of course Hillary ended up doing exactly what she mocked Tammy for doing. And showed her ignorance of Wynette's actual life since Tammy was in fact prepared to walk away from her men when she had to.
It's certainly true that the late country singer Tammy Wynette was best known for her mega-hit "Stand by Your Man." But Hillary's statement was wrong on two counts. In her own life, the thrice-married, twice-divorced Wynette actually did not stand by her men. Hillary, by any measure, has. In fact, Wynette might be considered a paragon of feminist courage and independence, while Hillary, to win the White House, will have to prove that she has what it takes to accomplish great things on her own.
And Wynette is really far more of a real feminist hero than Hillary is since she managed to succeed on her own in a very tough business in the 60s while a single mother with three kids and no money or contacts.
From a start picking cotton on her grandfather's farm in Itawamba County, Mississippi, Virgina Wynette Pugh rose to become the acknowledged First Lady of country music even before she ended up marrying its king, George Jones. Married as a teenager, she overcame a divorce from her often-unemployed, construction-worker husband to raise three children on her own. To do so, she earned a beautician's license and worked as a hairdresser, all while singing at night in clubs. Even after becoming a star she kept the license up to date, lest her luck run out.

Success came for Wynette only after she quit her job and, without securing a place to live for herself and her children, moved to Nashville to pursue what country star Alan Jackson once described as "that neon rainbow" of music stardom. Her big break came in an audition with legendary Nashville producer Billy Sherrill. Sherrill understood Wynette's capacity to transmit a breathtaking depth of emotion.
Stand by Your Man is an awesome song and despite supposedly being written in a mere 15 minutes by Sherrill and Wynette I think it reflects Wynette's real emotions and struggles already by age 26. But it was not necessarily her philosophy of life and love either. Wynette truly did it her own way and Hillary, especially given her own choices in the years since, owes her a bit of an apology after all this time.
WaPo: It's Difficult to Sell Hillary as a Normal Person Because She's Just SO Awesome
Potemkin Hillary: More than 2 MILLION of Hillary Clinton's Twitter followers are fake or never tweet - and she's already under fire for 'buying' fake Facebook fans
Not to mention the busloads of 'average Iowans' shipped in.
The Clintons Are Just Like You and Me: Flashback: Chelsea Clinton buys new $10.5 million apartment across the street from her husband's $4 million 'starter pad' bought just before they married
Heh: HillaryBot Able To Nod and Sip Water While Maintaining Eye Contact with an Everyday Iowa Voter
And her emotional responses are now correct nearly 75% of the time.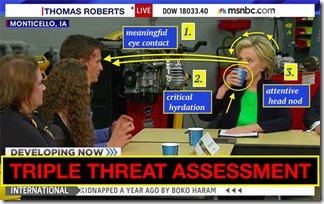 Al Sharpton Stages Rolling 'Hunger Strike' to Aid Loretta Lynch's Stalled AG Nomination
And Ed Driscoll is prepared to meet him rolling hunger strike for rolling hunger strike.
As I wrote in response, I was so moved by their efforts, "I'm going on my own personal thrice-daily rolling hunger strike. That's right: rather than just one random hunger strike once a year, I'll eschew all solid foods from 9:00 AM until 12:00 PM. And from 1:00 PM until 5:00 PM. And then just to really stick it to the war-mongering imperialists, I'll fast from 6:00 PM until 8:00 AM the following day."

And I'm prepared to do the same every day once again, no matter what happens to the would-be attorney general. Fight the power, err, in this case, for the power, man!
ATTENTION FOREIGN GOVERNMENTS: The Clinton Foundation Wants Your Money Right Now
Le Shock: Former IRS Ethics Officer Disbarred For Ethics Violations
How the Delivery of the S-300 Air Defense System May Guarantee Iran the Bomb
The S-300 is not invincible, but suppressing that type of system requires significant investments in resources and time.  The U.S., for example, would employ salvos of cruise missiles to eliminate deployed SAM batteries and eliminate support infrastructure.  Cyber attacks would be employed against the early warning and command-and-control networks that support the S-300, in an effort to reduce situational awareness and force individual batteries into autonomous or semi-autonomous operations.  As the S-300 network becomes increasingly fragmented, stealth platforms like the F-22 would lead missions aimed at eliminating most of the remaining launchers and radars, providing support and cover for E/F-18 Growlers (providing jamming support) and F-16CJs in the Wild Weasel role.

At a minimum, this effort would take dozens of cruise missile strikes and scores of sorties over a period of several days.  And that's a luxury that Israel doesn't have.  Even with forward basing in places like Azerbaijan, or access through Saudi airspace, the Israeli Air Force would be looking at complex, long-range missions and they would be asset-limited by their small tanker fleet.  Most estimates of an IAF first strike against Iranian nuclear targets put the number of tactical aircraft at somewhere between 24-36, roughly the maximum number that could be refueled by six or seven Israeli tankers.

...This much is certain: Israel's "window" for eliminating the S-300 threat (and bombing Iranian nuclear sites) is growing quite narrow.  Russia and Iran won't rest until the air defense system is operational, and Tehran always has the option of ratcheting up covert development efforts, in facilities unknown to both the U.S. and Israel.  The Iranians know the IAF has only a limited ability to sustain a long-distance air campaign against targets in their country, and arrival of the S-300 will force the Israelis to rethink their options.  Meanwhile, the world power capable of sustaining an air campaign against Iran (the United States) is firmly wedded to a "diplomatic solution" that effectively gives Tehran the bomb.
Dress Codes: Now Part of Rape Culture
Why Major League Baseball's New Time Rules Are Awesome
I can appreciate the measured pace of baseball but when games start routinely approaching the length of The Godfather parts I, II, and III back to back well they're pushing it. If I can fly to Vegas and back during a game, it's too damn long.
It's a leisurely game. You're given nine innings to win and if you're tied at the end of that, you get free baseball until someone wins.

However, there's a big difference between a leisurely two-hour game and those regularly slogging in at three-and-a-half hours for only nine innings of play. So Major League Baseball put in new clocks - the baseball equivalent of shot clocks, essentially - to quicken the pace by shortening the breaks between innings and pitching changes. The League also instituted regulations requiring hitters to keep a foot in the batter's box, with notable exceptions (e.g. foul balls, wild pitches, time outs). The shot clocks are 2 minutes, 25 seconds for locally televised games and 2 minutes, 45 seconds for nationally televised games. Pitchers have to throw their last warm-ups before 30 seconds remain.
The traditionalists are up in arms but Mollie Hemingway points out that this is really getting the game back to where it was in the golden age:
I reminded him that baseball games were completed in about 2 hours during "The Natural" era. I'd happily go back to that length and enjoy every moment that took place between pitches.
2014 Nürburgring Nordschleife: Just The Good Parts
I like the crashes where they're driving their mother's hatchback in a straight line, and then somehow manage to spin out. All the ones with real race cars are good too, but there's a certain charm to watching a Fiat Panda go careening into a wall. To be honest, the smaller the car, the more entertaining I find its demise. Along with that, I love when they're not going very fast. It takes skill to completely oversteer and spin out when you're going 10 MPH.
Tim McGraw Poised To "Dixie Chick" Himself With Gun Control Benefit Concert
And his statements make it clear that this is no mistake or oversight on his part.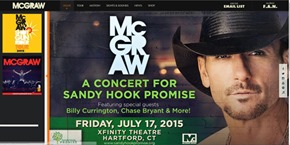 Shot Bounces Off Armadillo, Conveniently Finds Man's Mother-in-Law
Make Your Choice: Column A or Column B


The Group knows what you did.
Tonight's post brought to you by on-line fears by sex: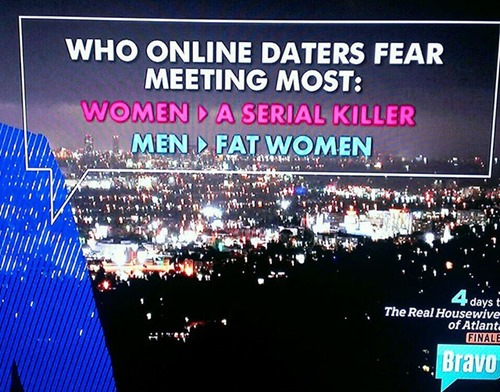 Notice: Posted by implicit permission of AceCorp LLC. Please e-mail overnight open thread tips to maetenloch at gmail. Otherwise send tips to Ace.

posted by Maetenloch at
11:02 PM
|
Access Comments