« Hillary So Old
|
Main
|
Morning Thread (4-14-2015) »
April 13, 2015
Overnight Open Thread (4-13-2015)
MS: Well, the thing that I thought was interesting about this, and actually indicated a degree of subtle contempt, I thought, from the authorities - either that or we are just beyond parody here - is that they replaced American Sniper with Paddington Bear... If people are going to get... 'Oh, no, I feel threatened and intimidated by seeing American Sniper', then fine. You watch the teddy bear movie. We'll schedule Thomas the Tank Engine. We'll schedule Babe the pig. Oh, wait, no, that would offend all the Muslims, and there'd be a riot. So we won't have that, but we'll find some other children's stuffed character that is safe for you to watch. The logic of the safe space.

HH: I guess Charlotte's Web is off the list, too.

MS: ...is that 23 year old students can only watch Paddington Bear.

-- Mark Steyn on the Hugh Hewitt show.
Walmart critics embrace two moral standards: in the first, morality requires payment of high wages to 1.2 million people. In the second, morality can be achieved without [personally] employing anyone at all - that is, by paying zero wages. Most of us have chosen to live by the second standard, and from our lofty moral position we can criticize Walmart for not meeting the first standard. How convenient!
Usually at this point somebody starts talking about how Hillary Clinton will get the woman vote, how black turnout will stay up there if Barack Obama goes all-in, how rocks fall and everybody dies; the usual, in other words. Which would all be more useful if any of this was ever based on much more than gut feelings.  The truth is, there are a lot of confident people out there when it comes to this election - but very few of them can show their work.

-- Moe Lane
See also: This entire article by Jonathon Chait which asserts that Hillary's victory is baked into the demographic cake.
The Marquess Mingles With the Common Folk During Her Journey to the Iowa Phase of Her Coronation
And found their folkways, apparel, and ways of speaking just so fascinating and adorable. She particularly enjoyed the 'gas stations' and impromptu 'Chipotle' festivals which she was able to visit incognito by way of her mufti dress and magical sunglasses.

She also occasionally invited the more impressive specimens into her native-style van for 'chats' as is the custom among middle American hoi polloi.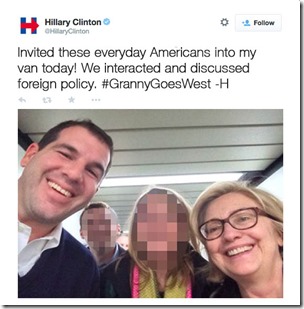 Putin Delivers Advanced S-300 Missile Air Defense System to Iran Days After 'Historic' Negotiations
The Crazy JetBlue Pilot Back in 2012
Luckily the First Officer was alert and quick thinking and it was the pilot who left the cockpit without following protocol.
According to the affidavit filed with the complaint, Osbon, a pilot working JetBlue Flight 191 from New York's John F. Kennedy (JFK) Airport to Las Vegas, according to witnesses, arrived at JFK later than he should have for the flight and missed the crew briefing. As the plane was leaving JFK and climbing in altitude in its scheduled five-hour flight, Osbon said something to the first officer (FO) about being evaluated by someone, but the FO did not know what he meant. Osbon then talked about his church and the need to "focus" and asked the FO to take the controls and work the radios. Osbon began talking about religion, but, according to the FO, his statements were not coherent.

The affidavit goes on to say that the FO became concerned when Osbon said "things just don't matter." According to the FO, Osbon yelled over the radio to air traffic control and instructed them to be quiet. Osbon turned off the radios in the aircraft, dimmed his monitors, and sternly admonished the FO for trying to talk on the radio. When Osbon said "we need to take a leap of faith," the FO stated that he became very worried. Osbon told the FO that "we're not going to Vegas" and began giving what the FO described as a sermon.
Two Children, 6 and 10, Playing in a Nearby Park Snatched By Strangers, Held Captive For Two Hours, Parents Threatened
Guy Married Five Months is Terribly Worried That Men Don't Trust Women
And Jazz Shaw's response is just a bit too PC and perfectly even-handed. So let me don my chauvinist hat and state outright that in general women DO overreact - or to be more precise the set of circumstances that provoke a DEFCON 1 reaction in ladies includes things that in no way possibly could be considered a genuine emergency.
So when I hear Mrs. Maetenloch emit a blood-curdling shriek from across the house it could be based on the overtones of terror present be 1) an armed intruder discovered in the bathroom 2) a slashed open major artery or 3) a large spider in the same room. Now statistically it's almost certainly  3) but as I'm running through the house *I* have to be prepared for 1) and 2) and a whole host of other nasty possibilities.

I used to get mad when I would come charging in in full-adrenalin-ready-for-bear mode only to find that it was merely an arachnid hiding behind the toilet, but now I mostly just accept that this is way it is and it's not going to change. So yes I do discount women's reactions mentally - but I still have to react just the same in case it is a legit emergency. Overreaction is a flaw much more common in women than men. Men of course have their own different menu of flaws.
Acetaminophen Reduces Both Pain and Pleasure, Study Finds
So people who are just a little too happy might need a Tylenol mickey.
Researchers studying the commonly used pain reliever acetaminophen found it has a previously unknown side effect: It blunts positive emotions (abstract). Acetaminophen, the main ingredient in the over-the-counter pain reliever Tylenol, has been in use for more than 70 years in the United States, but this is the first time that this side effect has been documented.
The 10 Weirdest Florida Stories of 2015....So Far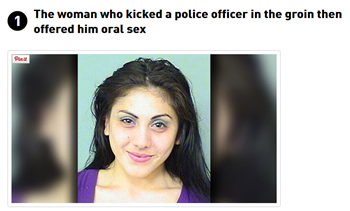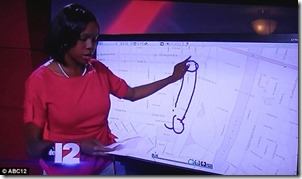 The Yahoo AoSHQ group - it's got electrolytes.
And my twitter thang.
Tonight's post brought to you by Know Your Meat, Part V: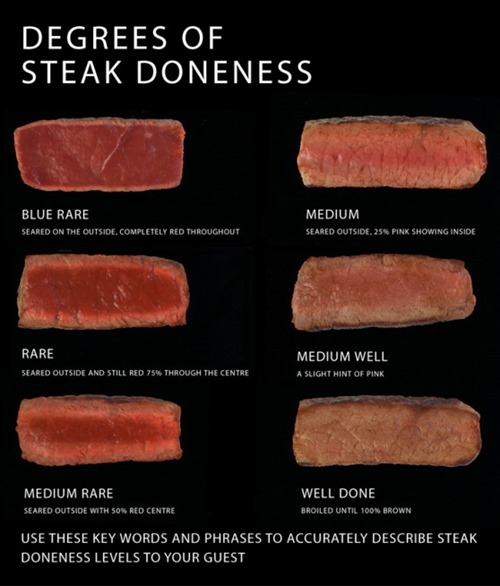 Notice: Posted by permission of LaceWigs LLC. Please e-mail overnight open thread tips to maetenloch at gmail. Tonight's winning numbers are 14 and 57.

posted by Maetenloch at
10:56 PM
|
Access Comments