« Spring Has Come! [CBD]
|
Main
|
Open Thread [Y-not] »
March 21, 2015
Saturday Gardening Thread: Spring Cleaning [Y-not, KT, Weirddave]
Good afternoon, gardening morons!
Spring is here, spring is here
Life is skittles and life is beer
I think the loveliest time of the year
Is the spring, I do, don't you? Course you do
But there's one thing that makes spring complete for me
And makes every Sunday a treat for me

All the world seems in tune on a spring afternoon
When we're poisoning pigeons in the park
Every Sunday you'll see my sweetheart and me
As we poison the pigeons in the park
And now, without further ado, heeeeere's KT:
Spring Cleaning
Spring is officially here. But instead of Springing Ahead, today I am going to tackle some leftover winter topics that I missed earlier. We certainly had a run of commemorative days recently. They went by before I could note plant connections:
Friday the 13th
We had a Friday the 13th in February and one in March this year. We made it through somehow. If you are one of those gardeners who are afraid to work in the garden on this day, there is still no need to stay in the utility room with one of Y-not's mushroom-growing kits. Get ready for Friday the 13th in November. Try out some decorative houseplants, too. Just avoid the ones that someone on the Internet has said bring bad luck. Gotta watch out for that Aloe vera. Or chrysanthemums.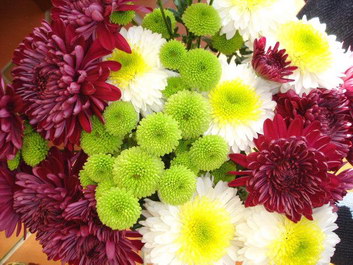 Bad luck! Even if it is your "birth flower."
Bonus in the sidebar: Houseplants rated for difficulty. Note the plant families rated at zero difficulty.

Since I mentioned mushrooms, one of the Farmers Almanacs has recipes up for morels in wine sauce and morels with asparagus. And for bacon-wrapped asparagus. (This delight was mentioned in the comments to the Valentines Day Saturday Gardening Thread.)
Pi Day, March 14
Pi Day was very special this year. I think we should have an entire Pie Month to remember it. So I'm going to mention Rhubarb, or Pie Plant. I have never grown it myself, but I like it.
Interesting information about Rhubarb: It is related to buckwheat and garden sorrel, the kind with the arrow-shaped leaves. I was relieved to learn that though the leaves have toxic amounts of oxalic acid, most of the acid in the stalks is malice acid -- the characteristic acid in apples. "The cost of transportation across Asia made rhubarb expensive in medieval Europe. It was several times the price of other valuable herbs and spices such as cinnamon, opium, and saffron." But it grew on the banks of the Volga River, where the mistreated Volga Boatmen may have had some access to it.
After this, you may need some pie:
Red Army Chorus sings the Song of the Volga Boatmen. Pretty dramatic after 2:15
The Ides of March
Interesting that the murder of Julius Caesar is still commemorated every year. An "Omnifaith Spiritual Expert" at Huffposts wrote, "March's birth flower is the Narcissus which signifies egotism in my little book. Perhaps a warning to that original Caesar to beware excessive self-contemplation. . . . "
She also wrote, "The floral emblem of March is the sturdy daffodil. Not my favorite flower, they are mostly brilliant yellow, a reminder of the intellect behind nature. . . . " I'm not sure what this means, exactly, but she doesn't seem to be aware that a daffodil is also a narcissus.
When the fall bulb catalogs come out, we should have a little discussion about varieties of narcissus, daffodil and jonquil. For now, enjoy.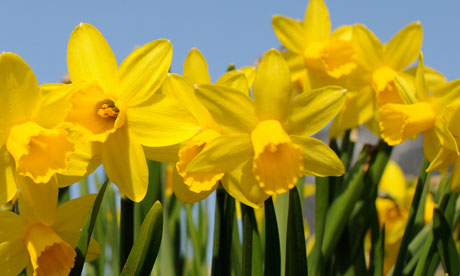 A host of yellow daffodils
The Birthday of Benito Juarez, commemorated March 16
I was going to write about Mexican tomatoes here, but tomatoes are a summer crop. Instead, I have a couple of related questions for next week. I will be interested in your thoughts in the comments.
What is a beefsteak tomato?
Do you have a favorite beefsteak tomato?
Saint Patrick's Day, March 17
What is a shamrock?
Hard to say, exactly:
According to the Concise Columbia Encyclopedia, the identity of the true shamrock has long been debated, but the plants most often designated as the emblem of Ireland are the white clover, the small hop clover, and the wood sorrel, or oxalis.
Another plant identified as a "True Shamrock" by Irish people is "Black Medic" or "Nonesuch", an annual or biennial "lawn plant" which can also be used as a forage crop or bee plant. It has yellow flowers and black seeds. It is related to alfalfa and to those nasty bur clovers. Small Hop Clover is a true clover with yellow flowers. The plants most likely to be sold as shamrocks around Saint Patrick's Day include White Clover, Wood Sorrel or Black Medic. If someone gave you such a gift, you may want to think twice before planting it out. All of them can become pests under the right conditions.
Where I grew up, people often planted White Clover (Dutch Clover) in lawns so they wouldn't have to fertilize the lawn so much. There was no need to buy Shamrock plants at our house. I had a friend in elementary school whose lawn contained a high proportion of four-leaf clovers. I wondered at the time if white clover seeds could be selected for this characteristic. Probably. Unfortunately, I never was able to see any fairies or other wee folk when I found a four-leaf clover. Even though leprechauns had followed a family down the street over from County Cork. Reportedly.
Wood Sorrel is not related to the other "True Shamrocks". It is an Oxalis. The one from Ireland has white flowers with pink veins. The one that has naturalized most extensively in California, Bermuda Buttercup, is one of the prettier weeds around, and the brilliant yellow flowers are fragrant. I think there is a decorative double cultivar. You can eat oxalis leaves and flowers in moderation. There is also an oxalis with edible roots - Oca or New Zealand Yam. If you live in a cool-summer area with a long growing season and a distinct winter, you can grow some Oca tubers yourself.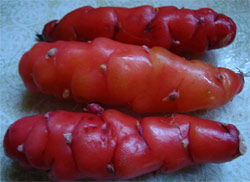 I think they look like beetle pupae. Yum?
Other species of oxalis are attractive and useful in rock gardens, with spring bulbs or as houseplants. There is a Mexican species of oxalis that is sometimes sold as a "Lucky Shamrock" because it has four leaflets.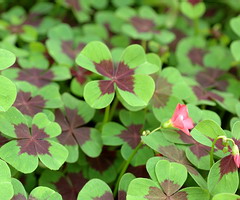 Oxalis tetraphylla "Iron Cross"
Savoy Cabbage
Do you have corned beef left over from Saint Patrick's Day? Why not try some Corned Beef Cabbage Rolls with Savoy Cabbage? This recipe also includes Irish-type garden items like carrots and parsnips. Savoy Cabbage makes especially nice wrapper leaves.
My own Eastern European cabbage roll tip, learned from a friend, is to substitute condensed tomato soup (10 oz. can) mixed with drained sauerkraut (16 to 24 oz. container) for the tomato sauce when you make your favorite ground beef and rice cabbage roll recipe. Bake in a non-reactive casserole or baking dish, with about a 3/4-inch layer of the tomato soup/sauerkraut mixture over each layer of cabbage rolls. Cover with a non-reactive lid or with that non-stick, coated aluminum foil and bake. Sounds horrible, but it is great. Make extra, these cabbage rolls are good left over. They are a good reason to grow Savoy Cabbage.
I am not much of a cabbage grower, but I do plant Savoy Cabbage sometimes. It has a distinctive flavor and is generally more expensive in stores than regular cabbage. Mine this year is kind of rubbery when raw. It might be my growing conditions, or it might be the generic cultivar I grew from seedlings. But it still seems to cook more quickly that regular cabbage. Yummly lists over 2000 recipes that call specifically for Savoy Cabbage. I think it is also one of the more dramatic-looking veggies you can grow in the garden. For some reason, cats love to drink water from the outer leaves.
In the walled castle garden at Glenveagh, they space cabbage plants closer than I did this year, and edge the beds with clipped hedges. I'm not sure I would do the hedge thing even if I had 4 gardeners. The gardens there are also famous for Rhododendrons, some of them invasive in the right conditions. The castle, gardens and lake provide a picturesque destination if you like plants and are planning a trip.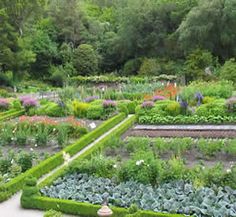 Walled garden at Glenveagh Castle. The cabbage is in the front bed

Thanks, KT! Now... here's Weirddave:
It's springtime! * Happy Dance *
There may be a last snow on the ground, but the calendar has chimed spring o'clock, and that means just one thing: planting!
This week I planted all of my seeds for this year's garden. Tomatoes, broccoli, brussel sprouts, snap peas and green beans. All tucked safely down into their peat pots, ready to germinate and spring forth with new life!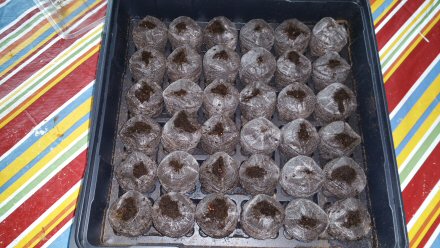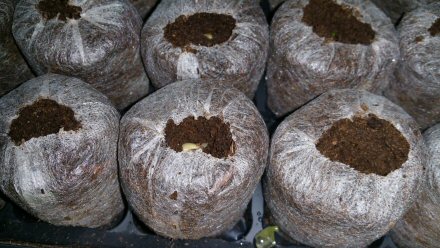 I'm planning on meeting a guy from Chraigslist tomorrow who has a grow light for sale, once they sprout I'll make them think that they are basking in a Florida sun. I think I waited too long on the broccoli, but we'll see. My co-authors have been trying to convince me that you can eat it after it's bolted.
I also bought a couple of these at the store. They're new, from Miracle Grow. You just peel the label off and stick them in the ground, then water.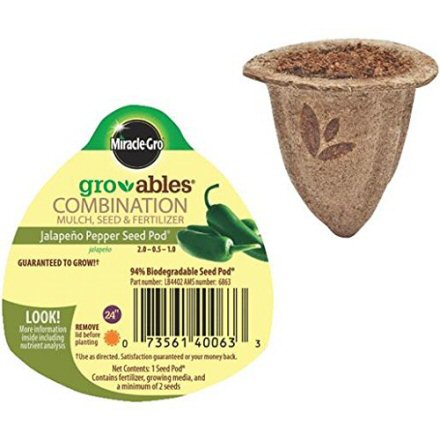 They're not cost effective compared to seeds, about $1.50 each, but I thought I'd give them a try. My concern is the pots they are in. I've never had any of these type of "bio-degradable" pots bio-degrade to any degree, at least not in one growing season. It remains to be seen if Miracle Grow has solved that problem.
So, the topic of the day is seedlings. Who has what planted or sprouted, or what are you planning to plant in the immediate future?

Thanks, WD!
Y-not:
My contribution this week got shot all to hell by the Saturday Politics Thread preparation.
What can I say? I blew it.
You could even say that I punted.
I promise to do better next Saturday.

What's happening in your gardens this week?

posted by Open Blogger at
01:30 PM
|
Access Comments