« Early Morning Thread, 12/14/14 - HEY! OH! [bleeeep] edition. [krakatoa]
|
Main
|
Silly Sunday-Creative Curse Edition [Weirddave] »
December 14, 2014
Sunday Morning Book Thread 12-14-2014: Narrative Collapse [OregonMuse]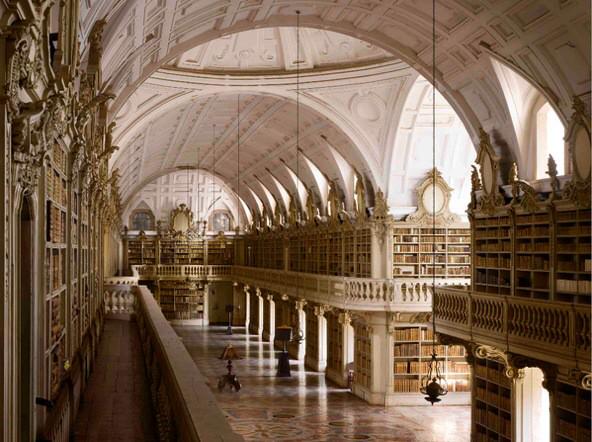 Mafra Library, Lisbon, Portugal
(No, it's not "Mafia Library", read it again, that's "Mafra".)
(and thanks to @DoreenHDickson for the photo)
Good morning morons and moronettes and welcome to AoSHQ's stately, prestigious, and high-class Sunday Morning Book Thread. The only AoSHQ thread that is so hoity-toity, pants are required. Or kilts. Kilts are OK, too. But not tutus. And no fair wearing tutus on your head, like those ne'er-do-wells over on the food thread. I'm not fooled. Go make me a sammich. Preferably one of those Cuban sandwich pockets. With extra ham and cheese. Mmmmmmm...

Quote of the Week
Some books are on the shelf for what the title/author on the spine says about the owner, not for the content between the covers.

Posted by: Mikey NTH - The Outrage Outlet for all of Your Holiday Needs!

Lies, Lies, Lies
With the investigation of the UVA 'gang rape' story discovering more lies than a Hillary Clinton press release, it is sobering to know that this is not the first time this sort of hoax has happened:
In 1931, two white girls claimed they were savagely raped by nine young black men aboard a freight train moving across northeastern Alabama. The young men - ranging in age from twelve to nineteen - were quickly tried, and eight were sentenced to death. The age of the defendants, the stunning rapidity of their trials, and the harsh sentences they received sparked waves of protest and attracted national attention during the 1930s.
This rape hoax became known as the Scottsboro Boys case, and they did serious prison time, even after one of the girls admitted they had made the whole thing up.
The above synopsis of the case is from the book Scottsboro: A Tragedy of the American South by Dan T. Carter, which is a pretty thorough investigation of the events surrounding this deplorable series of events. Of course, my question in these fake rape stories is always, what happened to the girls? Were they in any way punished for pretty much destroying the lives of the young men?
And speaking of fake rape stories, the one being peddled by privileged 1%-er Lena Dunham may be blowing up in her face. 'Barry One', the man whom she pointed her finger at, has retained legal counsel and is gearing up for a lawsuit. Here is Barry's gofundme page for this. I don't believe the admitted child molester Dunham had a clue that there might be any blowback from her fabulation, and it's hard to believe that Random House didn't do a better job of fact-checking and legally vetting her book.

Where Do I Self-Publish My Book?
Here's a big long list of options. They're ranked, but I I'm not sure I understand the ranking system they're using, but there it is.
I never knew there were so many self-publishing outlets, and most of them I've never heard of, but if you're an author, or an aspiring author, I'd bet they're worth looking into. (Warning: I've been advised that this list contains a number of questionable publishing outfits with notoriously poor reputations which should be avoided. Sorry I didn't check first and please, please caveat emptor.)

R I P
Perhaps some of you know the moron commenter who went by the nic 'backhoe'. I have been informed that he has passed away in his sleep a week ago Thursday. I remember him always speaking fondly of his wife Emily, who died young, how he missed her terribly. Looks like he went to be with her again.
A memorial page has been set up for him here.

Bleg, and Some Links
I have it on good authority (i.e. some guy looking through my books at a garage sale we had last year) that one of the greatest Western stories ever is "Spanish Man's Grave by James Warner Bellah. So I went looking for it on the internet. I found out that it was published in the May 3 1947 edition of the The Saturday Evening Post.
Most people these days remember the Post chiefly for its Norman Rockwell covers, but it used to be quite a literary magazine, and has published stories from any number of famous authors, including F. Scott Fitzgerald's, C.S. Lewis, Agatha Christie, William Saroyan, Louis L'Amour, Rudyard Kipling, John Steinbeck, Rex Stout and William Faulkner. Some of the contributions of these famous authors can be read here.
I discovered that the Post is actually still being published. I thought it had died around 1970, but it's still around. Apparently, control has passed to new owners and new issues come out 6 times a year. According to the wikipedia entry,
With the January/February 2013 issue, the Post launched a major makeover of the publication including a new cover design and efforts to increase the magazine's profile after several people thought it was no longer in existence."
The Post has been running a short-story contest for unpublished writers (first prize: $500) for the past few years. Unfortunately, the 2015 contest is closed, so you'll have to wait until next year.
The 2014 winners have been published as a single volume.
If the Post owners were smart, they would invest some money into digitizing as many of the back issues as they could (.pdf scans should work, just so long as the text was legible), and then either making it available to subscribers online, or selling it on DVD archives. A digitized library of Post back issues on DVD is something I might buy myself, if such ever became available.
Oh, and I never did find a copy of "Spanish Man's Grave". If any of you know where I can get a link or a copy, please let me know, thanks.

Microsoft To B&N: Later, Dude
This does not bode well for the Nook e-reader:
Barnes & Noble had been struggling to get its e-reader on solid footing. While the Nook was well-reviewed, it was a late entrant to the e-reader race and had been plagued by delays...Barnes & Noble spun the Nook off into its own hardware-and-ebooks unit to try to stanch the bleeding.

Microsoft stepped in with $300 million for a 17.6% stake in Nook. Now it's stepping out with $62 million and 2.7 million Barnes & Noble shares -- what The Verge calls "a clear loss on Microsoft's original investment."
Dang. B&N has been running a trade-in-your-old-Nook-and-get-$30-off deal for the Samsung Galaxy 4 Nook, and I was thinking of maybe taking advantage of it, but now maybe I won't.

Moron Recommendations
In a morning thread earlier this week, the Yiddish language was a subject of discussion, and moron "Mary Poppins' Practically Perfect Piercing" took time off from his wonderful Hollywood stories to recommend If You Can't Say Anything Nice, Say It In Yiddish: The Book of Yiddish Insults and Curses. Now, we all enjoy MP4's comments and he's certainly no slouch at cursing and insults (particularly liberals and RINOs), but I wonder he's ever said, "Harry Reid should marry the daughter of the Angel of Death."
Although it would be damn funny if he did.

Books By Morons
Ha! Another moron author heard from: longtime lurker and infrequent commenter 'Farmer Bob' emailed this week to let me know he has written and published two mystery novels.
The books follow the exploits of Fiddler O'Connell and his Uncle Emmett. Fiddler is a New Orleans defense attorney and Emmett is a hard boiled PI.
Termite Takedown and Flea Flicker (hmmm, I think I see a theme there...) are available on Kindle for $2.99.

___________
Lurking moron 'Mastiff' also emailed to say he has a new book out. But first, his old books that have been mentioned here before:
The Best Congress Money Can Buy: Stories of Political Possibility is a collection of short stories that are actually thought experiments where certain aspects of our governing structure are changed and what that would look like. For example:
Joe is a congressman who openly sells his services to the highest bidder. Nick is a drunken brawler who must pay for his crime in a workhouse. Beth is a peaceful woman in a country where gun ownership is mandatory. Their stories and others explore how our political dysfunctions needn't be taken for granted, and small changes in our political system can lead to meaningful changes in our lives.
Mastiff's new (short) ebook, No More Foreclosures: The Case for Flexible Homeownership, is his proposal to reform housing finance by using not only debt to buy homes, but also equity finance, which he says would make it less prone to credit bubbles. This proposal is based on "Jewish, Christian and Islamic views on usury, but with a modern twist."
Also, Mastiff has a request that you buy the book and spread it around:
If you could ask the Morons to try to spread this around to people who could actually put this into practice in the real world (people working for local banks, or real estate holding companies, or property-management firms, or tech entrepreneurs or real-estate lawyers), you would be doing a great thing. (Note that the ebook is enrolled in Kindle Unlimited and Kindle Select, so if you're a prime member you can borrow it for free.)
It's only 99 cents on Kindle.
And with Chanuka coming up on Dec. 26th, don't forget Mastiff's other book, The Princess, the Dragon, and the Baker: A Chanuka Fairy Tale.

___________
So that's all for this week. As always, book thread tips, suggestions, bribes, rumors, threats, and insults may be sent to OregonMuse, Proprietor, AoSHQ Book Thread, at the book thread e-mail address: aoshqbookthread, followed by the 'at' sign, and then 'G' mail, and then dot cee oh emm.
What have you all been reading this week? Hopefully something good, because, as you all know, life is too short to be reading lousy books.


posted by Open Blogger at
09:14 AM
|
Access Comments