« Open Thread: CROmnibus Drama
|
Main
|
Morning Thread (12-12-2014) »
December 11, 2014
Overnight Open Thread (12-11-2014)
"Remember, whenever the word "justice" is modified by an adjective, it's not justice - it's payback."

-- Michael Walsh
So How Old is the UVA Saga? Well This Old
Beware the
rejected woman
:
The Epic of Gilgamesh contains an episode[9] involving Ishtar which portrays her as bad-tempered, petulant and spoiled by her father.
She asks the hero Gilgamesh to marry her, but he refuses, citing the fate that has befallen all her many lovers:
...
Angered by Gilgamesh's refusal, Ishtar goes up to heaven and complains to her father the high god Anu that Gilgamesh has insulted her. She demands that Anu give her the Bull of Heaven. Anu points out that it was her fault for provoking Gilgamesh, but she warns that if he refuses, she will do exactly what she told the gatekeeper of the underworld she would do if he didn't let her in:
...
Anu gives Ishtar the Bull of Heaven, and Ishtar sends it to attack Gilgamesh and his friend Enkidu. Gilgamesh and Enkidu kill the Bull and offer its heart to the Assyro-Babylonian sun-god Shamash.

While Gilgamesh and Enkidu are resting, Ishtar stands upon the walls of the city (which is Uruk) and curses Gilgamesh. Enkidu tears off the Bull's right thigh and throws it in Ishtar's face, saying, "If I could lay my hands on you, it is this I should do to you, and lash your entrails to your side."[12] (Enkidu later dies for this impiety.) Then Ishtar called together "her people, the dancing and singing girls, the prostitutes of the temple, the courtesans,"[12] and had them mourn for the Bull of Heaven.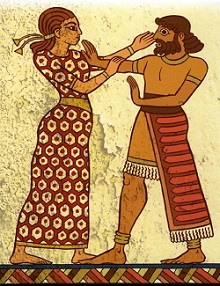 Welcome to 'Free-Market Jesus Paradise'
Michael Tomasky in his two minute hate against the South meant it as an insult. But I think he may be on to something here.
Practically the whole region has rejected nearly everything that's good about this country and has become just one big nuclear waste site of choleric, and extremely racialized, resentment. A fact made even sadder because on the whole they're such nice people! (I truly mean that.)
With Landrieu's departure, the Democrats will have no more senators from the Deep South, and I say good. Forget about it. Forget about the whole fetid place. Write it off. Let the GOP have it and run it and turn it into Free-Market Jesus Paradise. The Democrats don't need it anyway.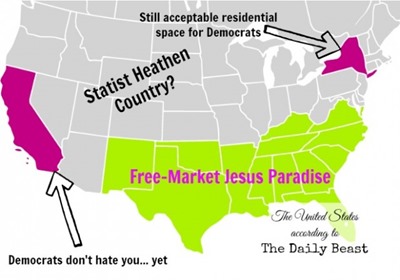 Does Truth Matter to the Feminist Left?
Nope. And they spew hate towards those who do speak the truth.
Amazingly, these presumptions tend to remain intact through thick and thin. In consequence, a person who incorrectly judged the veracity of Rolling Stone's story can remain on the side of the angels, while a person who was correct to doubt the account is dismissed as a devil who just got lucky. Sure, the zetetics might have been right in a technical, factual, reality-based sense. But that they tried to investigate the matter in the first instance tells us something terrible about their character. And yes, the story may have been completely and utterly wrong. But at least its advocates took a stand for something nice. Did you? Wait, you're not a rapist, are you?
Rep. Hank 'Tipping Guam' Johnson Wants Federal Control of Local Grand Juries
Classic Vox Dumbness: The KKK Helped Republicans Win the South
And when you dig through it, you find that the conclusion is entirely based on this really weak correlation:
They conclude that having a Klan chapter present was associated with a 2 percent bigger increase in Republican support from 1960 to 1972, a 3.7 percent bigger increase from 1960 to 1980, a 4.9 percent bigger increase from 1960 to 1992, and a 3.4 percent bigger increase from 1960 to 2000.How could this have worked?
Meanwhile the University of Iowa is having a freakout over a papier-mâché statue of KKK member.
Notorious Islamic State Twitter Propagandist Revealed to be a Bangalore Executive
Prison: The "Rape Culture" That Everyone Ignores
Julian Assange Trying To Raise Nearly $200k For a Statue of Himself
Julian Assange, from his refuge in the Ecuadorian embassy, has recently taken to Twitter to try to raise nearly $200,000 for a life-size bronze statue of himself. The statue would have him standing front and center between Edward Snowden and Chelsea Manning (with Manning pictured as male); the art piece would be then shipped around the world on tour.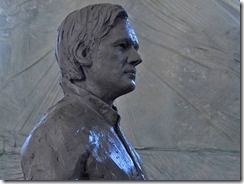 Better Off Dead - The Complete Movie
The cobs have been discussing this movie and its many funny little sub-plots. After almost 30 years I'd say it still holds up. If you haven't seen it yet, this is your chance.
Also I'd like my two dollars now.
The Evocative Art of Simon Stalenhag
Robot wreckage, space ships, dinosaurs, kids playing and the Swedish landscape. What's not to love about his works? I just wish there was a comic book series or movie based on his art.
Go to his web site and check out his collection.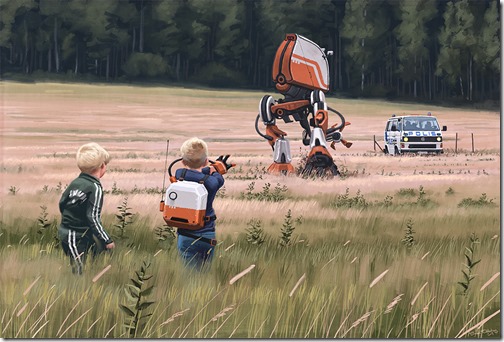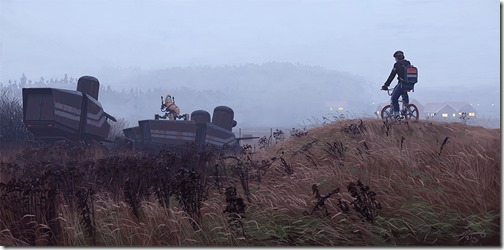 Yahoo group. That is all.
Come on be a smartie and join the yahoo group party! For the children.
And my lo-fi Twitter spew.
Tonight's post brought to you by getting ready for the weekend: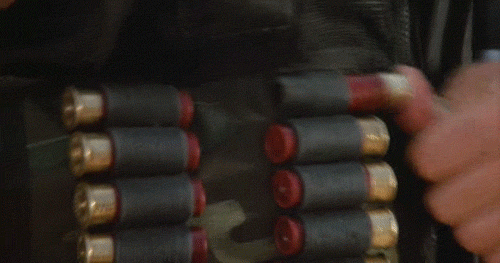 Notice: Posted by permission of AceCorp LLC. Please e-mail overnight open thread tips plus my $2 to maetenloch at gmail. Otherwise send your pathetic scraps to BizarroAce. Do not taunt or sexually assault happy-fun ball. I want my $2.

posted by Maetenloch at
10:14 PM
|
Access Comments