« Early Morning Open Thread - [Niedermeyer's Dead Horse]
|
Main
|
Weekend Headlines/Links [CBD] »
November 15, 2014
Saturday Politics Thread: What About Mike Pence? [Y-not]
This week we're going to catch up on Mike Pence, governor of Indiana. His name is starting to pop up as a 2016 prospect and he certainly seems to have some of what it would take to be a credible Presidential candidate. I thought about adding in some others, such as Tim Pawlenty, but I doubt Pawlenty would garner much support here. So I'll do both a backgrounder and a "fiscal report card" on Pence this week and then we'll pick up where we left off on the issues list next time.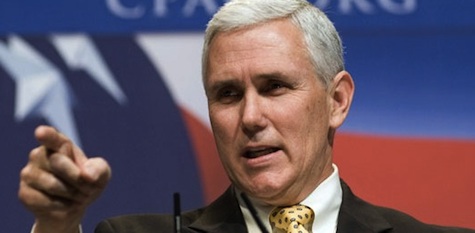 Here's a brief backgrounder on Governor Mike Pence courtesy of Ballotpedia:
Michael Richard "Mike" Pence (b. June 7, 1959, in Columbus, Indiana) is the 50th and current Republican Governor of Indiana. He is serving his first term, having won the seat in 2012. He ran unopposed in the Republican primary, and defeated former House Speaker John Gregg (D), Rupert Boneham (L) and write-in candidate Donnie Harold Harris in the general election on November 6, 2012.

Pence was sworn into office on January 14, 2013, and his term will expire in January of 2017.

From 2001 to 2013, Pence served as a Republican member of the U.S. House of Representatives. As a congressman, he maintained a record of staunch opposition to tax hikes and federal health care reform as outlined under the Affordable Care Act. His final year in the U.S. House, Pence was rated a "far-right Republican leader" based on an analysis of bill sponsorship by GovTrack.

Before entering politics, Pence built a resume covering a wide array of professions. His background includes working as an admissions counselor at his alma mater, Hanover College, as well as an attorney and a talk show host.
If you'd like to read more about him, the Indianapolis Monthly did a biopic on Pence when he assumed office.
Via the New York Times, here's a listing of recent stories in which Pence's name appeared. This one (from last month) caught my eye (emphasis mine):
EVANSVILLE, Ind. - The tarmac greeting between the president and a governor is something of a throwback to a bygone era of polite politics. Protocol dictates that partisanship is put aside - temporarily - and talk of issues avoided, in favor of a handshake and an exchange of pleasantries.

So President Obama may have been caught off guard Friday when Gov. Mike Pence of Indiana took advantage of the president's visit to button-hole him on a Medicaid dispute between his state and the federal government.

In a letter to Mr. Obama on Thursday, Mr. Pence, a potential Republican presidential contender in 2016, requested a meeting on the issue. On Friday, he got a chance to plead his case in person when he greeted Mr. Obama at the bottom of the steps of Air Force One here, where the president was traveling to hold a told a town-hall-style meeting on the economy at a nearby steel supply company.

The greeting - normally a 5- to 10-second affair - turned into a more than five-minute policy session, as Mr. Pence and Mr. Obama stood close, each speaking and gesturing animatedly while the commerce secretary, Penny Pritzker, who was traveling with the president, and Representative Larry Bucshon, Republican of Indiana, looked on.
Cut. Jib. Newsletter.
A brief summary of Mike Pence "On the Issues":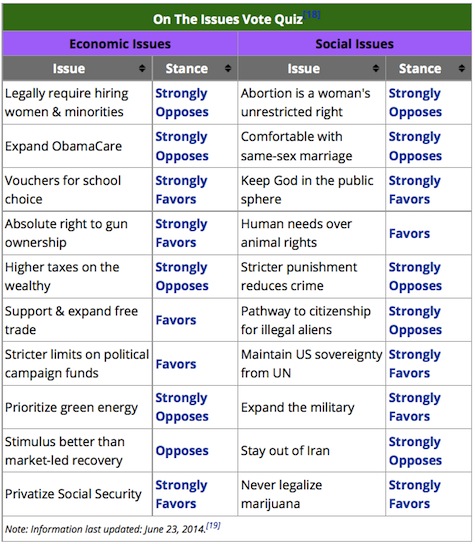 Pence has a lifetime score of 89% from the Heritage Foundation. In his last year in office, he voted against Heritage's position on a few issues. For example, Pence voted to keep student loan rates at 3.4% instead of returning them to their 2007 rate of 6.8%, a measure which Heritage opposed.
CATO gave him an "A" on their fiscal policy report card (you'll recall the other governors we're evaluating in depth each received Bs). Here's part of their glowing report of Pence's first two years in office (emphasis mine):

Governor Pence has been a champion tax cutter and frugal on spending. In 2013 he proposed a 10 percent cut in individual income tax rates, and the legislature agreed to 5 percent. The income tax rate will be phased down from 3.4 to 3.23 percent by 2017. He also approved a repeal of Indiana's inheritance tax.
In 2014 he signed into law a corporate income tax rate cut, adding to the reductions made by the prior governor Mitch Daniels. The rate had been scheduled to fall to 6.5 percent in 2015. Pence approved a further reduction to 4.9 percent, to be phased in by 2021.
[snip]
He signed off on a plan to phase out property taxes on business equipment over time. It allows local governments to end property taxes on new business equipment, while also allowing them to exempt businesses that have less than $20,000 of equipment. For 2015 he says that he wants to make tax simplification a top priority.
He has restrained spending growth. The general fund budget increased an estimated 1.9 percent in 2014, and Pence proposed a 2.8 percent increase for 2015. However, his support for Medicaid expansion under the ACA will increase state spending down the road.
So he supports Medicaid expansion in a state with a Republican legislature. I am not sure how CATO still manages to cough up an "A" for him.
**Update: As of last month, Pence and the Feds had not reached an agreement on Medicaid expansion.
Where does he stand on immigration? Well, in 2006, Heritage was touting his immigration reform plan:

"The Border Integrity and Immigration Reform Act is a bill that is tough on border security and tough on employers who hire illegal aliens, but recognizes the need for a guest worker program that operates without amnesty and without growing into a huge new government bureaucracy."
-Rep. Mike Pence
This plan was greeted with some skepticism:

He teases conservatives with a "free market approach" that sets up private companies as "Ellis Island Centers" in foreign countries, where applications from aliens for temporary work cards to work legally in the U.S. can be processed. The bill requires all illegals who seek legalization to self-deport back to their home countries for papers, in an effort to avoid the strong objections to amnesty. There would be no limits (even the Bush-Kennedy-McCain Senate bill has limits) set on the number of "guest workers" during the first three years, so that the market could establish the demand for cheap labor. The open-border lobby calls it "labor market equilibrium." The Pence plan says that "a reasonable limit…will be determined by the Department of Labor." The plan would cede congressional constitutional authority over immigration to a presidential appointee who could expand the number of immigrants by millions. The power to transform America irrevocably would be granted to a bureaucrat to be named later by a president to be elected later. How many voting, legalized immigrants does Pence think would be too many for a President Hillary?
(By the way, this editorial was written in 2006, but it might as well have been written today.)
Here's an article from May of this year reviewing Pence's "middle ground" approach to issues while he was in Congress, including a hard look at his 2006 immigration bill: (LINK FIXED)

Those who have followed Pence since he was in Congress may remember a third instance where he tried to split the baby on a contentious issue. In May 2006, as House Republicans stood against an immigration plan hostaed by Bush, John McCain, and Ted Kennedy, Pence gave a speech to the Heritage Foundation in which he outlined "a rational middle ground" between "amnesty and mass deportation."
Pence's proposal was an ambitious guest-worker program that essentially privatized a large part of immigration enforcement. "Private worker placement agencies that we could call 'Ellis Island Centers' will be licensed by the federal government to match willing guest workers with jobs in America that employers cannot fill with American workers," he said.
Like credit card companies and temp agencies, these companies will do all the required screenings "in a matter of days." There was a flicker of interest before feasibility questions arose. Would illegal immigrants really return home to apply to Ellis Island Centers? Wouldn't these private companies have a conflict of interest when it came to keeping anyone out? Wasn't this really amnesty by another name?
The Pence immigration plan went nowhere. Neither will his presidential bid if he acquires a reputation as someone who opposes liberal initiatives only to refurbish them as "market-based" versions of the same.
More recently, Governor Pence joined other governors in complaining to the White House about its handling of illegal alien children, calling for their speedy return to their families (in their home countries).
This is what Governor Pence had to say in response to a question about amnestyposed to him in August:

"I just always believe that we should not reward people with citizenship whose first act in this country was a violation of the law, and I continue to hold that view. But there's plenty of room here for compassion and there's plenty of room here for crafting a solution that will deal with this in the long term."
Hmmm. I would like to hear some reference to how kookoobananas it would be to flood the U.S. labor market with cheap workers while Americans are suffering. My guess is Pence is in line with a lot of the GOPers who want a greatly expanded guest worker program. That, coupled with what seems to have been a Rubio approach to immigration while he was in Congress, makes me very uncomfortable.
Finally, here are a couple of videos of Governor Pence. I looked for a CPAC speech, but it looks like he hasn't been there for several years (the last video I could find was from 2010). Here he is speaking at the NRA-ILA Leadership Forum last April in Indianapolis:
And here's a link to his appearance on Fox Business in which he talks about how Washington can control spending.
I hope I covered Pence thoroughly enough for you to get a feel for what he might be like as a Presidential candidate (and President).
For laughs, how about a poll to see who your favorites as potential POTUS candidates are thus far:
I could vote for most of these people without much reservation. Even the ones about whom I have some concerns would be light years better than any Democrat that is likely to run. I think I could vote enthusiastically for four of these candidates. I'll let you guess which four.
Finally, some housekeeping. To keep my workload manageable, I am planning on dropping coverage of Gowdy, who I really doubt will run, and replacing him with Mike Pence, who seems to be considering it. Let me know if that's ok with you folks... I may or may not listen!

Here are links to the previous threads from this series:
Walker, Jindal, Perry (August 30th)
Kasich, Haley, Martinez (September 13th)
Rubio, Paul, Cruz (September 20th)
Christie, Bush, Huntsman (September 27th)
Gowdy, Carson, Sessions & Bonus "Issues" Poll (October 4th)
Romney, Ryan, Palin, Huckabee (October 11th)
How we assess candidates (October 18th)
Fiscal policy scorecards (November 1st)
Economic "messaging" and stump speeches (November 8th)


posted by Open Blogger at
09:11 AM
|
Access Comments