« Sunday Football Thread
|
Main
|
How We Decide [Y-not] »
October 05, 2014
Gun Thread 10-5-2014 [WeirdDave]
Ladies and gentlemen, hobos and tramps, cross eyed Mosquitoes and bow legged ants. I come before you to stand behind you to tell you something I know nothing about. Admission is free, so pay at the door, pull up a chair and sit on the floor.
One bright day in the middle of the night, a long dead thread returned to light. Turning it's back it faced the horde, drew a sword and shot some more. A deaf policeman heard the crash and came to kill the dead thread fast. If you do not believe this lie is true, ask the blind man, he saw it too.
In other words........WE'RE BACK!
Gun of the Week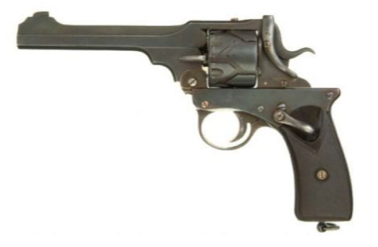 Defensive Gun Use of the Week
Homicide appears to be case of self defense

Sandra Wilson said 25-year-old Markquis Hall was shot holding a gun as he tried to climb through a window after shooting at the home 90 minutes earlier. Hall was attempting to get inside when a person inside the home, who she would not identify, fired shots to defend Wilson and her family -- including a baby, she said.

"Ain't no telling what he would have done to us up in there. He could have killed us," Wilson said less than 12 hours after the shooting that left Hall injured and killed 24-year-old Ja'Taven Dukes.

A 911 recording of a call made by Shalinda Houston reported Hall's return the third time.

"He is here now with the gun again. He just broke down my window. He's coming in," she said, screaming. "Use the gun. Use the gun. He's shooting in my mom's house."
For those that claim the police can protect you, please note that they had already been to the house twice that evening but the perp was gone each time by the time they got there. The third time wasn't the charm. For him.
The Guns of October
Yesterday I discussed laying in supplies in case ebola breaks out into the general population. If it does, and if officials keep lying about the problem, as is their wont, I expect panic and runs on stores for supplies. The entire social fabric of the country could become unraveled very quickly. If that happens, I intend to aggressively stay put. I can do my job over the phone if I have to. If this situation lasts for any length of time, we could find ourselves forced to deal with roving bands of people, desperate for food or medicine, or just out for some good old fashion recreational rape and rapine. God forbid this comes to pass, but if there ever was a group that could fall into a pile of diamonds and come up with a mouthful of shit it's this administration.
So, what are your plans for home defense? What guns are best suited? Pistol? Shotgun? AR/AK? Roof mounted mini-gun?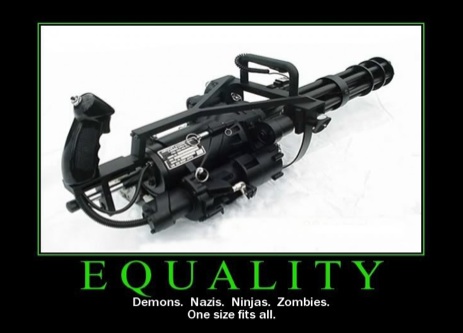 I heard a Bill Whittle speech where he said his response to the "Why do you need all those guns" question was "I have an AR-15 to kill hostile people while they are still far away. I have a 1911 in case I miss and they get close. Any other questions?"
There Are Stupid People Among Us
Check out this video. Stupid assholes looking for internet fame by making prank videos. Now, I like a good prank as much as the next guy, but these rocket scientists decided to dress up like the bad guy from the movie Scream and jump out at passing folks and point a fake shotgun at them. Three things. # 1 none of them seem to run away very fast. I'd be gone so fast that I could run 20 feet off a cliff before I noticed gravity and fell. # 2 the girl in the second encounter takes this to extremes. Guy in a mask jumps out of a van, points a gun at her, and she runs away like a dowager noticing that someone has puked on the floor of the ballroom. # 3 the real fun starts with guy # 4 who is carrying. Watch.
Now, I have to say I really, very much admire this guy's trigger discipline. I don't think there is any way I don't pull the trigger in his shoes. Shadowy masked figure in the dark, shotgun already leveled at me, way, way behind the reaction curve.......no way I don't shoot, I'm not even sure I'd draw. Kudos to him.
GOTW answer Webley- Fosbery automatic revolver. Technologically brilliant, sadly it didn't do anything other guns already did better.
And that a wrap. Send tips to my nic at the gee, mail! thingy, Twitter @weirddave0.
Don't forget The Law of Self Defense, as always your handbook for defensive gun use.


posted by Open Blogger at
01:00 PM
|
Access Comments