« Gun Thread 10-5-2014 [WeirdDave]
|
Main
|
Food Thread: Bagels & Lox Edition [CBD] »
October 05, 2014
How We Decide [Y-not]
One of my favorite Bond films is "For Your Eyes Only" and one of my favorite supporting characters in those films is the Greek smuggler, Milos Columbo (played by Chaim Topol). Do you remember the scene between Bond and Columbo on the latter's yacht?
Columbo (handing a gun to Bond): "You may need this. I'm a good judge of men. Mr. Bond, you have what the Greeks call tha'ros. Guts."
Bond (pointing gun at Columbo): "So have you, Mr. Columbo."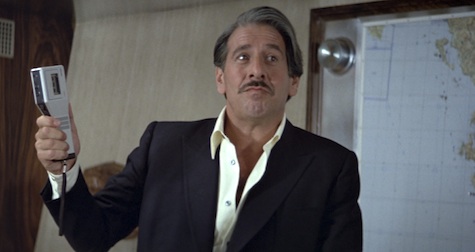 Like Columbo, I'm generally a good judge of character, particularly in more formal settings, like work. People who have followed in my footsteps at old employers usually remark, six months later, on how well I had prepared them for the personalities they'd encounter in their job.
As it turns out, voters also go with their guts when selecting candidates to support:

On what basis do voters decide how they will cast their ballot? Several basic factors can be identified as reasons for choosing a candidate in an presidential election. A voter may choose a candidate on the basis of one or more of the following considerations:

orientations on specific issues of public policy
general evaluations of the government performance
evaluations of the personal characteristics of the candidates

When voters are asked what they like or dislike about a specific candidate -- i.e., what might make them vote for or against that candidate -- most of their responses fall into one of the above three categories.

These orientations and evaluations in turn are influenced by two more general attitudinal factors:
party identification
general ideological orientations

In my opinion, "evaluating personal characteristics" embodies our gut instincts about a candidate -- their competence, their reliability, their trustworthiness, and their likability.
Another researcher took this line of questioning even further and investigated the influence of a candidate's appearance on potential voters:
Few people knew that the country's thirty-second President was paralyzed. Most knew that he'd had polio, but they remained unaware that he could not walk. Franklin Delano Roosevelt managed to hide the extent of his condition from the majority of the voting public with a simulated walking technique and a moratorium on photography of him in motion or in a wheelchair. His successor, Harry S. Truman, followed an opposite approach to publicity: for his first election campaign, he completed a train tour that covered some twenty-two thousand miles. At each stop, he would make sure that voters got a good, long look at him. Both Presidents lived before the era of televised debates and the constant presence of the media, but they had intuited the exact same thing: when it came to voter support, physical appearance mattered.

In 2003, the Princeton psychologist Alexander Todorov began to suspect that, except for those people who have hard-core political beliefs, the reasons we vote for particular candidates could have less to do with politics and more to do with basic cognitive processes -- in particular, perception. When people are asked about their ideal leader, one of the single most important characteristics that they say they look for is competence -- how qualified and capable a candidate is. Todorov wondered whether that judgment was made on the basis of intuitive responses to basic facial features rather than on any deep, rational calculus. It would make sense: in the past, extensive research has shown just how quickly we form impressions of people's character traits, even before we've had a conversation with them. That impression then colors whatever else we learn about them, from their hobbies to, presumably, their political abilities. In other words, when we think that we are making rational political judgments, we could be, in fact, judging someone at least partly based on a fleeting impression of his or her face.
Now, I think this researcher may be placing way too much credence in the "appearance matters" theory, but I do think that many qualities -- speech patterns, communication styles, accents, presentation (hair, clothing) -- combine with facial features to feed our impressions of a politician.
Does a politician attack opponents directly or use proxies and innuendo? Will he or she state one position clearly or hedge? Has a politician changed views often? That's the Weasel (or Trust) Factor.
Is a politician articulate or rather clumsy? Does he or she have a strong regional accent? Can the politician think on his or her feet? That's the Competence (or Intelligence) Factor.
Does a politician speak about himself a lot? Will he credit the good ideas or efforts of others or dismiss them? Can the politician admit when he's wrong? That's the Egomaniac (or Likability) Factor.
Rather than railing against the reality that most voters use their "guts" -- in addition to (one hopes) their minds -- when voting, I think it's more productive (or more interesting) to ask what goes into those gut reactions.
Perhaps I'm biased because I tend to have good gut instincts, but I'm not going to be so quick to abandon my gut reactions to politicians. If someone comes off as a Weasel, I am going to register that and I will allow that to influence my support for that candidate. It may not be a deciding factor in the General Election when I'm trying to keep the Progressive Devil Incarnate out of office, but it may be the difference between me supporting that candidate over a less-qualified one in the Primary.
I started doing the series of threads on potential candidates for the 2016 election mainly because I wanted to force myself to give some sort of semi-organized look at the field. And I think it has been useful, for me anyway. Out of this exercise I discovered that Governor Haley could be someone I'd enthusiastically support in the primary, whereas that some of the other candidates' backgrounds are not really what I think are adequate for a 2016 run.
But I also must confess that things like ideological stances or job accomplishments are not the only things that I factor into identifying my guy or gal. And it's pretty clear to me that the same can be said for some of you. For example, a certain segment of voters weighs "electability" rather heavily, despite the very ill-defined nature of that quality. And I think it's probably those less-rational qualities, whether it be the Weasel Factor or the Electability Factor, that make it difficult for us to persuade each other to join our favorite candidate's team. Some people will never be persuaded that Perry is smart enough, others will never believe Cruz can win, and still others will never trust Romney.
So fess up. Ask yourself honestly what you factor when choosing a candidate. I'm particularly interested in hearing about how you decide who you'll support in the primary with your vote, your time, and your money.
What are the "intangibles" or X-factors that matter to you?


posted by Open Blogger at
02:35 PM
|
Access Comments