« How We Decide [Y-not]
|
Main
|
Your Right To A Speedy Trial - [Niedermeyer's Dead Horse] »
October 05, 2014
Food Thread: Bagels & Lox Edition [CBD]
Well, not actually lox...more like smoked salmon, which is much better.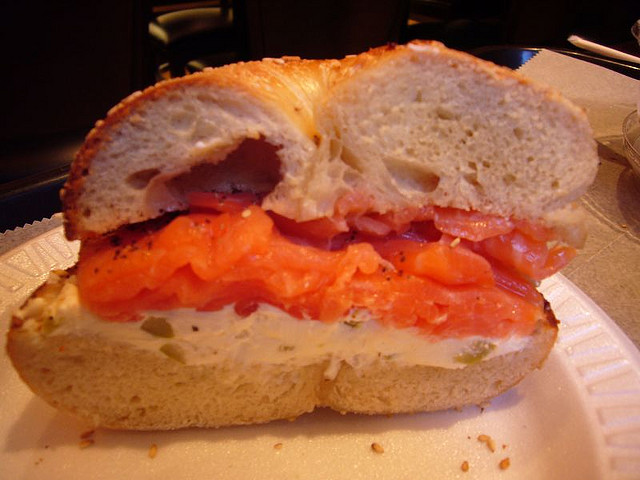 Lox is heavily salted or brined salmon, and smoked salmon is, obviously, smoked. Specifically it is lightly brined or salted salmon that is then cold-smoked.
If you like really salty foods, then lox is for you, and in some applications it works very well. For instance, tossing expensive smoked salmon with pasta, sauteed red onion and a bit of Parmesan cheese is a waste of time. All of the delicacy of the salmon will be overwhelmed by the other flavors, and the heat of the pasta will partially cook it and change the flavor of the salmon. But a heavily salted lox will stand up much better, and is a really nice dish.
But on a good bagel with cream cheese, lox will be too assertively salty, and the more delicate smoked salmon really shines.

Could it be that business creation and government regulation are related?
I wonder whether food businesses are the most regulated in the nation....
My own experience with a food start-up tells me that most people would simply throw their hands up in despair.
Eh....It's only 50 jobs...nothing to see....move along.

Shakshouka....coming soon to McDonaldstein's near you.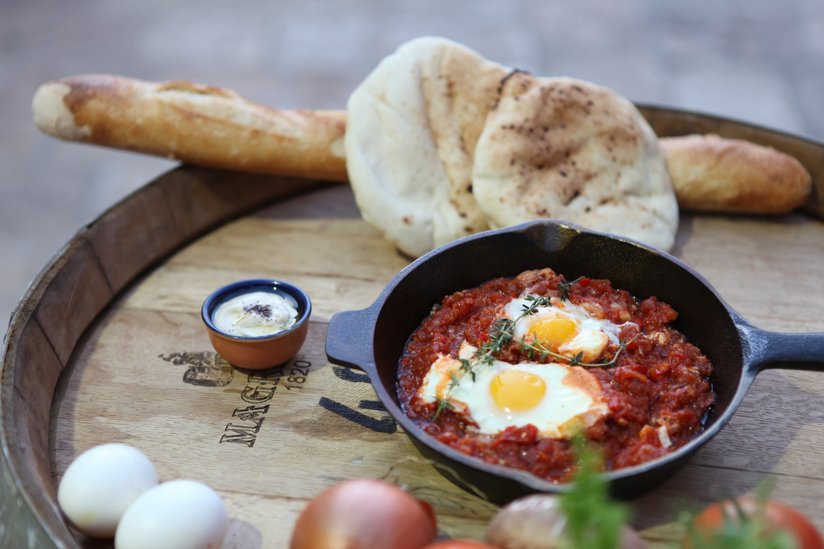 The recipe at the link is nothing great, but the idea is classic. My mom used to make something like this when I was just a wee little brat, and there are a dozen variations all over Mexico.

This is a recipe from Ina Garten that I modified somewhat......
INDIVIDUAL MEATLOAVES
1 tablespoon good olive oil
3 cups chopped yellow onions (3 onions)
1 teaspoon chopped fresh thyme leaves
2 teaspoons kosher salt
1 teaspoon freshly ground black pepper
3 tablespoons Worcestershire sauce
1/3 cup chicken stock
1 tablespoon tomato paste
2 1/2 pounds ground meat (preferably 1/3 beef, 1/3 veal, 1/3 pork)
1/2 cup plain dry bread crumbs
2 extra-large eggs, beaten
1/2 cup ketchup
Preheat the oven to 350 degrees F.
Heat the olive oil in a medium saute pan. Add the onions, thyme, salt, and pepper and cook over medium-low heat, stirring occasionally, for 8 to 10 minutes, until the onions are translucent but not brown.
Off the heat, add the Worcestershire sauce, chicken stock, and tomato paste. Allow to cool slightly.
In a large bowl, combine the ground chuck, onion mixture, bread crumbs, and eggs, and mix lightly with a fork. Don't mash or the meatloaf will be dense.
Divide the mixture into 6 (10 to 11-ounce) portions and shape each portion into a small loaf on a sheet pan. Spread about a tablespoon of ketchup on the top of each portion.
Bake for 40 to 45 minutes, until the internal temperature is 155 to 160 degrees F and the meat loaves are cooked through. Serve hot.
Southwest Ohio Moron Meet-Up

Speedster1 has been doing yeoman's work arranging a meet for you lunatics in Southwest Ohio, Eastern Indiana and Northern Kentucky. The date and location is, of course, a closely held secret (October 18th at 7:00pm in Beavercreek, OH), but if anyone is interested, shoot him an e-mail at: swohmome at mail dot com

posted by Open Blogger at
04:15 PM
|
Access Comments